Carolyn Faught has been the chief story teller for the Leelanau Conservancy since 1992. She will retire by May 1, 2021. Her goodbye to members follows this tribute by Deborah Wyatt Fellows, former Conservancy Board member and Editor-in-Chief/owner of Traverse, Northern Michigan's Magazine.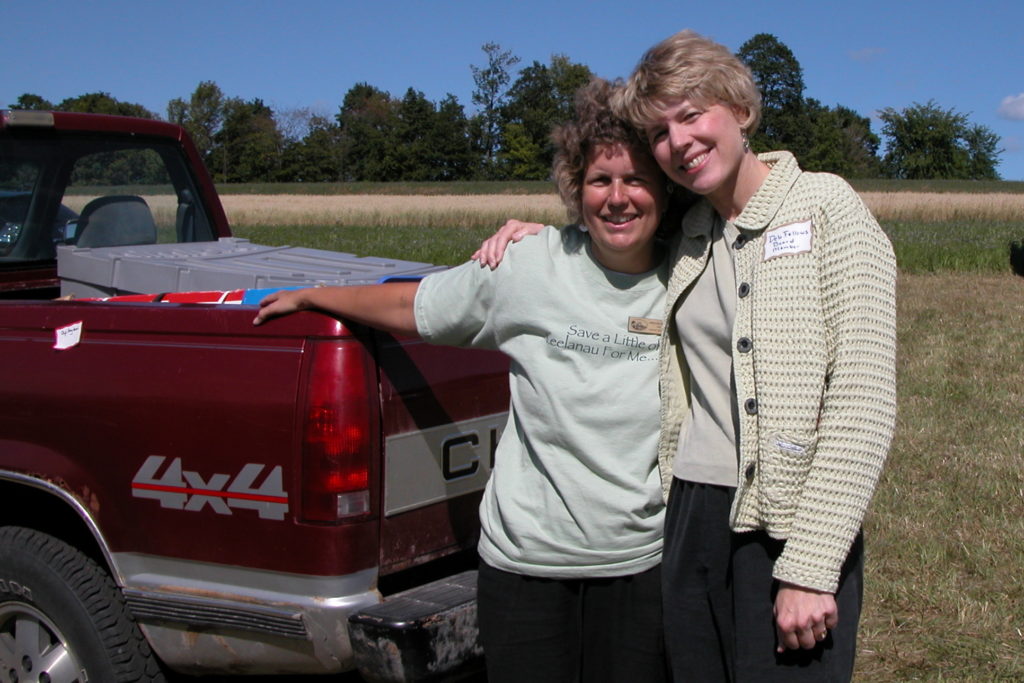 I first met Carolyn Faught when she walked up the stairs of Traverse, Northern Michigan's Magazine's Union Street office late one afternoon, applying for the job of marketing/circulation director. It was over 35 years ago, I was 28, in over my head and in need of help. Carolyn was a year younger and had moved North with her husband Dave, leaving behind a career she had loved. Several hours later, it was dark and we still couldn't talk fast enough. And we've never stopped. And, of course, she got the job.
Anyone who knows Carolyn can absolutely picture that scene because I'm sure you have been just as captivated by her energy, her passion, her incredible openness and that earnestness that just pulls you into her sphere. Carolyn and Dave started out in Cincinnati where she had been a successful buyer for a major department store chain. Dave worked for Procter & Gamble. They had managed to buy a small cottage in Leelanau County and when Dave got an accounting job in Traverse City, they left it all to come North. One idea was to open a bed and breakfast in the century-old house they'd bought. She would have shone at that, of course. But happily, instead, she chose to come to the magazine where she served as the marketing director for several years and then joined the editorial department where she honed what are now her amazing storytelling skills.
I recommended Carolyn for the job in communications at the Leelanau Conservancy. By that time, she had left the magazine to be home with her two sons and begin "a garden," which we all now know as the incredible Omena Cut Flowers. I had no hesitation in nominating Carolyn for the position as I knew she would bring not just her writing skills, but her integrity, passion, drive and quality of "never having met a stranger," to the work of the Conservancy. I was on the board at that time, new head of what had been called the Membership Committee. We promptly renamed it the Outreach Committee and with Carolyn and an amazing group on that committee, we grew from 13 Sustainers to hundreds, added the Leelanau Preservers program whose tiles can be found in the Village Green in Leland, changed the annual meeting to a multi-generational celebration and so much more. Through it all, and for years beyond, Carolyn's ability to capture the heart of "conservancy" through her writing, and her uncanny skill of getting people involved has built a membership truly defined, and bound, by passion and commitment. The stories she has shared of farmers and landowners, who have had the vision and courage to protect their land in perpetuity, will live on as testaments to the mission that defines the Conservancy's work. And her words celebrating and respecting volunteers of every stripe has inspired countless others to join a volunteer effort.
Carolyn and I became instant friends that evening as the streetlights came on. We raised our kids as cousins, shared the joys and traumas that come with a 30+ year friendship, believed in each other through thick and thin and found in the other a matching passion for this place and the need to protect it forever. I count among my life's blessings that Carolyn is my dear friend and that I played a role in her becoming the voice of our cherished Leelanau Conservancy for so many, for so long. Words have meaning and we can all feel grateful that it has been Carolyn's words that have honored the people—staff, board, members, volunteers—and the mission of the Conservancy, words that will live on in perpetuity so poignantly and so beautifully.–Deborah Wyatt Fellows
A Fond Farewell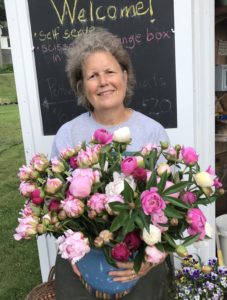 It has been the honor of my life to tell the stories of the Leelanau Conservancy for the last 20 years, and to be a part of protecting this place that I so dearly love. A place that is woven into the DNA of my two sons, and that has such a tight grip on my own heart. In the process, I have come to know so many incredible people.
My journey with the Conservancy started when I was writing for Traverse, Northern Michigan's Magazine, and Kehl Lake Natural Area had just been protected. It was 1992, and I stood on the shores of Kehl Lake with Founding Executive Director, Brian Price. With a sweep of his arm, he told me that ¾ of the shoreline would never be developed. I was wowed then and continued to be wowed by each and every project since.
In this fractious world, I am grateful that Leelanau offers all of us an unbreakable bond: our collective love for this incredible place. To me, the Conservancy has never been about just one person; rather it is defined by the sum of its parts—which means each and every one of you. Your generosity and good will has amazed and touched me time and again over the last two decades. Together, we have done great things.
By design, my May 1 retirement coincides with planting season at Omena Cut Flowers. While I may be stepping away from the Conservancy, and joyfully digging in the dirt, I will continue to cherish the Conservancy's mission, and all of the friends I have made along the way.—Carolyn Faught [email protected]
Essays:
Back to Nature: Making the Time