By Carolyn Faught–My father and I had what I think of as a loving yet difficult relationship. He was a complicated man who suffered from mood swings brought on in part by diabetes, and he died of a heart attack at about the age I am now. But when I think of my best times with him, they always involve water.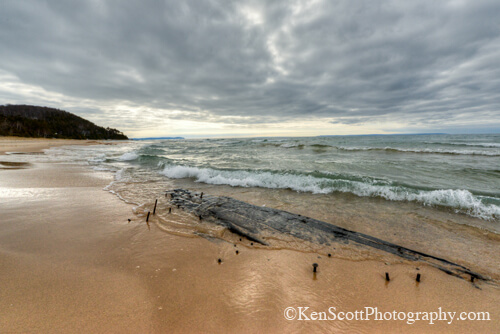 One of my earliest memories is playing a game we called "dead man's float" out in the lake. None of my siblings or I could hold our breath as long as my dad could. What seemed like minutes would pass and we would beat him about his browned shoulders, yelling, "Dad, Dad, DADDDD!!!" until at last he would pop his head up with a nonchalant "What?" which made us scream with laughter and sigh with relief too.
He was happiest, I think, out catching perch with my uncle or watching the waves roll in from whatever cottage we happened to rent to escape the heat of downriver Detroit. I recall him standing on the shore, silhouetted by a setting sun. These positive memories are perhaps the reason I am so drawn to water myself and have made sacrifices to live on this peninsula surrounded by lapping waves, and pristine inland lakes.
In 1987, my husband, Dave, and I left big city jobs in Cincinnati to be near water. We had purchased a tiny cottage on South Lake Leelanau a few years prior. I recall friends visiting from Ohio where all the lakes are man-made. Our friends stood waist-deep in the lake and were astounded that they could see minnows nibbling at their shins.
Around this same time, the Leelanau Conservancy was founded and began to protect the dunes, forests, wetlands, and streams that flow into or buffer the waters I love. In 2002, I signed on as Communications Director and began to learn about and write about the many ways our work impacts the water quality of Leelanau.
I was told that it was unusual for a land trust to include protecting water in its mission statement. We are, after all, surrounded by water and so our founders thought long and hard when they penned ours, which has remained unchanged. Over three decades later we're still "Conserving the Land, Water and Scenic Character of Leelanau County."
Today I live on Omena Bay and I am fortunate to watch the sun come up every morning over sparkling waters. My two boys grew up playing in Freeland Creek across the road and learning to swim on our rocky beach. Unlike me, they take water for granted, because it is all they have ever known. It wasn't until my oldest left for college that he began to understand the power of this place in his life.
On hectic summer work days, to clear my head and get a little exercise, I often head to the beach in Leland at lunch time–just a short walk from the office. I leave my shoes in the sand and cool my feet off, walking along this breezy shoreline. Whaleback, one of our natural areas, is the majestic landmark I aim for. Many who come to this beach are unaware that the Leelanau Conservancy has protected this geologic wonder and its shoreline, as well as the land by the harbor known as Hall Beach.
Every summer, my husband and I mull the idea of visiting the Grand Canyon or some such place friends tell us we must go. But I just can't bear to leave here during prime beach time. Last summer, as I sat watching the waves pound the shore during a week-long Leelanau "staycation," I read about a study on water and mental health. The study described how being near water or exercising in water makes everything better, from depression to anxiety, to improving the health of a mother and her unborn child.
My dad, of course, knew this intuitively, just as I do. I often wonder how his life would have turned out had he lived where I do, with easy access to clean, fresh water and waves to meditate on and wash our troubles away.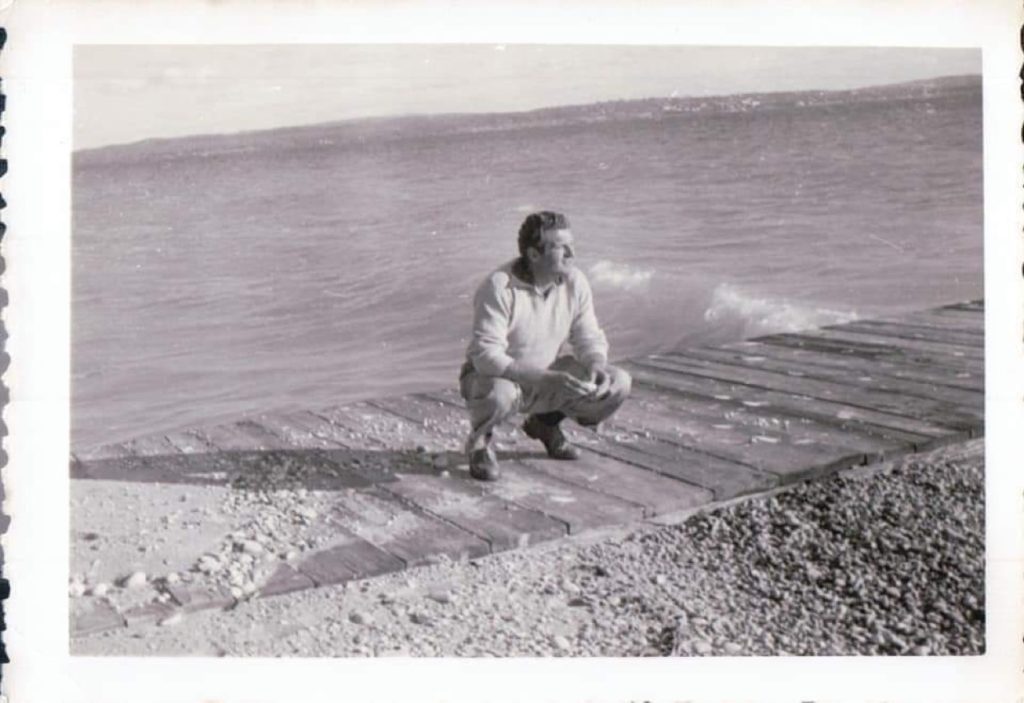 Carolyn Faught worked for the Leelanau Conservancy in communications from 1992-2021. This piece was originally published in 2015 in "Why We Preserve," a book of essays paired with Ken Scott Photography photos. The book was created by the Leelanau Conservancy to celebrate its 25th anniversary.