The Conservancy has partnered with Lake Associations and other organizations to help write watershed protection plans for the major watersheds in Leelanau County. These plans are a guide for watershed residents to help maintain and improve the health of their watershed. They are written to meet both the state (Department of Environmental Quality or DEQ) and Federal (Environmental Protection Agency) criteria in order to be eligible for various grants and funding resources related to water quality and watershed protection.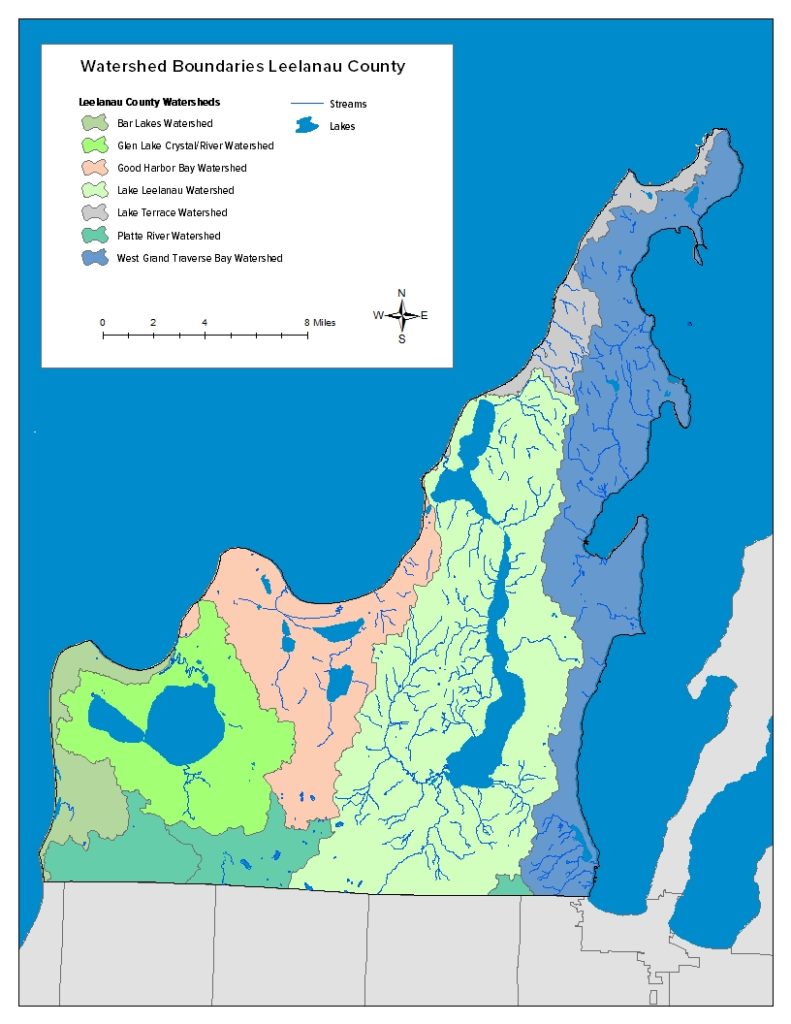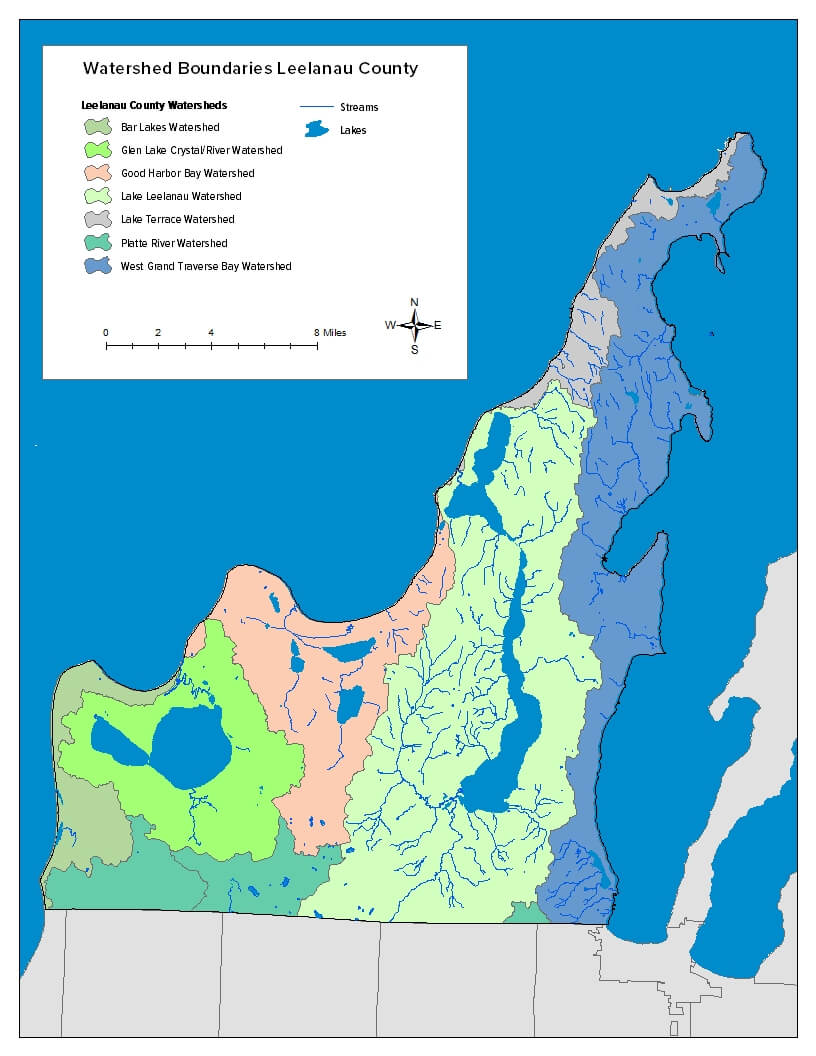 The Glen Lake Watershed, The Good Harbor Bay Watershed, the Lake Leelanau Watershed and the West Grand Traverse Bay Watershed have approved watershed plans. The Conservancy has been a successful partner with these plans by protecting important upland recharge areas, wetlands and lake/stream frontage using Clean Michigan Initiative (CMI) funding. These watershed plans outline best management practices to help maintain watershed health and have been used as a guide for lake associations and residents. The Glen Lake Association has been successful in obtaining CMI funds for their water quality monitoring program.
Download a chart summarizing land protection efforts to date by the Leelanau Conservancy by watershed. We have worked with private landowners on private conservation easement projects, purchased land that is open to the public as well as what we refer to as transfer and assist projects. This is where we have partnered with another organization on the project but do not own or hold a conservation easement on the property.
Approved Watershed Plans in Leelanau County
How you can get involved?
Join Leelanau Clean Water
Leelanau Clean Water is an advisory group to the County Commissioners. Formed in 2008 in response to the concerns over individual on-site waste water treatment in Leelanau County. Today it is an educational group meeting to discuss water quality concerns and organizing workshops related to water quality.
Leelanau Clean Water Mission Statement- To restore, protect and sustain water resources, promote public awareness of environmental and economic importance, and provide accurate information to assist public participation in water resource decisions.
Our Role in Clean Water
Leelanau Conservancy staff sit on the Board of Leelanau Clean Water representing The Conservancy and our water quality program. We participate in the monthly discussion topics, help organize an annual Water Quality Symposium each June and share our water quality program activities and results with the Leelanau Clean Water group annually. Our data is also emailed to Lake Associations and other interested parties each year and included in the new Leelanau Clean Water database. To learn more about Leelanau Clean Water, visit their website or attend a monthly meeting. They meet the third Wednesday of each month at the Government Center from 9:30-11 a.m.
Get Involved with your Lake Association
Your lake association has a wealth of information and volunteer opportunities for you to learn and get involved. Below is a list of the Lake Associations with websites.
Little Traverse Lake Property Owners Association (LTPOA)
Cedar Lake Association- No website. Current President, Ed Rutkowski, Email: [email protected]
South Bar Lake Association- No website. Current President, John Collins, Email: [email protected]

For more specific or in depth information on Watershed Planning or Water Quality please contact Chase Heise.
---