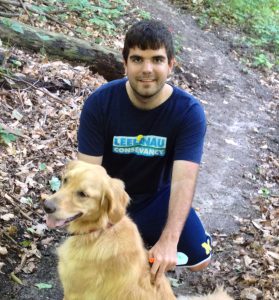 Last summer my son, Sam, was home for a few weeks before starting medical school at the University of Cincinnati. (Okay, so I'm a proud Mom, who also watched him face total rejection the prior year.) Sam had read about Clay Cliffs so taking a hike there was on his list of must-dos (along with eating a lot of sandwiches from the Cheese Shanty). So on a lovely July evening we put our dog, Sunny, in the back of my Honda and drove the back way to Leland.
On our way we passed my favorite view in Leelanau—the one from Jelinek Road of the Newton Farm. Before I could say it, Sam piped up. "Forever protected! I know, I know, Mom…jeez."  I always say that whenever I pass the farm. I want my passengers to know that this vista overlooking Lake Michigan will never change, thanks to conservation heroes Roger and Coco Newton.
When we arrived at Clay Cliffs, I grabbed some insect repellent, put Sunny on her leash, and we all bounded up the trail. Soon we were immersed in the deep green forest– evening's golden light striping the steep slopes formed by glaciers. I marveled at the beautiful, well marked trail my fellow staffer Sarah Cook and her volunteers had blazed. As someone who is directionally challenged, I really appreciated this.
Sunny pulled and sniffed all along the way. We heard the rustling of chipmunks, and birds chirping in the forest canopy. Keeping Sunny on her leash was a must; just a week earlier a hiker's small dog ran over the edge of the sheer bluff and couldn't climb back up.  Fortunately stewardship staffer Andrew Milliron was nearby working with volunteers. He rescued the shaking pup by tying himself to a tree and repelling down the bluff. (Andrew was reminded of his good deed for days as he contended with a terrible case of poison ivy.)
I told this story to Sam as we stood at the top of the bluff where our beautiful observation platform would be built. We took in the breathtakingly beautiful scene. I told Sam about the eagle's nest and how there is an amazing display of trillium here in spring. And that over 650 people had made gifts to save this place—our family included.
As a child, Sam spent a lot of time outdoors climbing trees, building snow forts, and messing around in the stream across the road. As a teenager, he told me that the best part of his job at my flower farm was driving around the county doing deliveries. But like so many kids, it wasn't until he moved away to college that he really came to understand what he'd left behind. I remember how homesick he was in May knowing that the cherry trees were in bloom and that the woods were full of leeks and trillium. He started dreaming about coming back here someday to raise a family of his own. And so although there are a lot of reasons why he wants to be a doctor, one of them is that he might actually be able to make a living here.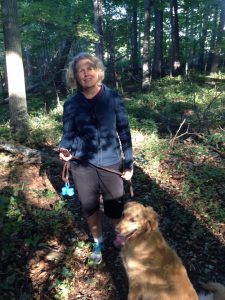 I thought about this as we took one last look and made our way down the trail. On the way home, I pulled of the road by Kalchik-Newton Farm and we watched the sun sinking into the Manitou Passage. Sunny nosed her way between us and as Sam scratched her ears he talked about Clay Cliffs and thanked me for taking him there. I can't remember exactly what he said, but the gist of it was that he thought it was really cool that places like Clay Cliffs could be saved. And he was glad I was a part of "all that." He made me feel like the work I did mattered to him.
My job at the Leelanau Conservancy as Communications Director over the last 13 years has had many rewarding moments. But never one quite like this. — Carolyn Faught, Senior Writer and Donor Loyalty Officer, from our Nov. 2014 Newsletter.