By Carolyn Faught, Senior Writer for the Leelanau Conservancy. This piece was created for and originally appeared in The Boardman Review's summer issue.
People fall in love with Leelanau Conservancy Natural Areas for all sorts of reasons. Everyone has their favorite place and after 19 years of writing for the Conservancy, I thought I'd heard it all. That is, until I started talking to people about what it is that makes the Palmer Woods Forest Reserve so special to them.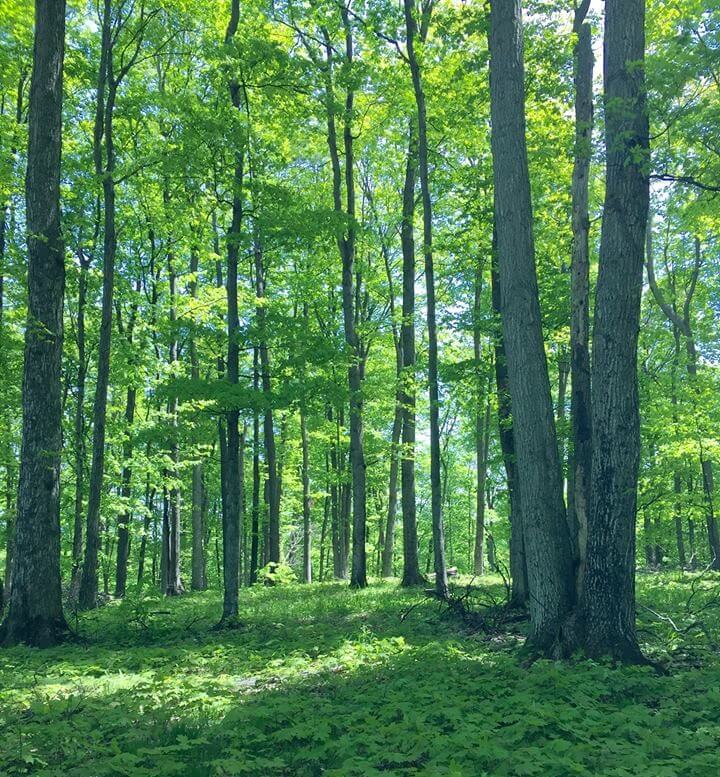 I've been out to this one-time working forest a number of times for other stories since it was protected in 2016. I've wiped out on the groomed cross-country ski trails, met and written about the former owners, hopped over logs on a fern garden tour, covered a Fun Run sponsored by M22. I've seen the stunning fall color and the spring ephemerals along the Price Valley Trail, named for our founding directors.
In writing this story, however, I've come to realize that perhaps more than any other natural area we own, Palmer Woods stands apart. Because of its sheer size, it has the capacity to embrace nature lovers and recreationists, scientists and hunters, toddlers and octogenarians. It is, perhaps, the most multi-faceted of our beautiful properties—not in an ecological sense so much, but in its potential to connect people to the land.
I was blown away that the Leelanau Conservancy could raise the money to buy the first 721-acre majestic forest. Last year, when our organization made the commitment to try and increase the property to a "1000 Acre Wood," I was dubious. It meant taking yet another leap of faith at a cost of $3.5 million. I have to admit, I didn't think it could be done. Our donors are fatigued, I thought. Well, I was wrong. And once again I was amazed by the generosity of people who think like we do: There's No Place Like Leelanau—and are willing to go to the mat to preserve the best of it.
Meet the people who can't wait to make this 1000-Acre Wood a dream come true.
The Leader
On a sunny pre-pandemic February day, Executive Director Tom Nelson welcomed 45 hikers to the 350-acre addition the Conservancy is fundraising for. He told the crowd he wanted them to remember three numbers: 1000, 95 and $3.5 million.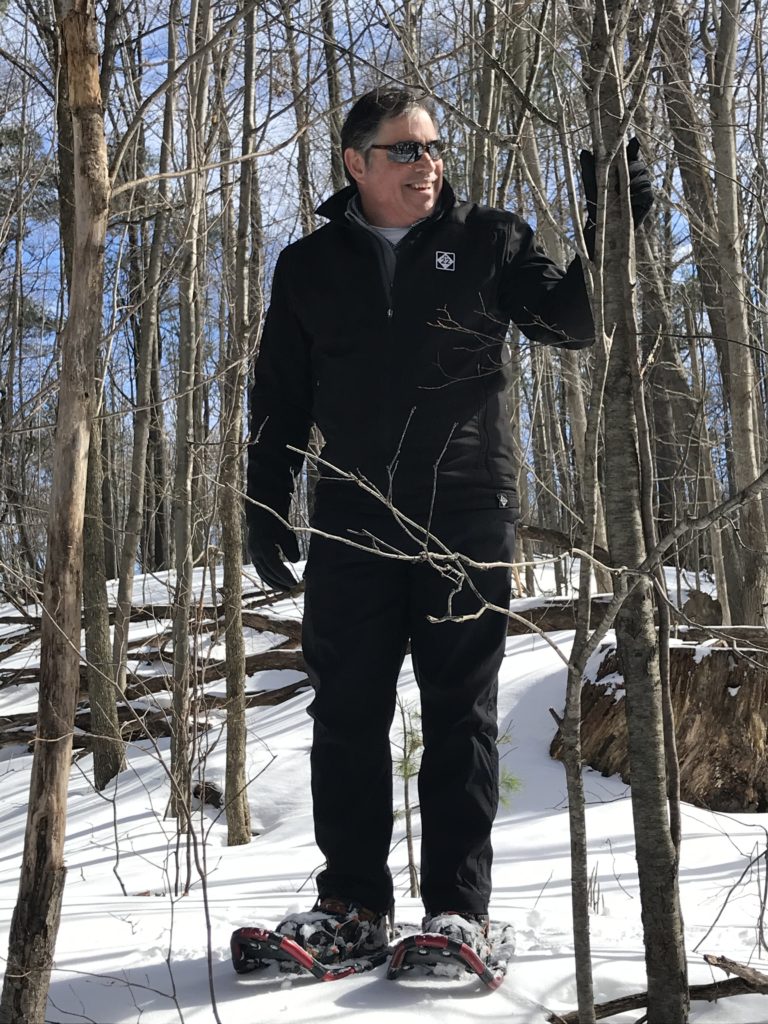 Before leading them into the hilly woods, Tom explained: "We are on our way to creating a '1,000-Acre Wood'. The price tag on this magnificent proposed addition is $3.5 million. We are 95% of our way to making this dream a reality. And we need your help to get there."
Five years into his tenure as ED, Tom has watched Palmer Woods develop into one of the Conservancy's most-visited natural areas. He's passionate about this place and the opportunity to add to it for a number of reasons.
#1: Palmer Woods protects clean water in nearby Glen Lake and Good Harbor Bay. "In Leelanau County, we have so much groundwater moving under the forests, feeding into lakes and streams," says Tom. "One of the best ways to keep groundwater pristine is to keep the forest above it intact. Clean water benefits everyone from humans to animals to the plant kingdom."
#2: This massive forest will help to tackle climate change. Fun fact: a mature tree absorbs carbon dioxide at a rate of 49 pounds per year. In one year, an acre of forest can absorb twice the CO2 produced by the average car's annual mileage. A thousand acres can offset a lot of carbon. "The forests are the answer," says Tom.
#3: The trails here are critical to engaging the next generation by expanding opportunities for four-season recreation. (See profiles to follow).
#4: Palmer Woods is home to a working forest laboratory. Two large deer exclosures were constructed in 2017: fenced-in areas where plants and saplings are off-limits to hungry deer. A multi-year study aimed at determining the effects of deer browse on the health of the forest is in the works.
"When I think about Palmer Woods, the people and the land are always inextricably linked," says Tom. "People must have a meaningful connection with the land to want to protect it and therefore, engaging the next generation of conservationists is critical to our future. Here in our own little corner of the planet we are saying here is your chance to see, hear, touch, smell and fall in love with nature."
"The bottom line is that nature is worth fighting for," adds Tom. "And those who love nature will fight to protect it."
The Mountain Biker
For Bob Sutherland, owner of Cherry Republic, the mountain biking trails at Palmer Woods have become "my go-to place for our family,' says Bob. "It's a place for us to have a more active outdoor time that brings us all together."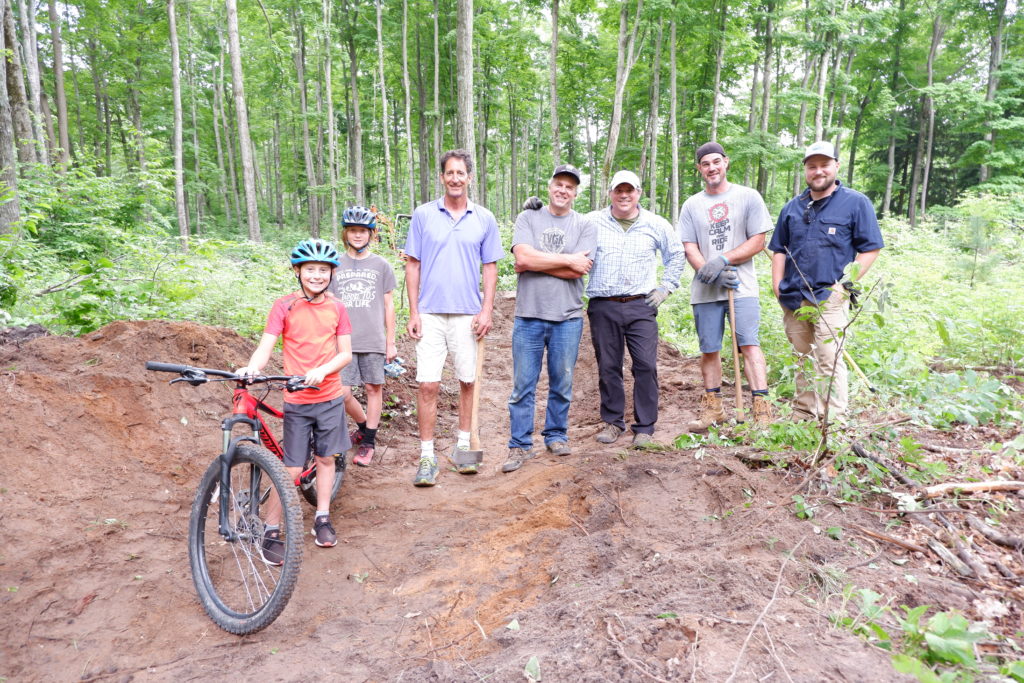 "I'm a fan of the adrenaline rush," says Bob. He and his two sons, ages 13 and 11, tackle the jumps featured on the single-track flow-style mountain bike trails, while his wife, Stephanie skips the jumps and watches Bob and the kids soar through the air. Palmer Woods is just a 10-minute drive from home. Before it opened up to mountain bikers, he drove the family to Arcadia, Bellaire, even up to the U.P. "I can get all of the joy I need right here at home," he says. "And watching my kids progress on mountain bikes has been a huge blast."
As a business owner, he's thrilled to see families from elsewhere spending a full day in Leelanau. "They can bike, then hit the beach, do some shopping, eat out," says Bob. He's excited about the prospect of a longer trail system planned for the new addition. "What we have now is a great 40-minute workout," he adds. "I'm looking forward the possibility of longer rides, spending maybe three hours in the woods, stopping to enjoy the scenery and taking our time."
The Family Man
Peter Fisher and his wife Cassidy were born and raised in Leelanau, graduates of Glen Lake High School. Peter was an Alpine ski racer, and won the state's Division 2 giant slalom and slalom races in 2000. Cassidy went on to Middlebury College in Vermont where she raced on the Nordic ski team. The couple moved back to Leelanau to raise their family, and to take advantage of all the recreational opportunities that the peninsula has to offer. An avid mountain biker himself, Peter says he is "over the moon that we will have a really great network of trails close to home for young families like ours."
In fact as soon as their oldest son, Ethan (4) was able to strap on skis, Peter had him out at Palmer Woods. And in the summer, Peter carries Ethan's "strider" bike (one without pedals) until they reach the last part of the East Loop bike trail. "It's amazing what a little kid can do just by pushing and gliding with his feet," says Peter. "He was having a blast. The terrain has just enough of a descent to help him pick up speed and roll along."
Peter, a realtor, said that when Tom Nelson reached out for support from the business community, "We were all in." He and Cassidy were among the first to donate. He is also part of a volunteer group of mountain bikers that is committed to maintaining the trails.
The Winter Rec Enthusiast
Kathy Cook-Dowd, 62, is a retired postal worker who lives in Cedar with her husband, Tim. Her favorite thing to do at Palmer Woods is to go cross-country "skijoring" with her rescue dog, Winnie. Skijoring is derived from a Norwegian term that means "ski driving." Winnie wears a harness connected to a 10-foot-tether and is free to run. In the process, the dog pulls Kathy along. "Winnie loves going out there," says Kathy. "It's a safe way to let her run and it's the only groomed trail in the area where dogs are allowed. And there's always more snow out there with higher elevation and the trees that block the wind."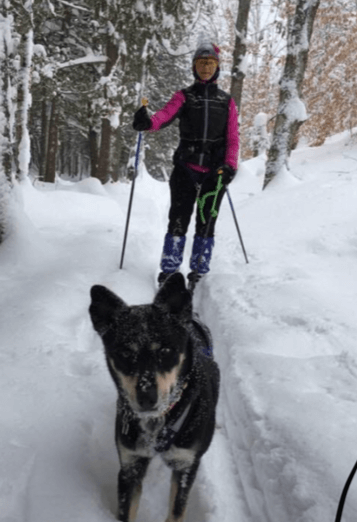 Kathy also enjoys snowshoeing at Palmer Woods, trail running and hiking. Her husband, Tim, volunteers with Friends of Sleeping Bear, helping to groom trails in the winter, and for the last six years he has also served as an ambassador on the Heritage Trail. Says Kathy: "Palmer Woods is such a great asset for the west side of the county."
The Botanist
Liana May is intimately acquainted with all that's green and good at Palmer Woods. The plant biologist has documented 309 species including nine first-ever recorded species in Leelanau. Liana assigned this working forest a "Floristic Quality Index (FQI) score of 54.5.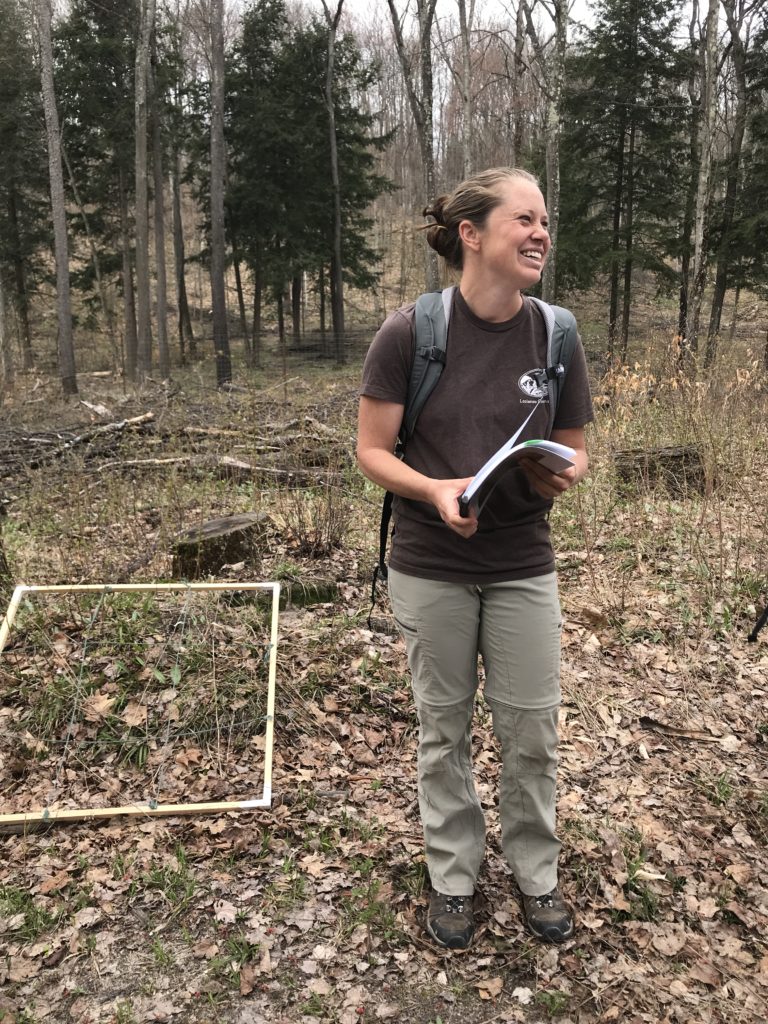 A FQI is a measurement of the ecological significance of a given area. (To put Palmer Woods in context, Cedar River Preserve, a multi-faceted wetland complex, holds the Conservancy's highest score of 91.)
"Palmer Woods has a really high score for an upland forest, and is significant at the state level," says Liana. "Its sheer size provides a diversity of microhabitats—everything from dry steep sandy slopes to sheltered valleys to a stream bank." She's helping to conduct a long-term study that will document the effects of deer browse on the forest by studying plots inside and outside of the deer exclosures. "Adding 350 acres will just make a good thing get even better," says Liana.
The Match Makers
When we approached Ron and Marvel Jones about making a gift to the Palmer Woods 1000-Acre Project, these longtime, generous Conservancy supporters wanted to know how they could best help. After hiking the property with Tom and other staff, they offered a $500,000 pledge that would match the gifts of other donors, doubling their impact.
The couple spends part of their winter in Ft. Myers Beach, Florida, where they have been going for the last 50 years. Ron says it was once a "beautiful little community, all white sand beaches – small bridges – sandy roads – no buildings taller that one story for miles, with access to the beaches and bays. " Today it saddens them to see "hundreds of 20- to 50-story hotels and condominiums, limited access to the beaches and mostly commercial buildings. That is the last thing we want to see happen to our beautiful Leelanau Peninsula."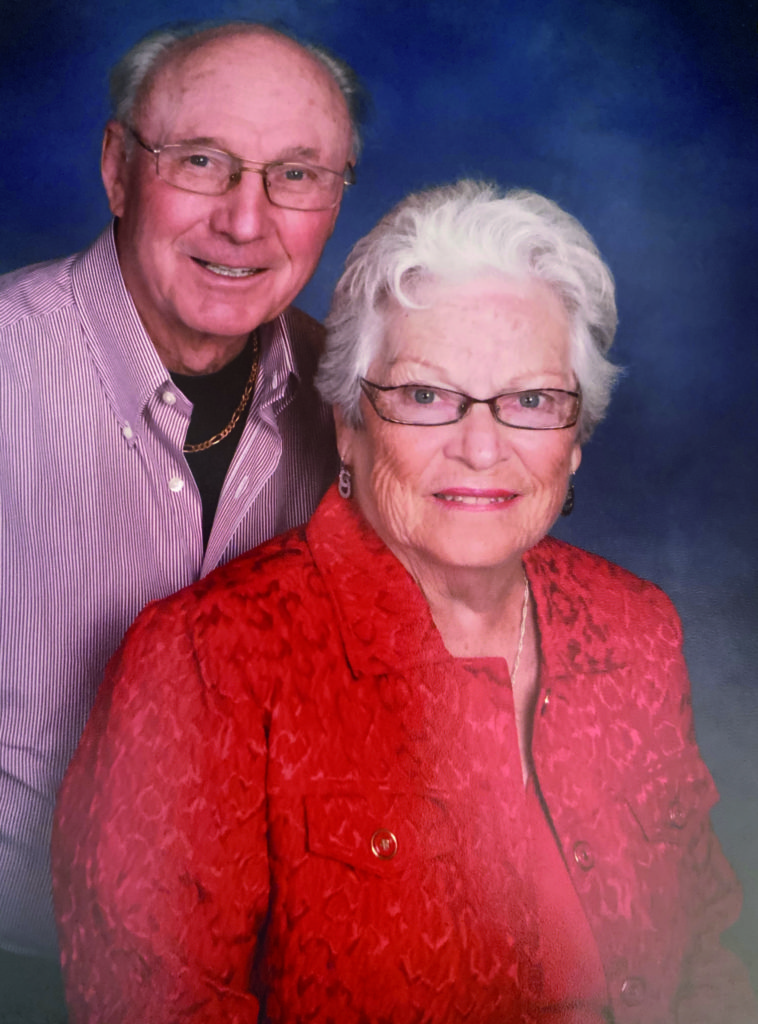 "We thank God for this beautiful peninsula and also the Conservancy teams and the people of the peninsula for preserving the pristine waters, fields, and forests that make visiting and living on the Leelanau Peninsula such a wonderful and rewarding experience," says Ron. "Marvel and I are dedicated along with others to continue this outstanding effort. The Palmer Woods project falls directly into the objective of preserving what makes Leelanau so special. With everyone's help, this wonderful undertaking will be accomplished."
The Solace Seeker
The former owner, Dr. Daniel Palmer is a fern expert who has written two books. His dream was to showcase the ferns that grow in Michigan on this property and to that end, he and his wife, Helen have made a gift to establish a new fern garden.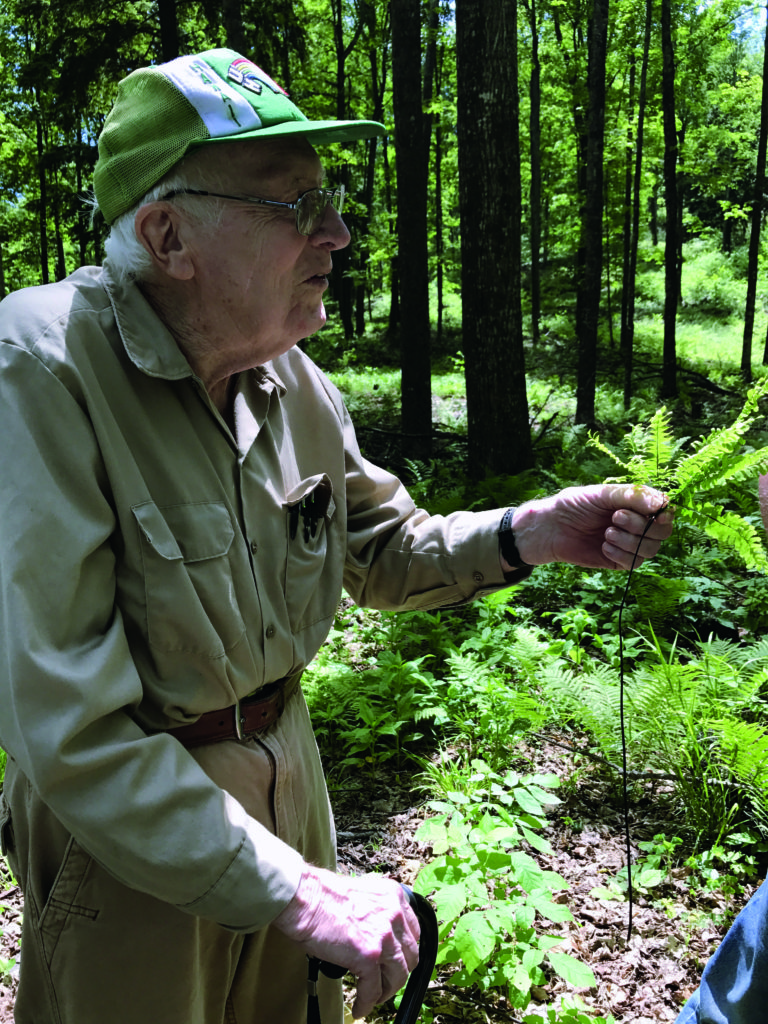 Conservancy Land Steward Emily Douglas, a botanist and also a big fan of ferns, is spearheading the project. She spent a lot of time in the woods last summer working with volunteers to establish the garden. "Palmer Woods' long connecting trails through such a large hardwood forest are rare in the area," she says. "The addition means that Palmer Woods will soon share a five mile border with Sleeping Bear Dunes National Lakeshore. It feels like you can really get immersed in something that is much bigger than yourself and really get away from it all."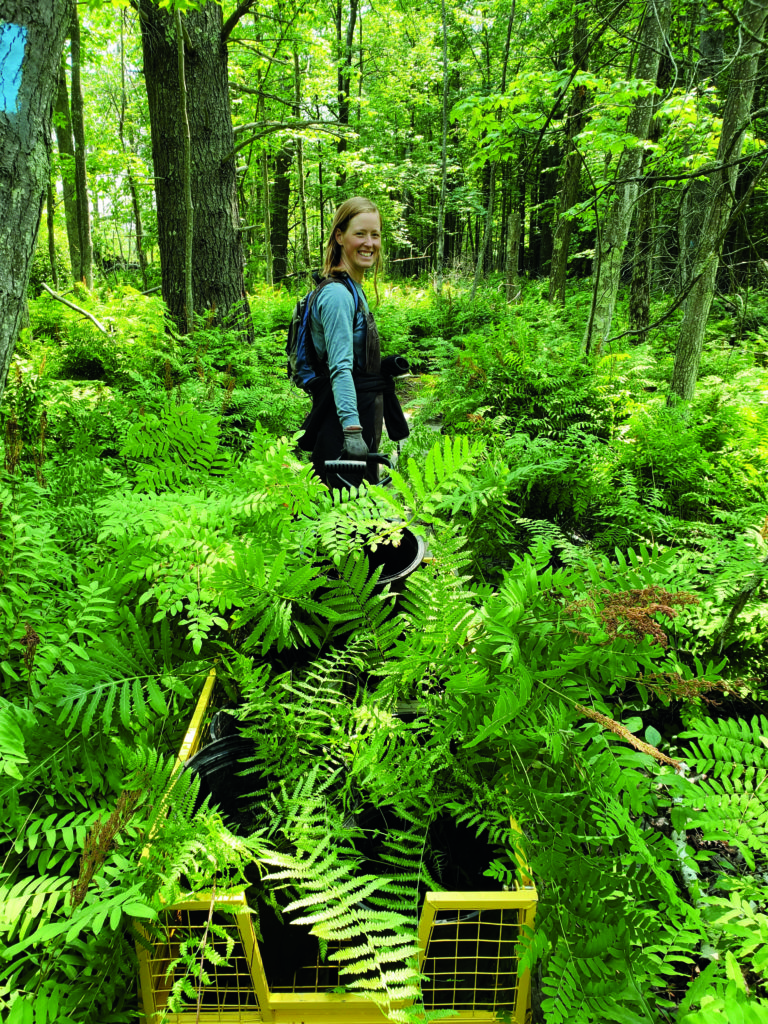 Update: We met our goal for the 1,000 Acre Wood project! Stay tuned for updates about completing this purchase and eventual access to this new property. Learn more here, watch a cool video, and contact Development Director Meg Delor if you would like to donate to this project.