Like so many Leelanau Conservancy members who split time between two homes, Bill Pumphrey and his family always long to be in Leelanau. One way that they stay connected from their home in Ann Arbor is to watch the sunsets on Good Harbor every night via a video camera that Bill installed in their Leland home. This passion for our peninsula is why Bill and Julie have been longtime Sustainers and members of the Richard O. Ristine Heritage Society.
The Pumphreys normally travel to Leelanau a couple of times a month. But it's never enough time, says Bill, who plans to retire in a few years and can't wait to move up north permanently. The pandemic has given him a glimpse of what that life might be like. "When Covid-19 hit, everyone said 'Let's go home to Leland.' All of us consider Leland to be home." Julie is a retired dentist and they have two college-aged children. Bill works for an automotive component manufacturer and was suddenly forced to work from home. So they packed the car and headed north in mid-March.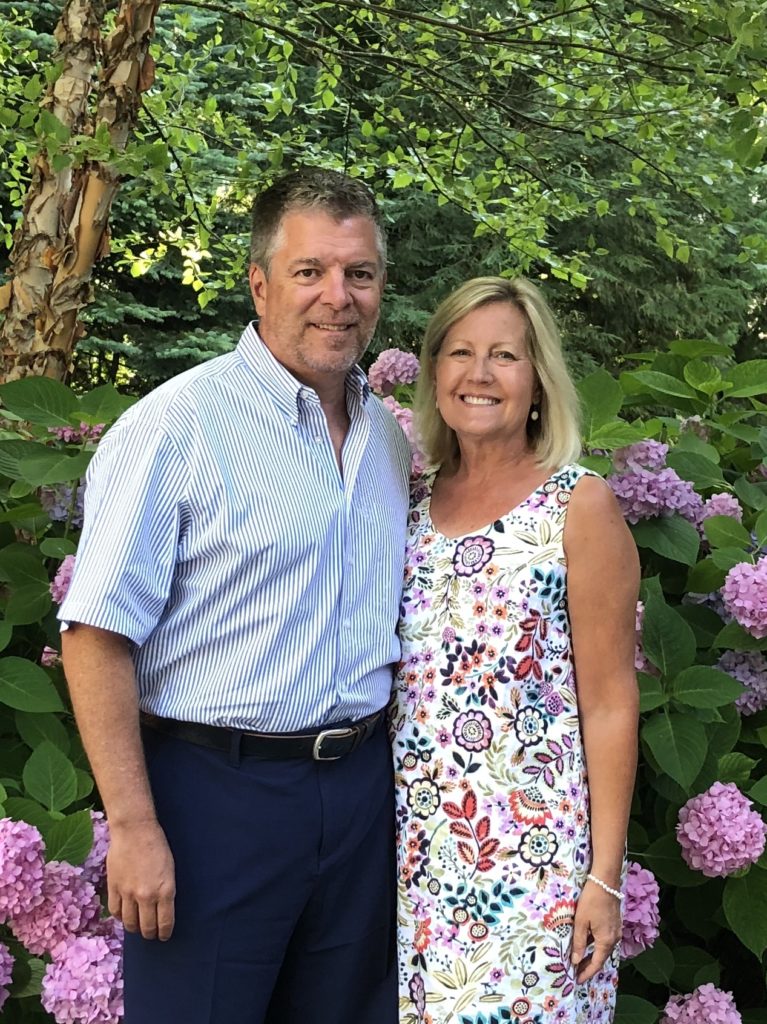 Now Bill finds himself sitting in Zoom meetings all day, looking out on Lake Michigan. At lunch, the family takes a beach walk. "We have been very lucky to spend two solid months in Leelanau, given the circumstances," Julie said in late May. "Having Conservancy natural areas to hike at has been a godsend. We've explored many that we had never been to before, like Lighthouse West."
Bill, 60, was raised in Ohio. Julie, 57, grew up in Midland. Thirty years ago over Memorial Day Weekend, when they were dating, the couple ventured north and stayed at The Homestead. It was Bill's first time to Leelanau. "I immediately fell in love with it," he said.
They dined at the old Inn at the resort. "It was a beautiful night," recalled Bill. "As we watched the sunset, I asked Julie to marry me."
Julie said yes and they soon became parents and owners of two golden retrievers. They came to Leelanau whenever they could, staying in dog-friendly rentals on Cathead Bay and Little Traverse Lake. In 2004, they bought their property on Good Harbor Bay; Maddie and Matt were 5 and 3 at the time. In 2008, they replaced an old cottage with a new home.
Julie stopped practicing dentistry which allowed her and the kids to spend entire glorious summers on Good Harbor Bay. Bill would commute on weekends. As they grew up the kids took on jobs. Maddie volunteered at the Leelanau Children's Center, worked at the Harbor House, and later was a counselor at Shady Trails. Matt worked at the Harbor House one summer and home construction another. At the end of summers, they would reluctantly pack the car and head back to Ann Arbor.
Bill said they became aware of the Conservancy early on. Their first gift was in 2006 to acquire a Leelanau Preserver's tile on the Leland Village Green so that their children would always have a physical reminder of the family's support for the Conservancy. A year later they became Sustainers Circle members. On joining the Heritage Society, Bill said, "to us, it was a natural extension of being able to maintain our connection and support to the one organization that we feel does the most to maintain the culture of Leelanau and what this county is all about. Joining the Heritage Society just closes the loop. It ensures that our support, through a small family foundation that we established, continues long after we are gone."
"We are lucky enough to have Leelanau County as part of who we are," Bill continued. "When I die, I'm going to have my ashes put into Good Harbor Bay during something we call 'Diamond Hour' – that's when the sun hits the water and twinkles across the waves like diamonds." This story was published in our Summer 2020 Newsletter.