Close-knit Family United in Desire to Protect Fragile Hatlem Creek
For everyone who loves Glen Lake and its clean, azure waters, here's some great news. A close-knit family with a passion for the lake has sold 32 acres, including 1,400 feet of frontage along fragile Hatlem Creek, to the Leelanau Conservancy. The land will be added to our lovely Hatlem Creek Preserve, increasing it to a total of 72 acres, and will help to ensure Glen Lake's pristine water quality forever.
That's because Hatlem Creek and the sensitive wetlands surrounding it provide an important source of fresh water to Glen Lake; in fact it is the lake's main tributary. The federally endangered Michigan Monkey Flower grows on the property, thriving in wet, mucky soils where cool waters flow. Hatlem Creek is also a wildlife haven; state-threatened red-shouldered hawks nest in the closed forest canopy and trout and salmon spawn in the stream.
Gordon and Jann Waldenmyer overlook the now protected land from their log home, built in 1996, and they retain several acres adjacent to the Preserve. The family's ties to Glen Lake go back to Jann's parents, who discovered the area in the late 1920s after being invited up by a friend. They purchased Sunset Cottage from the Vlack family in 1947 and Jann and her sister spent summers on the lake. Later, she and Gordon brought their children north from Ypsilanti for vacations. Son Brandt was just six days old when his toes were first dipped into Big Glen; daughter Carrlin Neiss, who was born in the winter, had to wait six months as the cottage was not then compatible with Leelanau's winter winds.
A Family Affair
The Waldenmyers, knowing they wanted to eventually make a permanent home near Glen Lake, found the land along Hatlem Creek in the 1980s and began plans to build. Meanwhile, Jann and her sister shared Sunset Cottage after her parents died, but ever-increasing taxes and advancing age led them to sell in the early 2000s.
Today, Brandt lives with his 80-something parents; Carrlin and her husband own a home and five acres adjacent. All of them revere the land, where they have seen bear lumbering about, otters sliding into the creek and big bucks nibbling on tree seedlings. Carrlin recalls seeing giant snapping turtles emerge from the swamp to dig holes in the sandy soil near her parents' home. The turtles laid their eggs; after hatching, baby turtles scooted back to the swamp. Brandt talks of hooting back and forth with the barred owls.
A Passion For Preserving this Place
"Whether we stay in the house or not, we would never want to see the land get filled in and developed," says Brandt. "There's enough money out there that even the best of regulations are being circumvented and we simply didn't want to see that. Any sort of cutting of trees there would totally change the ecology. Certain things are worth saving."
Their parents say they contacted the Leelanau Conservancy after reading articles in the Leelanau Enterprise about other landowners who had protected land, including their late friend Glen Noonan. Gordon was wary at first; Jann was without reservations. But as they saw more and more land being developed, Gordon came around. "Man can't do what Mother Nature does, the way I look at it," he says.
Conservation Easement Program Manager Yarrow Brown, who worked with the family over the last few years, calls it a "feel good project for both the land and the people, and a piece of the bigger picture for land protection in the Hatlem Creek subwatershed." The Waldenmyer property adjoins protected land owned by the VanZoeren family, who graciously granted them an access easement they needed in order to meet county regulations to sell the Conservancy the property. "No matter what happens, the family will always be able to hike and enjoy the new preserve, as they always have."
"Jann and I imagined what could happen and that drove us, but we never would have sold it to anyone but the Leelanau Conservancy," says Gordon.
Home to the Endangered Michigan monkey-flower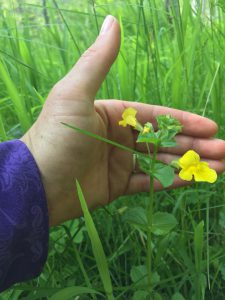 Hatlem Creek is the prime tributary flowing into Glen Lake. Protecting this fragile creek and the lands that surround it is critical to the health of the lake and watershed. It also is home to the endangered Michigan monkey-flower.
Increased construction along lakes and streams has destroyed monkey-flower habitat. Because the monkey-flower needs flowing spring water, road construction and other activities that affect water drainage also affect the species. Michigan monkey-flowers now survive at only 12 sites in Michigan. Two-thirds of the plants are on private property. Source: U.S. Fish and Wildlife Service. Photo by Borealis Botanicals