Dr. Paul Dechow takes his family history very seriously. His relatives bear the names of some of the county's earliest European settlers: Shalda and Basch, Kelderhouse and Kessel–one of the founding families of North Unity. In fact his great-great grandfather, Friederich Dechow, in 1857 purchased the land known as the iconic Dechow farm along M22. It is now part of the Sleeping Bear Dunes National Lakeshore.
Over the Christmas holiday, sitting in their living room that overlooks the Bohemian Valley, Paul and his wife, Joanne, talk about their own Leelanau history. Son Ian, 24, listens to his parents speak about how they came to own this land, and what inspired them to donate a conservation easement that will forever protect their 105 acres in the valley.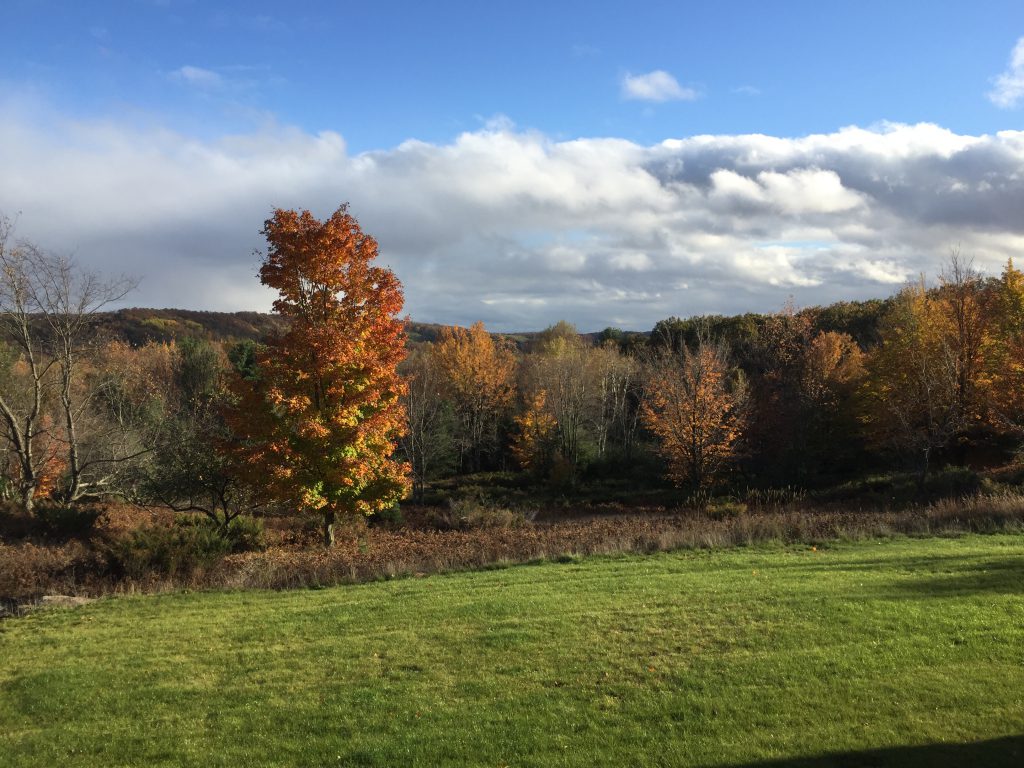 "It's hard to put into words what it means for me to spend time here," says Paul, gazing off toward the distant ridgeline. "This has always been home, and it was for my parents as well, who met at St. Paul's church in Good Harbor." Paul, the youngest of four, was born in Battle Creek, where his father had taken a job as a school principal in the 1950s. But Leelanau was always home, and the family came north at every opportunity to a small house on Wheeler Road that Paul's father built in the 1930s. Paul recalls many trips to Leelanau, filled with hiking and hunting in the woods, fishing for pike on School Lake, and visiting many offshoots of his large and extended family.
Deep Leelanau Roots
"I was related to just about everyone I met," adds Paul, noting that his great grandfather had over 80 grandchildren and 200 great-grandchildren, including Paul. Joanne was raised in Baltimore and fell in love with Leelanau on her first visit with Paul in summer, 1972. Today the couple lives in Dallas, where Paul is Associate Dean of Academic Affairs at Texas A & M University College of Dentistry. Joanne is an oncologist who specializes in breast cancer treatment and genetic counseling. They continue to visit their home in Leelanau at every opportunity.
A Commitment to the Land
They purchased the land at auction in 1985, originally settled by Paul's great-great uncle, Frank Shalda. The Dechows were newly married and living in Ann Arbor. Joanne was in the midst of her residency; Paul was doing research and teaching at the University of Michigan in a post doctorate position. They had $2,000 in the bank and withdrew every penny for a down payment. It would be 10 more years before they could afford to build the house.
Their now-protected land borders the national park and would be a prime spot for development. It takes in five acres of wetlands important to the health of Good Harbor Bay as well as agricultural areas Paul hopes to revitalize. We head out to snowshoe around the property, where Paul says he sees deer and turkeys regularly; bobcat, coyotes and bear on occasion. On a recent walk, he flushed 20 grouse.
The family is dedicated to caring for their land. "It was a mess when we bought it," says Paul. There were 20 junk cars and 130 tires to dispose of. In a small old farmhouse on the property, where Paul's cousin had lived, they found moth-eaten furs drying in the attic and 200 quarts of preserves from the 1950s in the basement. Paul dreams of improving and repurposing the house and maybe even a nearby outhouse, now covered in vines.
A Fascination With the Past
Ian and his sister, Monica, annually posed for photographs by the outhouse to document their growth. We pass a rusting threshing machine; Paul recalls it was his job to hold the burlap sacks as the grain poured in. Back in the house, we visit the basement where he shows off a wardrobe used by his ancestors; at one time it would have held all the clothing for a family of 12. Paul has restored it and cherishes items like these—as well as the thousands of photographs he has collected—that detail the family's history.
Paul's fascination with the past was sparked early on by listening to his great aunt, Olive Dechow Mannes, tell stories over big family dinners. He has since assembled a book that meticulously documents his ancestors' place in Leelanau. Every year he shares stories and photos at the Dechow Farm during the Port Oneida Fair.
Paul and Joanne have long wanted to protect their land and now was the right time. "Our salaries are at their peak so the timing was financial in terms of tax advantages, but that's not why we did it," says Paul. In a few years they plan to retire and spend more time in Leelanau.
"Our main motive was to keep the land in its original state, for future generations," says Joanne. "We really didn't want to see it developed."
Why Protect Private Lands?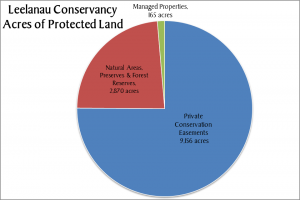 The Conservancy has worked with 170 landowners like the Dechows to protect cherished family lands and we all reap the benefit. These places help to protect clean water, spectacular roadside views and wildlife habitat. When you are driving around Leelanau County, you may not even realize the landscape you love will always stay that way. Did you know that over two thirds of the lands we have permanently protected since 1988 remain in private hands and stay on the tax rolls? Over 9,000 acres of working farmland and private natural lands are forever preserved with conservation easements. Read more landowner stories on our website. —Published in the Spring 2018 Newsletter