A couple's marriage is one of the most memorable milestones of their relationship. Declarations of love are expressed, and a lifetime journey begins. When married couples recount their wedding day, oftentimes, they mention how quickly it all went by. Between cake cutting and visiting with their guests, they realized that they hardly shared a moment to themselves.

When newlyweds Lauren Dayton and Dan Rooner got married this past July 3rd, they made sure to have dedicated time set aside to have a quiet moment together. They spent part of that special time before the wedding ceremony at Teichner Preserve.

A secluded location and only 0.2 miles of trail make Teichner a quieter natural area. Martha Teichner donated the first 20 acres to the preserve to honor parents Hans and Miriam and their love. They had a fondness for Lime Lake, and on the right summer night, the pair would sneak off for a moonlit swim. Heart-shaped basswood leaves, wild roses, and rare ferns are only a few of the natural features that make this preserve feel as magical as it is romantic.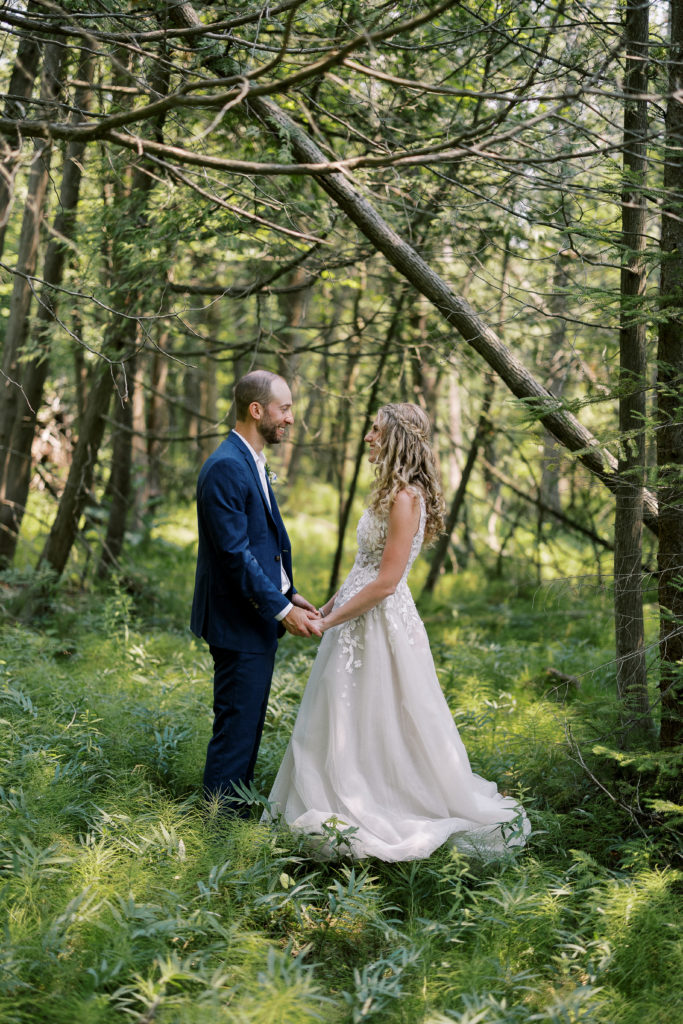 Though it's not typically the first Conservancy natural area that folks visit, it was the first for Lauren and Dan. Lauren grew up coming to Frankfort during the summer. When she and Dan began dating, she started bringing him on the annual trips. Together, they enjoyed exploring all of the beaches, trails, and roads throughout the area. When they found Teichner on one of these effortless excursions, they knew it would be a place they would return to time and time again.

"It instantly felt special to us," Lauren said.

When planning their wedding, Lauren and Dan wanted to keep sustainability in mind throughout the planning process. Keeping waste low was a priority, as well as using local vendors. Another facet of their sustainable approach was forgoing wedding gifts for themselves. Instead of a registry, Lauren and Dan asked guests to donate to the Leelanau Conservancy to support the Teichner Preserve.
"We have a home that's furnished and a kitchen that's filled with kitchenware. Sure, some of it doesn't match perfectly, but that's stuff we can accumulate later on," Lauren said. "We wanted to help contribute to a place that is special to us. Having donations made to the Conservancy is something we thought would be meaningful not only to us but to our guests and all of the others who enjoy their properties."

Before their ceremony at the Leelanau School, Lauren and Dan went to Teichner to recite their handwritten vows to each other. With only their folded-up vows and wedding photographer, they walked through the same wild and wondrous world that had captivated Hans and Miriam. They walked into a place they discovered together.

At the end of the evening, Dan and Lauren snuck away one last time. This time they climbed into a canoe and paddled Lake Michigan under a dusky, dreamy sky. Like Hans and Miriam, they know there's something irresistible about a moonlit lake.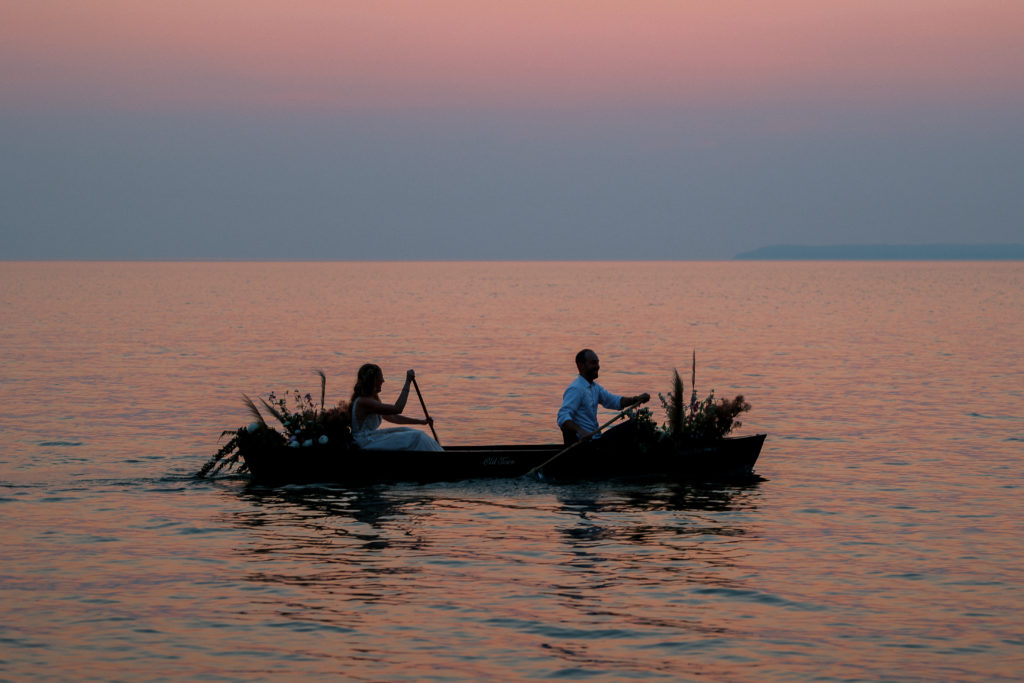 Gayle Egeler reached out to the bride and encouraged her to tell Martha the good news. A note was passed along from the bride to Martha.

"I was thrilled. What could be better than finding out that a place that's so special to me could be special enough to this couple to start their married life there," Martha said. "The pictures made me cry…with delight. Very romantic."

Martha expressed her well wishes to the couple, making a perfect end to their wedding bliss at Teichner Preserve. In a note, Lauren wrote back:

"We look forward to returning to the Teichner Preserve often to reminisce about the day that started our married life together. We will think of you and your family every time for having created this beautiful oasis and for the inspiration to protect such sacred land. We also look forward to continuing to promote conservation efforts so that our beautiful environment can be preserved for years to come."