Good things take time. Some of the Leelanau Conservancy's biggest and best projects were decades in the making. Saving the Crystal River. Preserving the iconic DeYoung Farm and shoreline. And now, Palmer Woods and its new 350-acre addition join the list. In the process, this vast, enduring place of serenity and play offers even more now for you, your family and friends.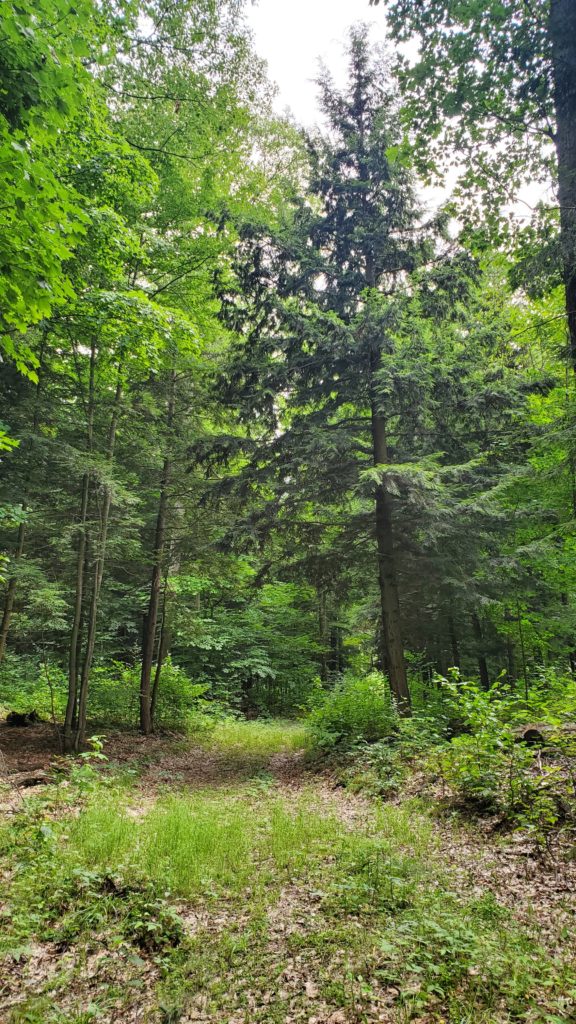 It's been a complicated and time-consuming process, but three separate landowners have made it possible for this majestic natural area to grow to 1,070 contiguous acres. The addition also expands a shared border between Palmer Woods and the National Park to five miles.

"We are just incredibly grateful to these three landowners for making this project possible," says Tom Nelson, Executive Director. "And of course this dream come true would not have happened without the extraordinary generosity of our lead donors. Longtime supporters Ron and Marvel Jones inspired others to give with their amazing $500,000 match, which helped immensely to propel us toward our goal."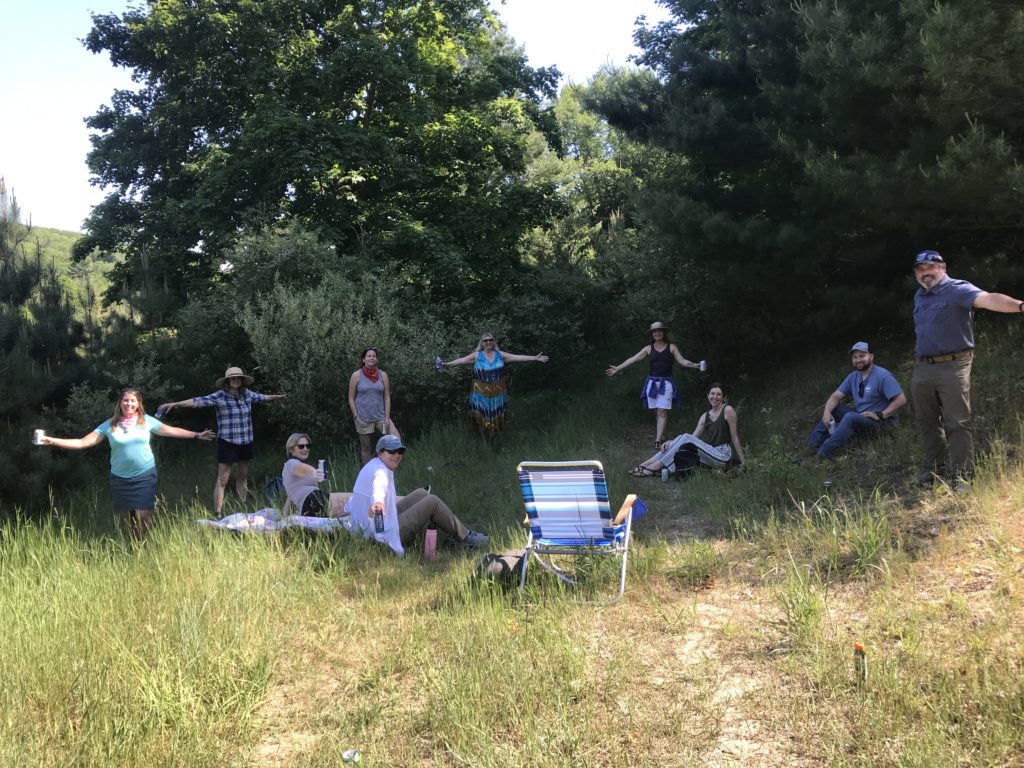 The Carls Foundation provided an additional $500,000 match to help acquire the land and the Ball Foundation donated $1,000,000 toward trail development. "The Glen Arbor business community really stepped up too, and of course, Andy Belanger's epic fundraising run of the entire length of M-22" adds Tom. "Together, with over 300 other donors, we were able to raise the needed $3.5 million to make it happen. It's just truly astounding and we are so fortunate to have this kind of support.
The 1000-plus acre wood will continue to safeguard the clean water of nearby Glen Lake and Good Harbor Bay, benefitting wildlife, swimmers and anglers alike. "In addition, we are providing a world class, four-season recreation facility right here in Leelanau County, adding to the economy and well-being of our peninsula," says Tom.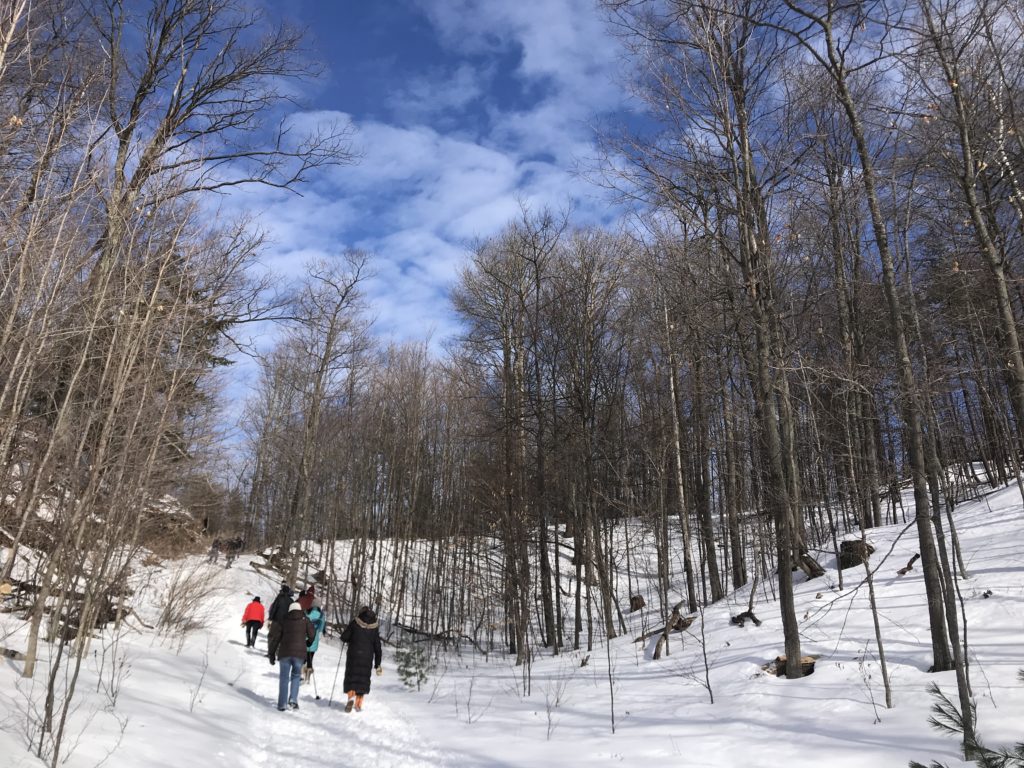 When the expanded trail system is complete, Palmer Woods will offer up to 40 miles of four-season recreational opportunities for hikers, cross-country skiers, and mountain bikers of all ages and abilities. "People asked for this, and the response has been amazing," adds Tom.

"It's wonderful that Palmer Woods is enjoyed by so many," says Dr. Dan Palmer. He is the patriarch of the family who sold the first 715 acres to the Leelanau Conservancy, and for whom the Reserve is named. The Palmers have generously donated 14 acres to the 350-acre addition project. "Our family is happy to see it expanding for even more recreational and conservation opportunities, and are pleased to donate the 14 acres. We're looking forward to further explorations in the woods!" Learn more about the Palmer family here.

To complete the project, the Conservancy purchased 36 acres from Walter Jedena and 300 acres from Harvey and Marilyn Warburton. This is Walter's second land protection project in the last 12 months, whose story we told in our summer newsletter.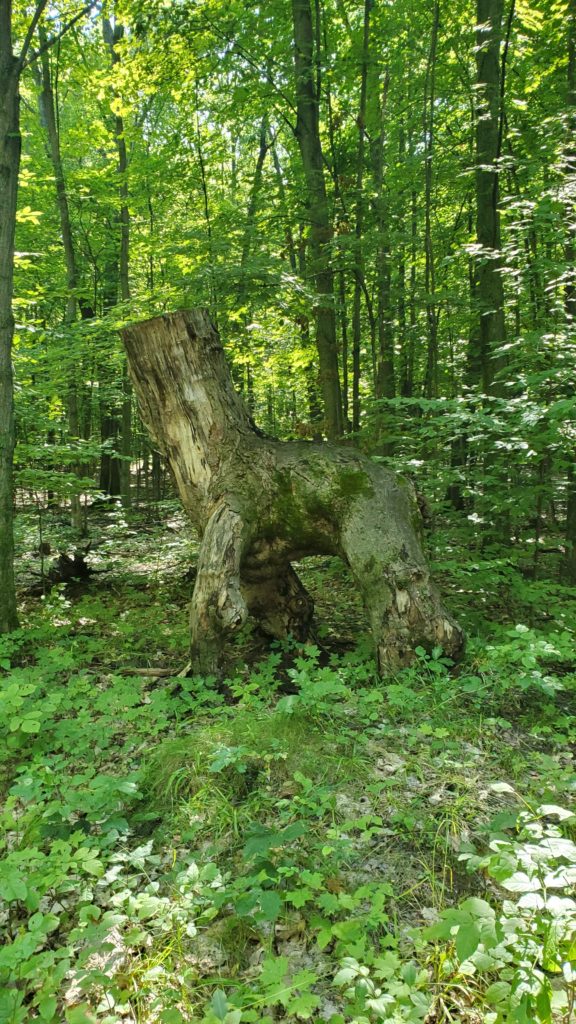 The Warburtons' beautiful land, stewarded by the couple for nearly three decades, is located on both sides of Wheeler Road. They acquired five adjoining parcels between 1992 and 2000. "We just wanted woods, saw it as a safe investment, and never intended to build here or develop it," says Harvey. "Any thought we ever had of using it meant keeping it as it is.

Harvey adds that they were drawn to the land because it is connected to the Sleeping Bear Dunes National Lakeshore. Two kettle holes, unique geographic features, are some of their favorite parts of the property. Thoughts of putting up a rustic cabin were explored, but never materialized, adds Marilyn.

As a boy, Harvey's fondest memories include walking in the woods with his father and uncle. Marilyn also grew up with a nature-loving father who took her fishing and hiking. "We wanted a place where we could hike with our family, let our dogs off leash, smoke a cigar if I wanted and where our sons could safely hunt," says Harvey. The Warburtons also own a home on Glen Lake, which they moved into from Detroit after Harvey retired from Chrysler.

In 2008, the Warburtons bought 2000 red pine seedlings from the Soil Conservation District and had them planted. Although the deer ate many of them the first year, enough survived to create a beautiful entrance to the property on the west side of Wheeler Road.

The Warburtons hired forester Dick Cooper to ensure that under his watch the forest quality would remain high. "We had no thought of selling timber but John Martin told us about Dick," says Harvey. "Dick's philosophy is always about maintaining the long-term health of the forest." Selective harvests culled trees that Cooper thought would die in the next 10 years. Into the openings, new trees would spring up and "20 years later the forest is better off than it was," adds Harvey.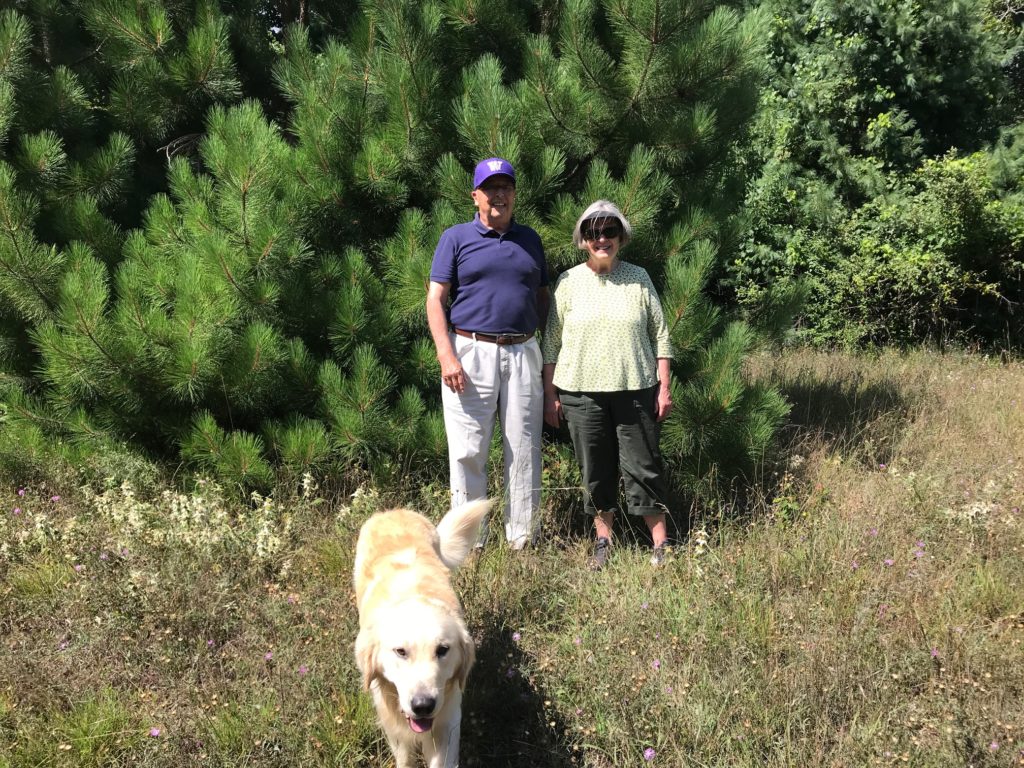 The Warburtons held on to 20 acres that adjoin the addition and are glad that the property they have loved for so many years will remain conserved. The Warburtons spend part of the year in Seattle, where two sons settled. "It's going to be this way when our boys come back with their kids to walk on Leelanau Conservancy trails," says Harvey. "They will see turkey and deer, birds and coyotes and can say, 'this used to be Grandma and Grandpa's land.'"

"It's such a powerful and humbling thing to witness first-hand the passion of so many good people who came together to make this dream come true," says Tom. "Well over 1,000 acres of majestic forest is a truly extraordinary legacy. And it belongs to everyone who made it possible." Watch LeelanauConservancy.org for news of trail openings.