All photos unless noted are thanks to Mark Smith
Ron Mawby's memories of growing up on a fruit farm just outside of Suttons Bay are poignant. He recalls how the kitchen in their house had a big picture window in it over the sink facing west. "At bloom time out that window was a vista of white. Mom insisted each year that we all come look. I recall being struck by both its beauty and the sense I had that Mom took it as a gift. It was given to us, yet had to be worked for in order for the gift to continue," says Ron.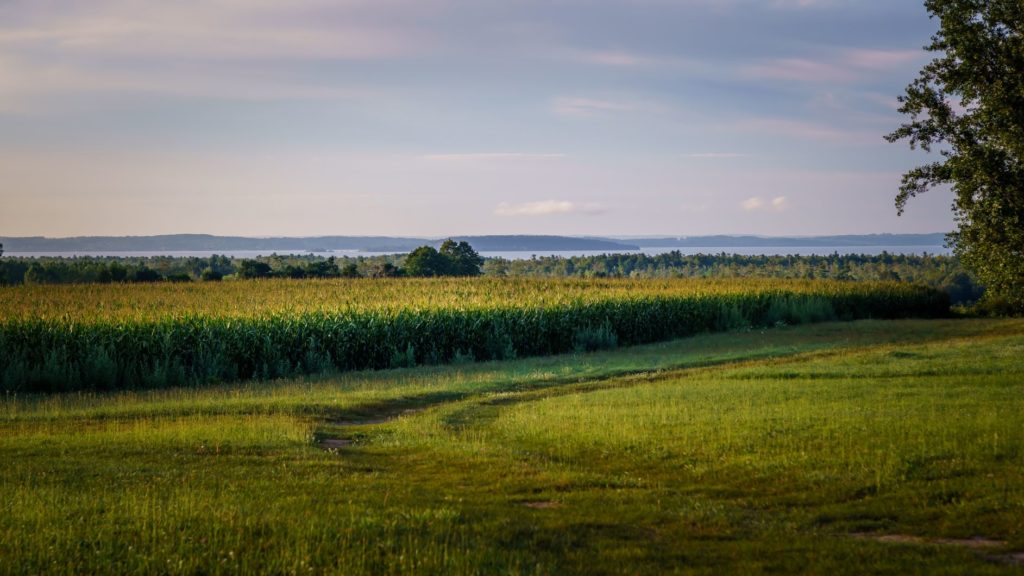 Ron and his siblings, Larry Mawby and Joan (Mawby) Dunklow have ensured that the springtime vista, as well as a spectacular view in the other direction—overlooking Power Island and Grand Traverse Bay—will never change. In May, the siblings protected 152 acres with a conservation easement—a tool that keeps the land in private hands, but restricts it from development forever.
Their father and grandfather, Ed and Wesley Mawby, purchased this farm in 1953. Ed and his father were major fruit growers and owned multiple farms from Grand Rapids to Garden in the Upper Peninsula. Ed was a man who enjoyed rural life. As Grand Rapids' development inched closer to his 80-acre farm in Rockford, the third-generation fruit grower and his wife, Virginia, opted to move the family north to the then-quiet outskirts of Suttons Bay. In 1963 they made it their year-round home.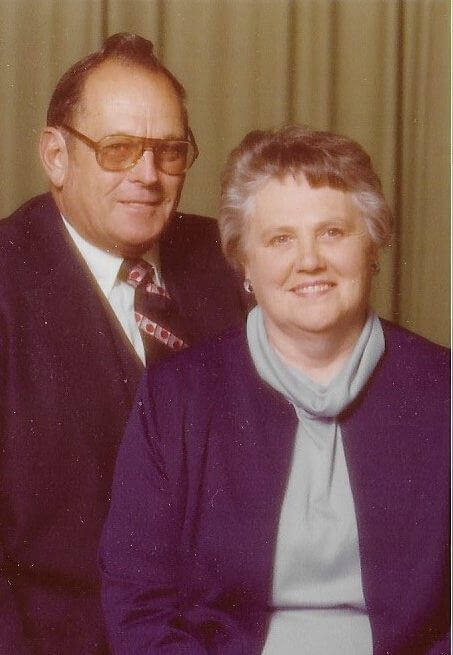 Larry was just entering high school; Ron and Joan were 11 and 7. All three have strong feelings about this beautiful land, located up a long dirt drive across from Plant Masters and abutting the Donnybrook Farms subdivision. The Mawby orchards are currently managed by a local operation known as Cherry Bay Orchards, Inc. A farm market once operated by the Mawby family along M22 was recently torn down in preparation for conservation of the land.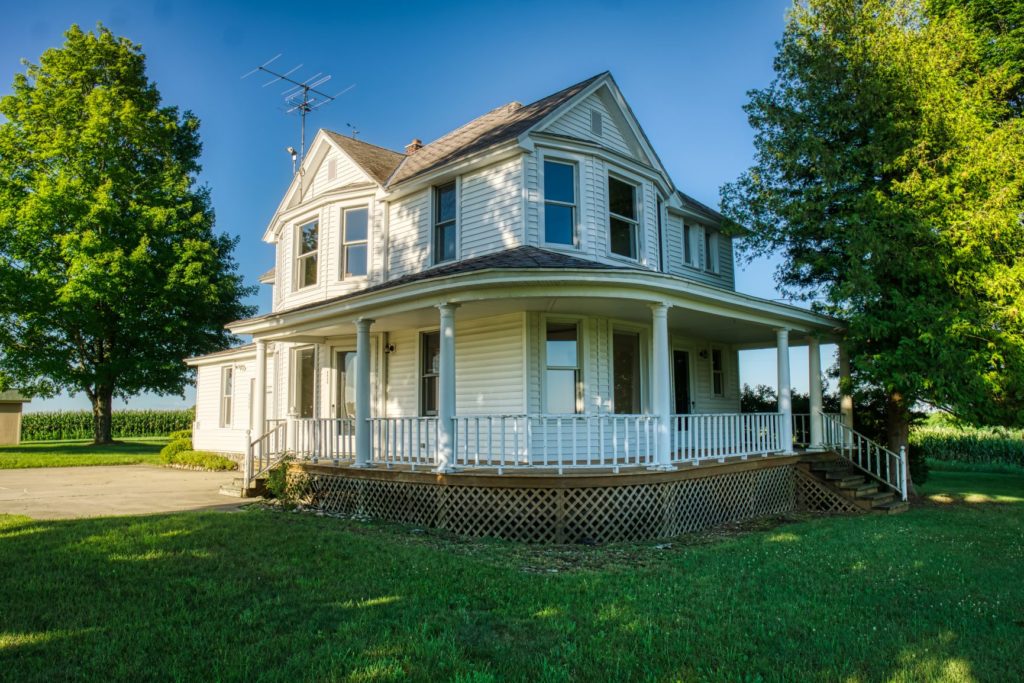 Increasing development nearby motivated the family to protect the land. "Everyone wants to come up to Leelanau because it's so beautiful," says Joan, who lives near Suttons Bay with her husband, Dave. Together, they run Dunklow Maintenance. "But it's not going to be the same Leelanau we love if everyone develops their land. I want others to be able to experience the beauty and peace that we did growing up here."
Larry, a retired grape grower and vintner was the only one of the three to become a farmer. He is no stranger to land protection, having served on the Leelanau Conservancy's Board of Directors for many years. In 2008, during a break in his Board service, he protected 32 acres known as L. Mawby Vineyards with a donated conservation easement.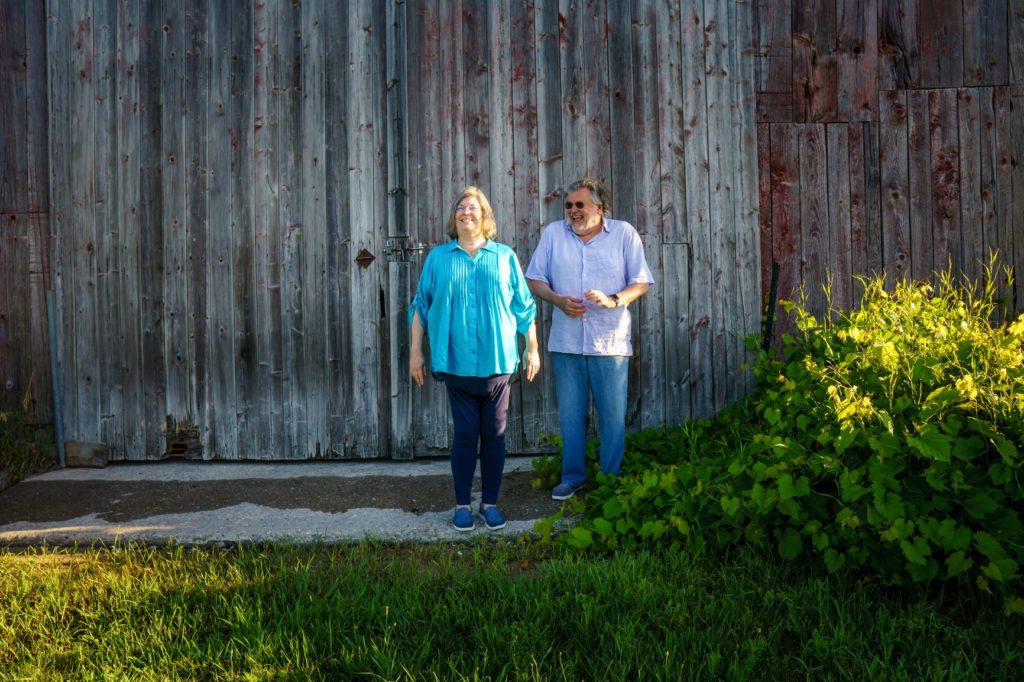 On the land that he and his siblings have protected, "There easily could have been 12 or 13 homes built," says Kim Hayes, Farmland Protection Director. The project also protects a 10-acre wetland complex that includes a groundwater-fed rich conifer swamp. "That complex is a big deal," says Kim. "It's a fantastic wildlife corridor that ultimately connects hydrologically to Grand Traverse Bay."
"What I love about the Mawby family is their commitment to something greater than themselves, their passion and reverence for the land and water intertwined with their love of their parents," says Tom Nelson, Executive Director. "It is powerful, and it runs deeply through the work of the Conservancy. Larry, Ron and Joan's commitment to their mom's and dad's legacy is truly an inspiration to all of us." That commitment includes the family donating 25% of the fair market value of the land to the project cost.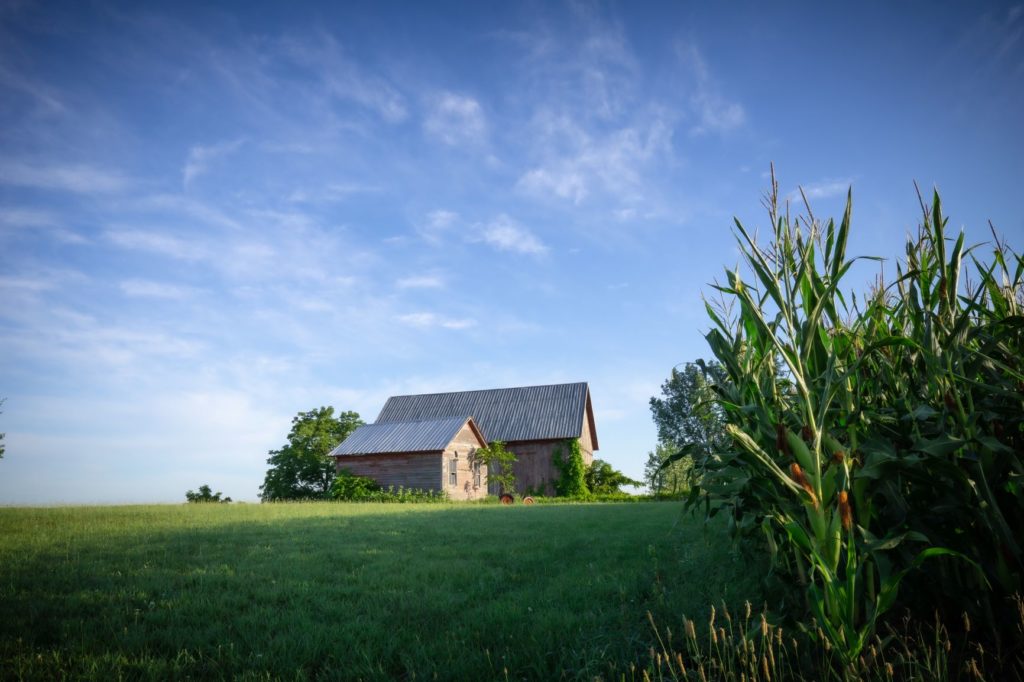 "My parents and siblings always felt a sense of stewardship, to make sure that the land was preserved and left better than we found it," says Larry. "The Leelanau Conservancy has a track record of being able to do that and my family feels comfortable in entrusting it with that responsibility." In July, the family put the protected 151-acre farm up for sale, as well as a separate adjoining 10-acre parcel with a farmhouse and barn.
It's a decision that all three think would have pleased their beloved parents. "My dad was a visionary—well-known and well-loved in the fruit industry," Joan says. "My parents loved living 'up on the hill' and truly enjoyed working together in all of their various farm business ventures. They felt that their life and land was a blessing."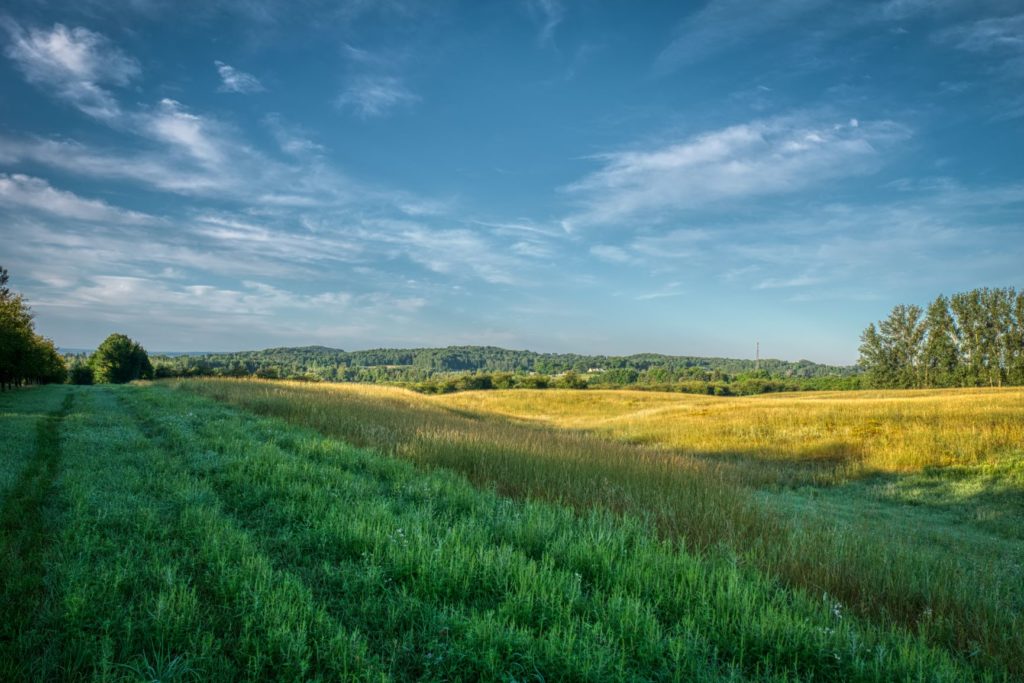 "During his career he was involved in all aspects of the fruit business," adds Ron, a retired college professor who lives in Kentucky. In addition to managing multiple farms and retail markets, his father had sold fertilizers and was a partner in fruit-packing and processing plants.
Despite Ed's preference for being in the orchards, Joan notes that her father did love talking about and selling fruit to the public. He also loved to educate people on the different varieties of apples that he grew.
"My dad had an insatiable curiosity about the fruit industry," adds Ron. But the thing Ed enjoyed most was producing the fruit, and without great fruit-growing land, says Ron, you can't grow great fruit.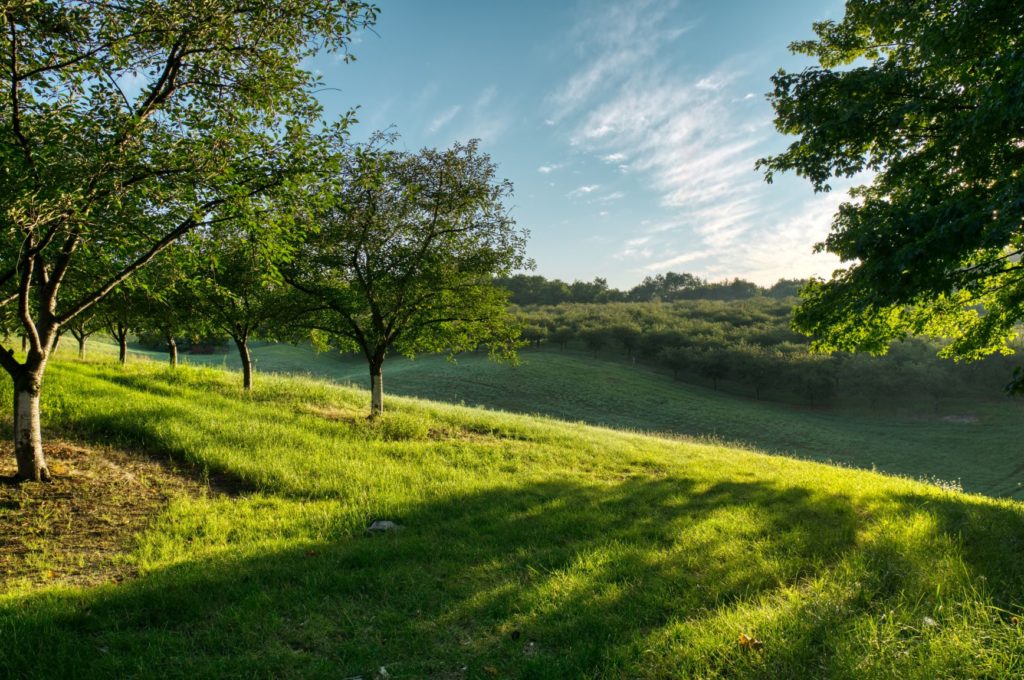 He recalls the luxury of walking in to the orchard after school "to eat the best two bites of an apple and toss it away. I got spoiled growing up on fresh fruit and didn't realize how unusual that was."
Although he left Suttons Bay after high school and has since lived all over the country, Ron returned to Suttons Bay during college summers to work in the orchards with Larry. He has a "deep attachment" to this spot. "I spent my Saturdays mowing and the views were spectacular; really wonderful. I value having learned a piece of land, where I knew where all the big rocks were and knew it the way you know your own house, and can reach for a light switch in the dark."
Lunchtime daily business meetings with his parents and siblings "gave me an education on how things get done, and the complexities and difficulties," says Ron. "It was a family business and a team. You got a visceral sense of what has to happen for things to work. Dad loved being a fruit grower and my mom and Joan did the bookkeeping, worked in the farm market, and looked after the house. They were a real couple in business together."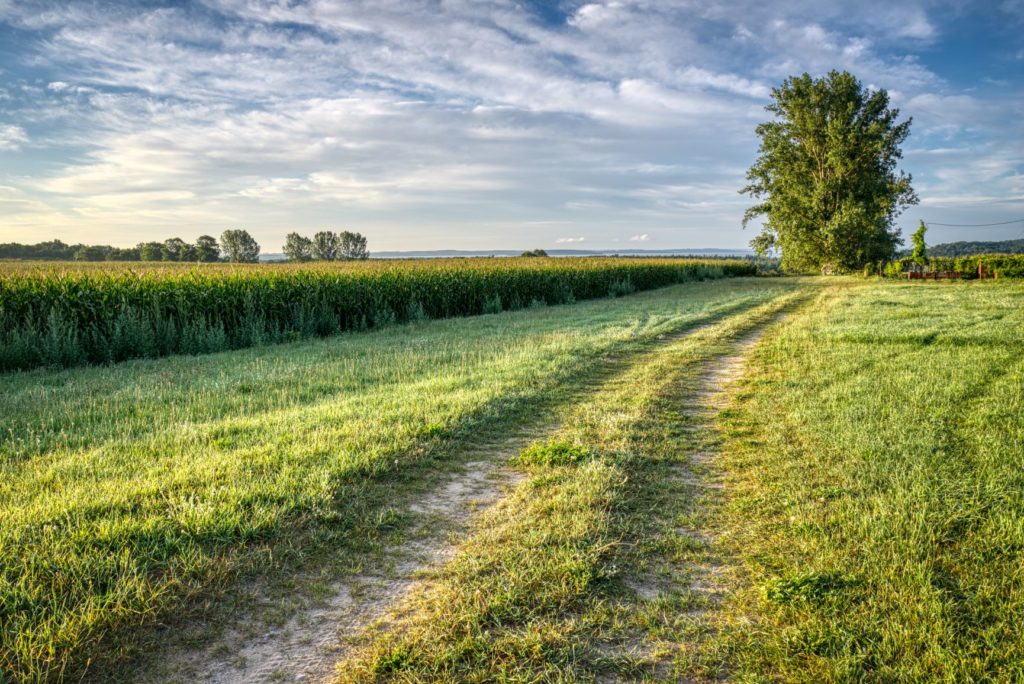 Joan has three sons who all have great memories of hunting with her father and "driving up and down the rows of fruit trees with my mother, throwing mini bars of soap under the young trees to deter the deer. They all understand what we've done and are appreciative and supportive of protecting the land," says Joan. "This is one of the few stretches left that isn't houses. We can't let go of everything; we just can't or we won't be what Leelanau County is anymore."
Ron agrees. "My wife grew up in Silicon Valley and when she was a child there were cherry and apricot orchards everywhere, which are now paved over and filled with houses. I don't want to see that happen to Leelanau County. I'm not a big player in anything; not wealthy and don't have power but I do have the ability to preserve something that is beautiful and to create a lasting legacy."—Carolyn Faught, Senior Writer
What is a Conservation Easement?
Private lands like Mawby Farms are protected with a legal agreement known as a conservation easement—a somewhat confusing term because the word "easement" can sometimes denote access, which is not the case. All of the private lands that the Conservancy has protected with conservation easements are closed to the public and remain in private hands. This legal tool restricts development on the land, protects its natural features and each agreement is tailored so that it does what is best for the land and the landowner.

Funding: The Mawby family donated 25% of the value of their land. Federal farmland protection funds through the Regional Conservation Partnership Program of the Natural Resources Conservation Service provided 50% of the cost, and donations from our wonderful supporters made up the remaining 25%.