A new 400-foot boardwalk for hikers is in the works at Kehl Lake Natural Area, which winds through lush ferns, cardinal flowers and towering hemlocks along the lake. The boardwalk will lead to a new observation platform overlooking the marsh–a great place to view a variety of birds and waterfowl that migrate through this area in spring and fall.
The new structures will replace those which had been built by volunteers over two decades ago, but had rotted in recent years due to high water levels. Thanks in part to a $5,000 grant from the Leelanau Township Community Foundation, the beautiful new boardwalk and platform will be in place for hikers by the end of October.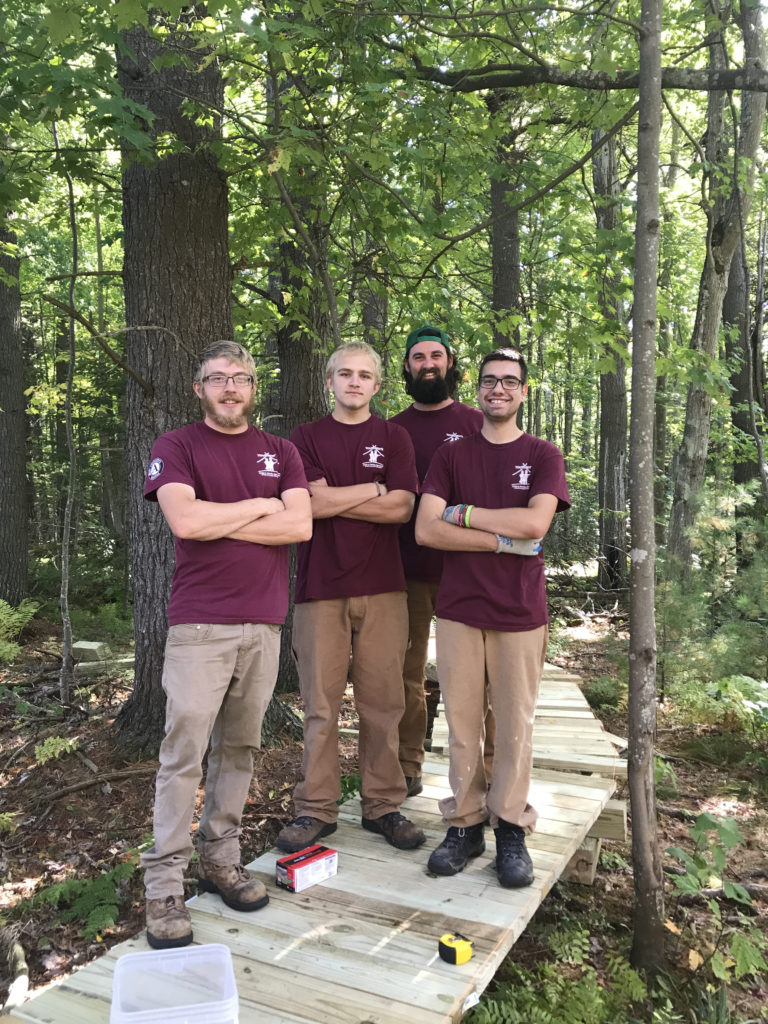 The project has long been on the Stewardship staff's to-do list and its construction is a gift in more ways than one. The Conservancy contracted with Child and Family Services' YouthWork program, a division of AmeriCorps, which teaches job skills to young adults like crew leader Dave Runstrom. The 26-year-old says he might never have graduated high school, let alone college, if it weren't for such a program. He had dropped out of high school and went to work that summer for a similar program called SEEDS in Traverse City. His boss was Bill Watson, who now runs the two-year-old YouthWork program.
"I developed a good work ethic that summer and Bill told me if I wanted to come back I had to return to school," says Dave. "I put that good work ethic I learned out in the field into school and graduated." Dave went on to NMC and earned a degree in construction management and blue print reading. Both YouthWork and SEEDS provide living stipends through AmeriCorps as well as scholarships based on hours worked in the program. In Dave's case, he earned $12,000 to pay for his education at NMC.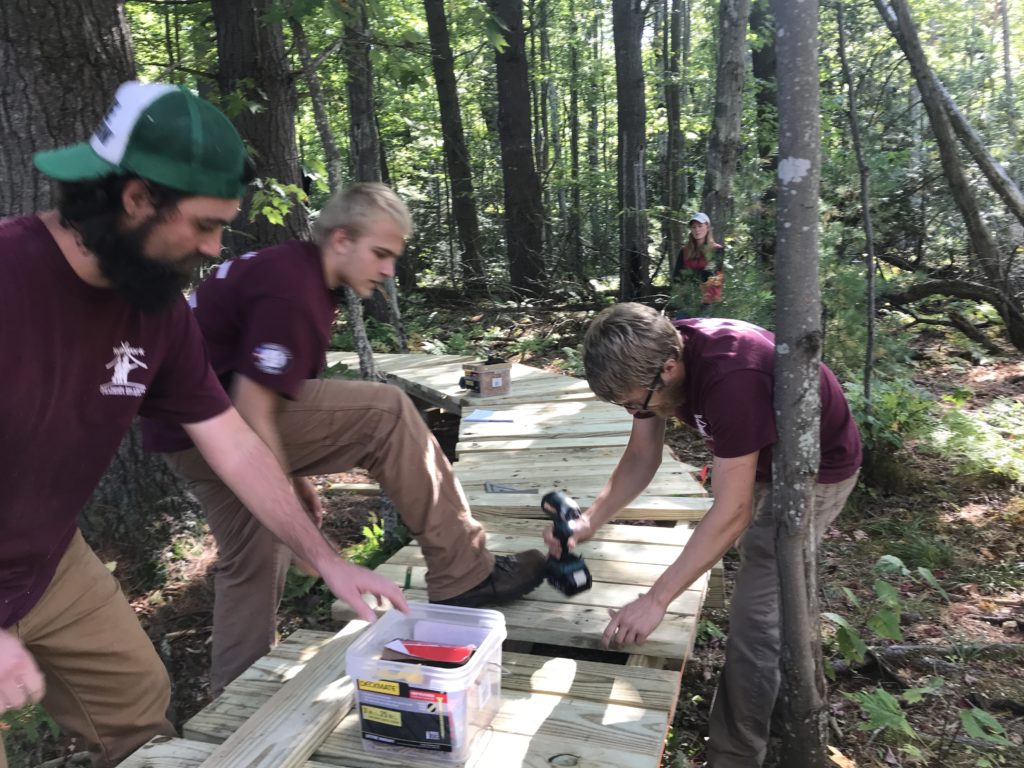 Dave has an eye toward getting a builders' license, but in the meantime says he loves working in the woods with all kinds of kids: "those who are going through hard times or have special needs, and kids who are looking to get to college with the help of AmeriCorps," he says.
The new boardwalk begins a half-mile from the parking lot, and so Dave's crew is hauling in all of the heavy materials on foot in wheelbarrows. "If a project is out in nature, in the woods, and takes a long time to get to, we do it!" says Dave, adding that his crew also spent time this summer on South Fox and Grand Island projects. They worked in sweltering heat, in mosquito infested areas, in the rain. "We have this saying that we work until we're miserable," says Dave, adding that thunder and lightning are the exception.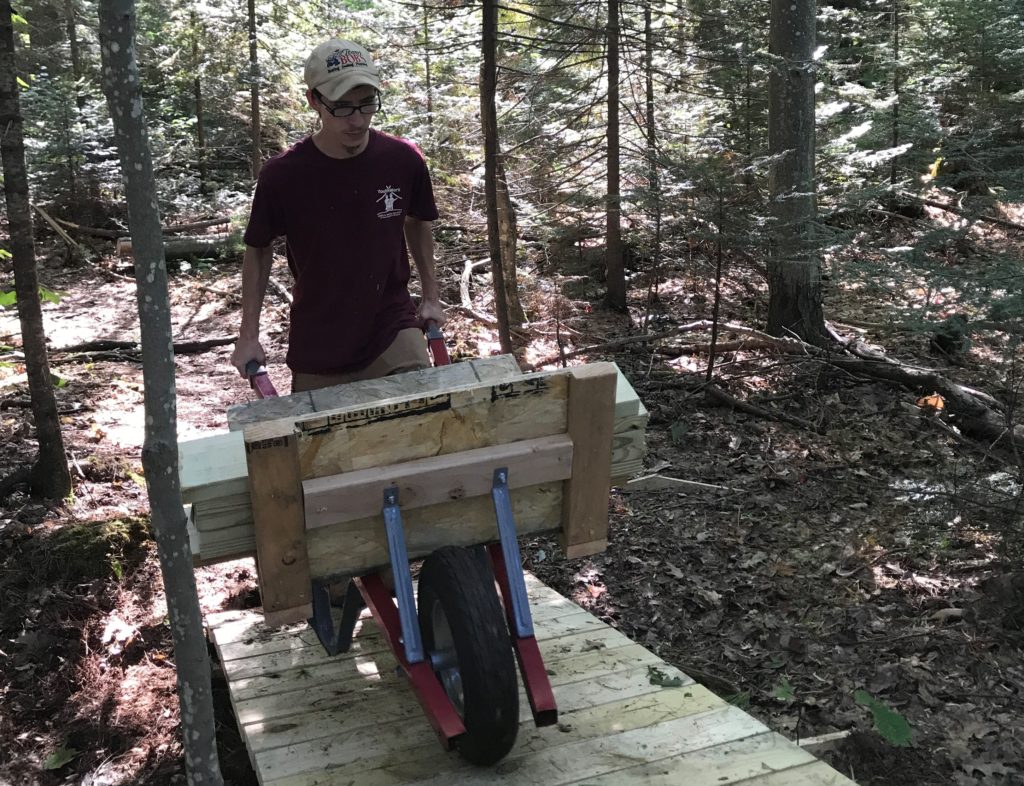 The new meandering boardwalk is built from treated lumber in sections that can accommodate ever-changing lake levels. The sections rest on footings that are not dug into the ground but simply rest on four-by-four and two-by-four planks stacked on top of the trail. "If a tree falls on one section, it's so much easier to fix," says Dave.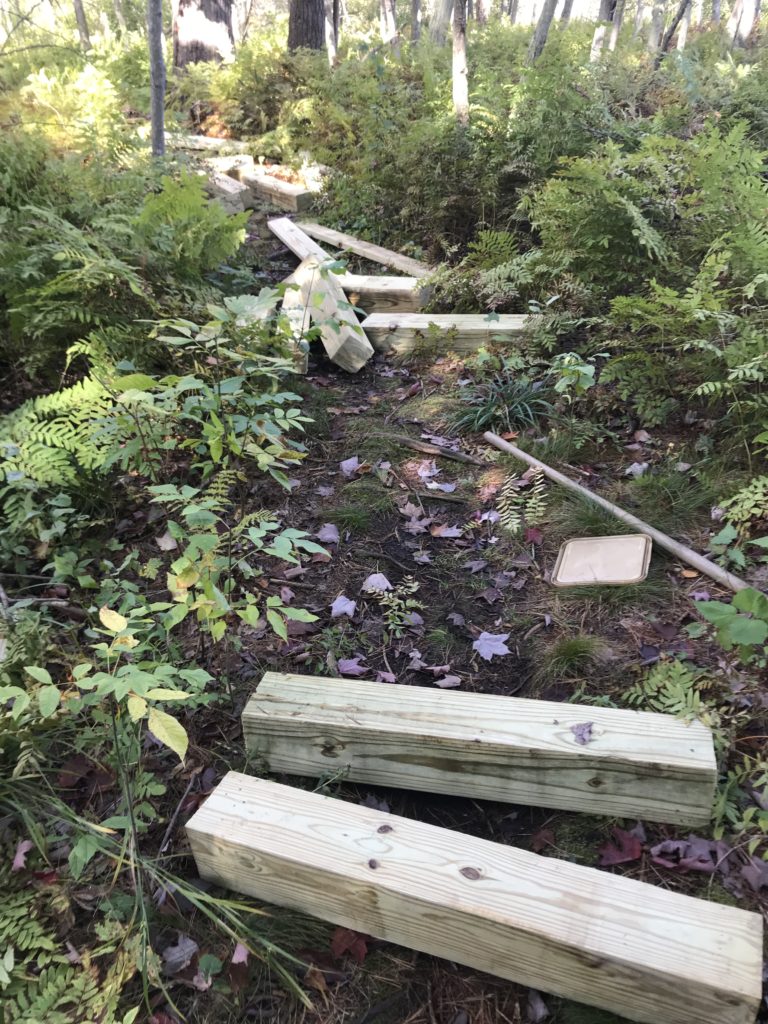 The cool fall weather has helped them to complete about 100 feet per day. Sixteen year old Bill Thomas says, "It's physically demanding, hard work and they push you to do your best, but never beyond your limits."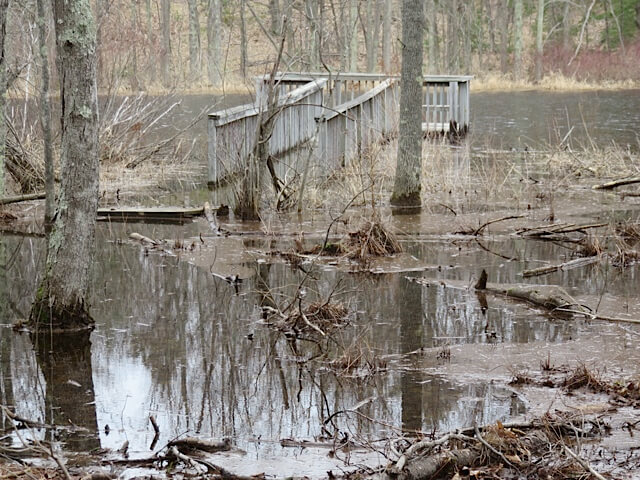 Perhaps no one is happier to see the boardwalk coming to life than Land Steward Emily Douglas, who applied for three necessary permits and handled all the bids for the project. "Kehl Lake is such a special place, with wonderful habitat, and people really don't want to skip this part of the trail," she says. "I love that in the process of building this new boardwalk, young adults are building their skills which can be life changing."
Dave Runstrom agrees. "If you can make it here, you can make it almost anywhere," he says.
Our thanks to the Leelanau Township Community Foundation and to our members who make this work possible.