Cammie Buehler calls herself "a 5th generation Leelanau summer kid," and her roots in this peninsula run deep. Her great-great grandfather, Leo Cloud, was a widowed mining engineer who worked in the west. When the railroad came to Omena in 1903, it enabled him to travel to and from the mines while his sister cared for his children in a home he built near the village. Over the course of her 43 years, Cammie has spent time at her grandparents cottage on Northport Point, and on Omena Point where her parents, Tom and Marsha Buehler, own a home. "Leelanau is in my cellular matrix," she says.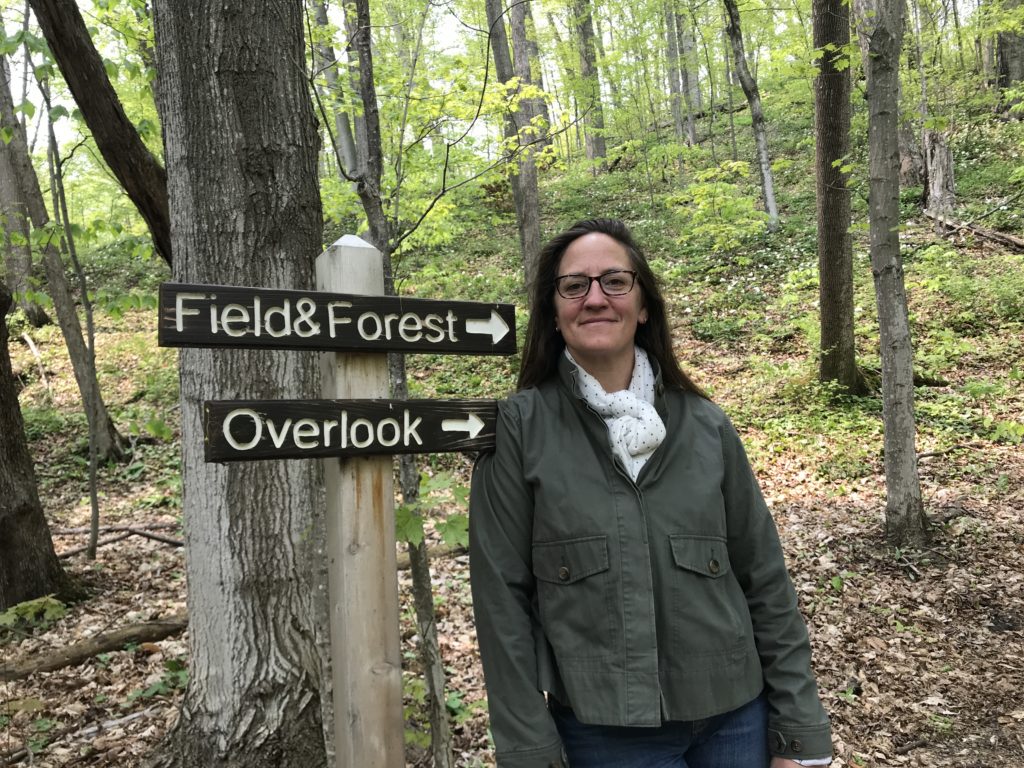 Cammie's summers in Leelanau and love of nature led her to earn a degree in Outdoor Education and Recreation Studies from Ohio University, with a goal of working in the snow sports industry. She moved out west after graduation, where she taught snowboarding by day and worked in restaurants at night to make ends meet. Looking back, she says she was struck by how little public access in places like Lake Tahoe there was to water. "Everything is privately owned, and nothing seemed attainable; rather you were always working to facilitate someone else's good time," she says.
Cammie found herself feeling homesick in 2003, after a five-year relationship came to an end and she was laid off from work. She was 27 and told herself, "Go take a breath in Omena, do some restaurant work and see what happens." She joined forces with an old friend, Andy Schudlich, who she had cooked with at the Riverside in Leland during college summers. In 2003, Cammie and Andy had formed Epicure Catering. Today, they operate out of and host events at a beautiful old barn and commissary at Cherry Basket Farm in Omena, purchased by her parents and lovingly restored.
The catering life is a demanding one, but having access to Leelanau makes all the difference. "In Leelanau, we all work so hard just to be able to be here, but it's never lost on me why I came back," she says. "I love to hike, boat, walk my dog. There is so much public water front. The woods, orchards and views are important to my connection with this place. Leelanau feels relatively unchanged whereas everywhere else I've lived, growth has happened for the sake of growth."
Her love for Leelanau and "cellular matrix" factor pretty much sums up what inspired Cammie to accept an invitation to join the Leelanau Conservancy's Board of Directors last year, and most recently, why she joined the Richard O. Ristine Heritage Society. Cammie and Andy had been involved with the Conservancy since 2005; they donated appetizers for past Conservancy picnics and dinners at Cherry Basket Farm that raised thousands of dollars for our farmland preservation efforts. Most recently she has been instrumental in helping to put on our upcoming August 1st Rally. Cammie credits her mom, Marsha, for making her aware of the Conservancy's mission; Marsha has served on our Outreach Committee for nearly two decades.
A cancer scare two years ago led her to create a will. Happily, the tumor of concern turned out to be benign, but the ordeal propelled her to get her affairs in order."I wanted to make sure that no one I love has to go through any sort of administrative slog on my behalf," says Cammie. "I feel lucky and grateful, and that's what inspired me to write a will." She consulted with the attorney the she and Andy use for Epicure Catering, and created a trust to avoid probate. "I've provisioned a flat amount to go to the Conservancy, and figure in 10 years, if I'm still around, I will reassess things," adds Cammie.
"Not a lot of my peers have a will," she says. "But I figure that all the people before me have made sure that the Leelanau I love was there for me and now it's on me to help steward this peninsula for all who come after me."
Learn more about making a planned gift and the Leelanau Conservancy's Heritage Society by contacting Planned Giving Officer Stacie Longwell Sadowski or call 231-256-9665.