Big Picture People
Michael Chetcuti's first memory of Northport is boating into the harbor with some buddies on a 4th of July weekend in the late eighties. After wandering around town and spending time on the sparkling bay, he said to himself, "This is the place I want to be."
Some two decades later, he and his partner, Kyle Evans, are living the dream. They spend much of the year in Leelanau at a unique property overlooking Lake Michigan called "Chetonka." It is a place steeped in beauty and history that Michael had owned before meeting Kyle.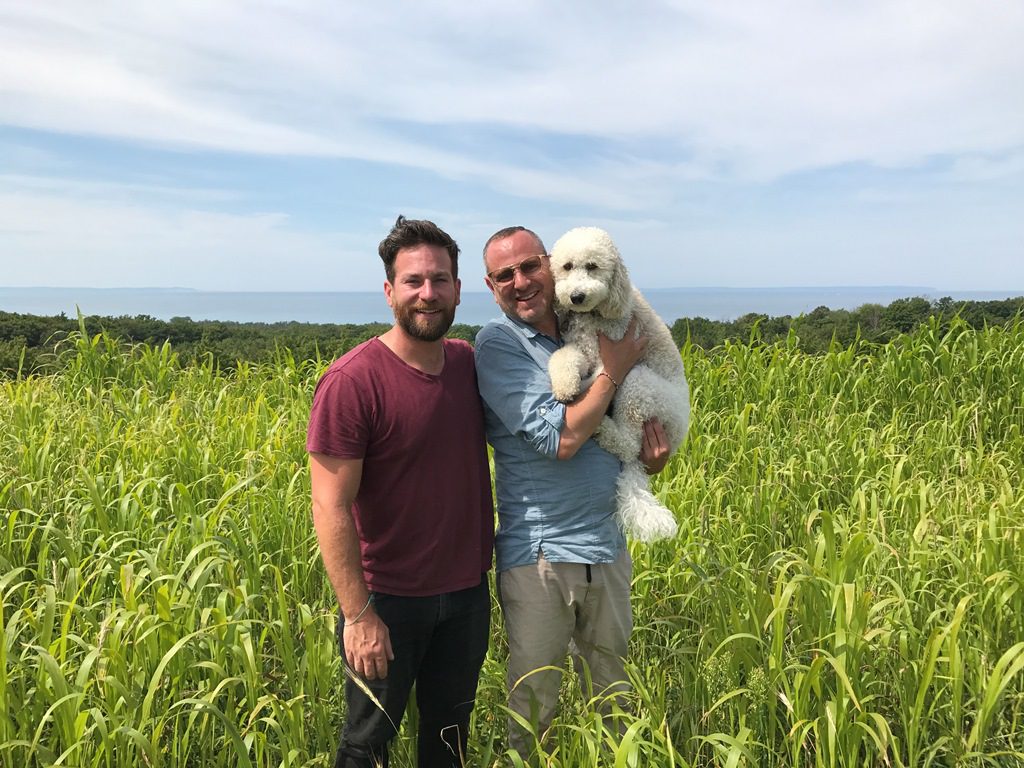 The pair both worked in the automotive industry and have been aiming toward a life in Leelanau for the last 10 years. Kyle was a car designer—thus all the industrial touches present in their home and an original rustic cinderblock cabin, thought to have been a schoolhouse for Native American children. (A cemetery just up the hill bears nearly 100 identical white crosses, with names of Native Americans.)
The original cabin has been updated and converted into a kitchen and gathering place for friends. Last year, Michael and Kyle acquired a large parcel of adjoining land which they have forever protected with a conservation easement.
Saving a Cherished Landscape
"It could have been a fantastic wedding venue," says Michael, adding that they had tried to buy the land for a number of years. "It could have been five buildable lots with five McMansions overlooking Lake Michigan. But in the end, what we fell in love with, we really didn't want to change." The 51-acre conservation easement off Carlson Road includes 360 feet of natural Lake Michigan shoreline between Gills Pier and Peterson Park.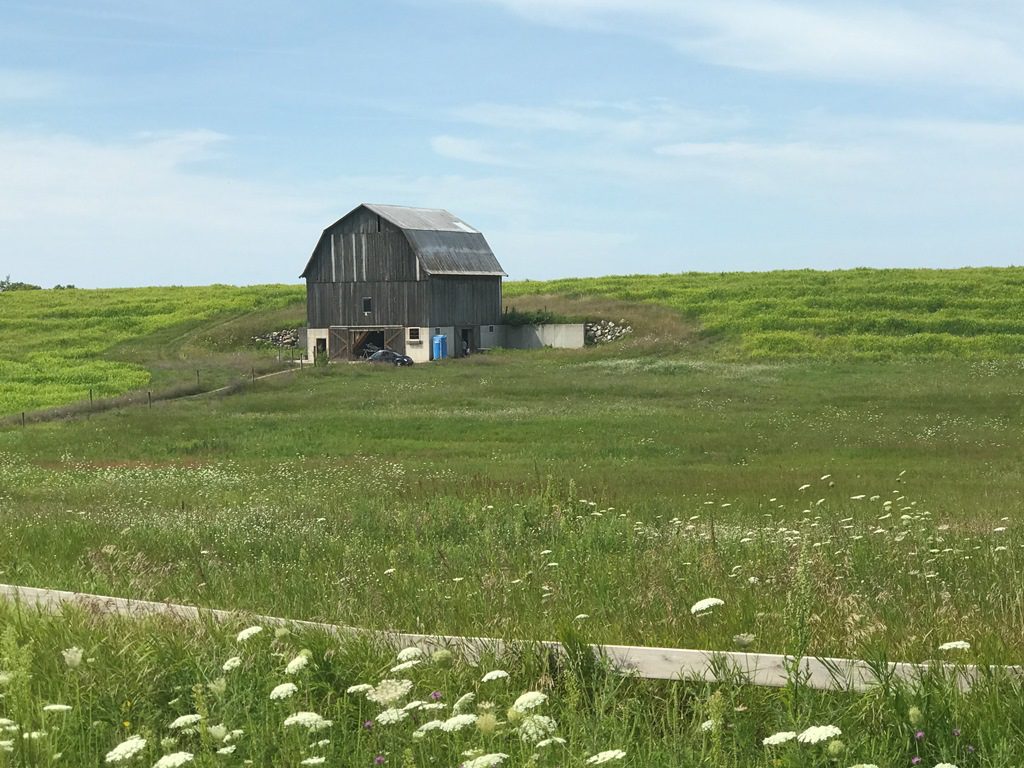 During an interview at their kitchen table, Michael and Kyle alternate between talking about their project and getting distracted by iPhones buzzing with message from all over the country. They are principles in a number of enterprises. Among them: an off-road vehicle accessory company, Bigalora restaurants in Metro Detroit, an Ann Arbor brewery, the Leelanau-based Baia Estates Winery and Michigan Hop Alliance. They are big fans of the local farm-to-table movement in this region and want to be a part of it.
They plan to grow grapes and hops on the land to supply some of their businesses and are mulling over adding a solar-powered greenhouse. "We are big believers in finding people to partner with who are great at what they do," says Kyle. He names grape grower Sam Simpson, and Brian Tennis who joined forces with them to run Michigan Hop Alliance.
"We are all about vertical integration," adds Michael. "We grow, use and sell. It's a romantic thing to have a winery, but you have to be able to market your product. Before we put a drop of wine into a bottle, it's already sold."
"A Project That Went from Good to Great"
Their forever-protected land once grew cherries and was grazed by a herd of Scottish Highlander cattle. A centennial barn will remain within the easement boundaries, while an old farmhouse was excluded and sold to a young couple who is working to restore it.
Although Michael and Kyle have generously donated a conservation easement on the land which restricts it from development, it is private and not open to the public. But the public still benefits in so many ways. The view from out on the water will never change, and from Johnson Road you can now see the Manitou Islands with the switch from cherries to (shorter) grapes along the ridgeline. It is also adjacent to and near other private protected lands, providing habitat for birds and wildlife to thrive.
Matt Heiman, Director of Land Programs, worked with Michael and Kyle to craft their conservation easement which allows for continued agricultural use. "They are big picture people who live in a big picture world," says Matt. "Theirs is a one-of-a-kind property. As I got to know it, discovering the stream and wetlands along the way, and then they added the shoreline, well… it went from a good project to a great one."
Executive Director Tom Nelson agrees. "Michael and Kyle join a growing legion of people who have made it their personal responsibility to ensure that Leelanau will continue to be a place of rural beauty, integrity and agricultural productivity for generations to come," says Tom. "They are heroes in our book and we couldn't be more grateful to them for their fine example to this community."
Story by Carolyn Faught, published in Leelanau Conservancy Fall 2017 Newsletter