When Michael Kane was a little boy, his mother, Louise, recalls putting away laundry and finding his sock drawer loaded with stones he had collected from the woods near their Traverse City home. His room also was home to insect and butterfly collections, bird nests and a science fair poster that had won first prize.
"He loved to be outside," says Louise. As an adult, his penchant for nature grew. It led him to become a Conservancy member 23 years ago and to volunteer as a trail steward at Whaleback Natural Area. For years he was a quiet doer. He took meticulous care of the land, keeping trails clear, repairing fencing, spreading mulch and battling trail erosion. "Michael was such an independent volunteer," says Land Steward Emily Douglas. "We met with him in the spring to talk about what needed to be done and always left knowing that the work would happen."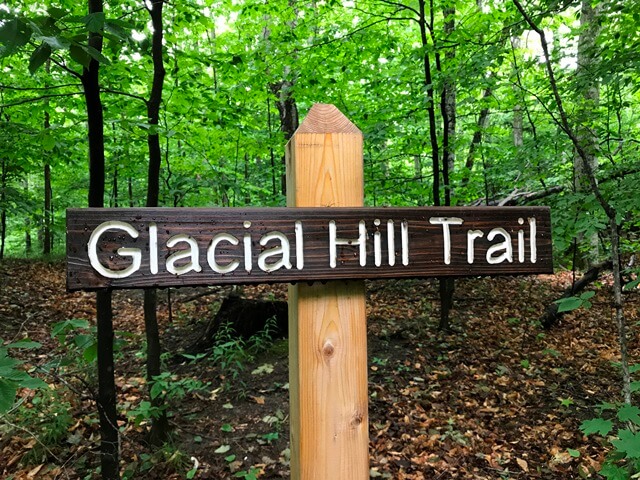 Last July Michael stopped in to our office and asked to speak with someone about making a donation. He shared the news with Leslee Spraggins, Planned Giving Officer, that he had cancer and likely had just six months to live. "He expressed a desire to get his affairs in order, and needed guidance on how to donate an IRA to the Leelanau Conservancy," says Leslee. Not long after their conversation, he passed away. He was just 62. "I only met him once, but I will never forget that conversation."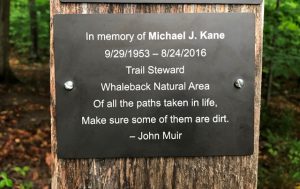 This June, Michael's friends and family met up at Whaleback to install a plaque in Michael's honor, just prior to a native plants workbee that he would have no doubt participated in. Among those who came was his partner of 28 years, Elizabeth Murphy. "Whaleback was near and dear to Michael," she said. "I know it gave him a lot of solace to be out here."
His frugality allowed him to spend 3 weeks in Jamaica every year. Elizabeth says he endeared himself to many islanders over 45 years, who also mourned his passing. Michael's family and friends say that he was always generous with his time, helping them, like the Leelanau Conservancy, to keep up their properties.
Michael's thoughtful and generous gift will be used to help with the stewardship of Whaleback and other natural areas. And so even in death, he will continue to make a difference. His family chose a John Muir quote for the plaque at the trailhead that they thought Michael would have liked: "Of all the paths taken in life, make sure some of them are dirt."
For more information on making a planned gift, such as adding a beneficiary to your IRA, contact Stacie Longwell Sadowski, Planned Giving Officer: 231-256-9665 or [email protected].