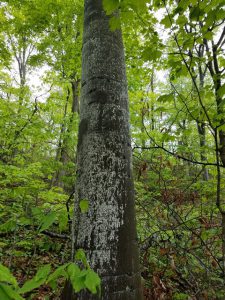 Some Trails Closed for Tree Harvest of Dead and Dying Beech and Ash
Posted: 8/16/2017    You may recall an article in our summer newsletter about a planned harvest of dead and diseased trees at Palmer Woods. We wanted to make you aware that this selective harvest is beginning soon and for safety reasons we have closed some of the trails. The two-mile-long beautiful Price Valley trail is still open, however, so please continue to enjoy and hike this majestic forest.
The harvest will take place in a 180-acre area of this 700-acre property and will be visible from the trails. The harvest of dead and diseased ash and beech trees will help to limit the spread of this devastating scourge and to improve the health of the forest that you have helped to protect. It will also give healthy saplings a chance to grow.
It won't be pretty for a while, but similar to what's happening in the places hardest hit by the August 2015 storm, lush forest growth and rebound will occur naturally over the coming seasons.
Please call or email with any questions or concerns. 231-256-9665  [email protected]
Sincerely, Thomas Nelson, Executive Director
Palmer Woods: A Majestic Outdoor Experience Takes Shape
There's no place like Palmer Woods…and since we acquired this fantastic 721- acre forest reserve in 2015, your staff and volunteers have been working hard to maximize its potential. Much has been accomplished so far, and we are excited to tell you about plans on the horizon.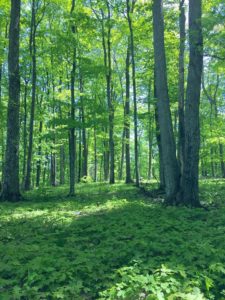 You may recall our email about a selective tree harvest of dead and diseased ash and beech trees. The harvest began in August and will help to limit the spread of disease and improve forest health. It will also give saplings a chance to grow. As part of our working forest laboratory, two long term monitoring plots both inside and outside of the two deer exclosures were mapped this spring so that we can begin the process of gathering data about how hungry, plentiful deer are affecting the forest. Stay tuned as this research unfolds.
(The two-mile long Price Valley Trail has stayed open throughout the fall.
This winter, you can count on the great volunteers from Friends of Sleeping Bear Dunes, who will be grooming trails again for fantastic cross-country skiing. Tip: the deep woods here held onto snow pack last year, while winds swept other trails clean. Make plans now to ski this winter wonderland.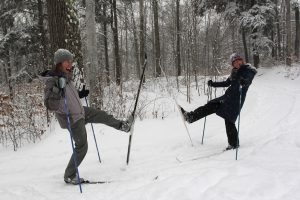 More good news: 14 additional acres were purchased this summer that will provide better accessibility from the property's northern boundary. Our next steps include adding Leelanau Conservancy's first ever 5.5-mile mountain biking trail. Planning and construction for the trail will begin in 2018. We are grateful to the Edmund and Virginia Ball Foundation for donating a lead gift of $250,000 to start the construction of new trails and to our fabulous volunteers who will make all donations go further.
Watch our website for opportunities to get to know Palmer Woods, grooming and trail updates and more. We hope you will visit and enjoy this awe-inspiring place!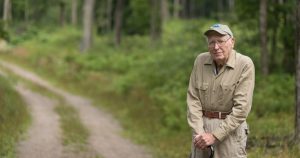 Traverse, Northern Michigan's Magazine Features Palmer Woods
Read a fantastic piece about the Palmer Woods Forest Reserve, and our friendship with Dr. Palmer which appeared in the November, 2017 issue of Traverse, Northern Michigan's Magazine. Read the article here.