"The Pleasure of Knowing We Have Done Our Part"
Dr. Rosemary Berardi and Dr. Carolyn Zaleon have done an amazing and selfless thing. They have donated a beloved piece of land on Omena Point to the Leelanau Conservancy. Their intention is for the 1.52-acre shoreline parcel to be sold and the funds raised dedicated to furthering the work of the Conservancy.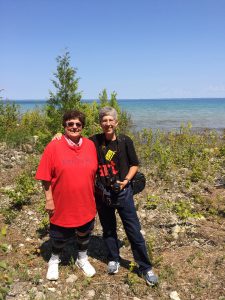 Rosemary had originally made plans to donate the land in her will, but decided to act now. "I woke up one day and it dawned on me, why am I waiting until I die to donate this parcel?" she says. "I can have the pleasure of knowing that we have done our part to preserve the Leelanau Peninsula, and the Conservancy can put the funds to work now."
It All Started With a Camping Trip
Rosemary's Leelanau story began when she and her sister and brother-in-law began camping at the Leelanau State Park in the early 1970s. At the time Rosemary was teaching at the University of Michigan's College of Pharmacy. For a decade, they pitched their tents side by side. One day, as they sat at the beach, "we looked at each other and decided it was time to buy our own campground so to speak," says Rosemary. Her sister and brother-in-law ended up on Cathead Bay and Rosemary discovered Omena. "I fell in love with the ruggedness of that beach." She bought the land and added a gravel drive and a septic system with the idea of building there one day.
In 1990, Rosemary met Carolyn, who had joined U of M's faculty, and brought her north that spring. "I remember taking one look at the beach, and fell in love," says Carolyn, a North Carolina native.  "Where I'm from, all the lakes are muddy, and all I knew was ocean. I couldn't fathom that you could have a lake where you couldn't see the other side and have wave action like that."
For Love of Omena Bay
For years, they camped on the land, upgrading to a pop-up trailer, and then a small camper. They loved rock hunting, watching storms roll in and walking around Omena Point, especially when the trillium bloomed. "It was so quiet, so absolutely peaceful there that you could hear your heart beating," recalls Rosemary.
In 2000 Rosemary was diagnosed with cancer. For the next few years, she was too weak to come to Omena. After she recovered, and retired in 2011, Rosemary and Carolyn started coming north again. But their camping days were over. Instead, about four times a year, they stay in Traverse City and spend their days exploring and hiking. Rosemary, 76, says they concluded that it wasn't feasible to build. "We've entered a new phase. The Ann Arbor area is home and the University's Comprehensive Cancer Center saved my life," she adds. "I need to be there."
A Desire to Inspire Others
Rosemary hopes that their gift will inspire others. "It's a scary time we live in from the standpoint of nature," she says. "There is a lack of respect for those things that you can never get back once they are destroyed. I have such faith in the Leelanau Conservancy. I know it's a strong organization." For their gift, they want nothing in return, other than to take a guided hike or two at one of our natural areas with our staff.
That is a wish we very much look forward to fulfilling.
Posted March, 2017.
PS In 2019 Carolyn Zaleon penned this inspiring poem about hiking at Clay Cliffs Natural Area.