What's a 'bucket list'? An accounting of all of the things you'd like to do while you are still able. The essence of any good bucket list consists of overcoming fears, achieving goals, realizing dreams and enjoying simple pleasures. Whether it's a solo adventure or something simpler – like sharing your favorite place with your family or friends – what matters is that you experience all the good and phenomenal things Leelanau Conservancy's protected lands have to offer.
We here at the Leelanau Conservancy have compiled our collective 'Leelanau Bucket List' – the things that the Conservancy staff all want to do before we pass on to our reward. Our list is below, created originally for our 25th anniversary and updated to celebrate our 30th. Our intention is to share this list of the activities that we here on the Conservancy staff feel, in our hearts, is the essence of Leelanau in all her glory, in all seasons – and have you help us expand this list even further!
So join with us in creating, sharing, and exploring your own Leelanau bucket list. What's on your list that's different from the list below? We'd love to hear from you – especially with a picture and a paragraph – when you've ticked off one item on your list, or when you've added a Leelanau-focused item to your own personal bucket list. You can submit a photo by clicking on the box below, or if you are a Facebook user, please post a photo and comment on our Leelanau Conservancy Facebook page.
Submit a "Leelanau Bucket List" item
We hope this will spark new exploration and create lasting memories. Get out and explore Leelanau – and share some of the items on your personal bucket list with the rest of us Leelanau Lovers!!
A Leelanau Lovers' Bucket List
1. Witness the Northern Lights (Aurora Borealis) – try the dark skies at Whaleback, Houdek Dunes, or Lighthouse West. They all have great views of the night sky in the open fields/dunes.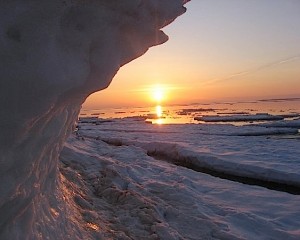 2. Take a child/grandchild fishing – try the pier at DeYoung Natural Area on Cedar Lake, go by canoe/rowboat at Kehl Lake Natural Area.
3. Watch the sunrise at the 45th parallel – try visiting the 45th Parallel Park – the Conservancy helps communities protect their parks too.
4. Watch the sunset over the Manitou Passage – try the outlook at the top of Whaleback Natural Area or the view from Hall Beach.
5. Go fossil hunting – try beach combing from Vans Beach (LC helped with the addition) along the shore to the point at Whaleback Natural Area.
6. Learn how to use a bow and arrow – secure all the proper permits, get a lesson, and then try archery hunting for deer at Krumwiede Forest Reserve or Cedar River Preserve. The Cedar Rod and Gun Club or Northport Sportsman Clubs are great places to learn about safety and techniques before you head out for a "wild land hunt."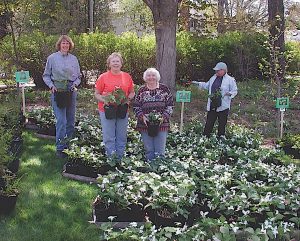 7. Plant a tree or native wildflowers – try volunteering to help plant native trees and wildflowers.
8. Learn how to fly fish for carp or smallmouth bass – try the challenge of fly fishing in the rocky coves of Lake Michigan at Leelanau State Park Addition on Grand Traverse Bay or the shoreline of the 45th Parallel Park.
9. Visit wineries on protected lands – Choose 45 North, Brengman Brothers or L. Mawby. All three wineries have protected their farmland with conservation easements.
10. Check out the ice boaters on Lake Leelanau – when the ice is right they're often seen off the eastern shore of Clay Cliffs.
11. See a meteor shower – try the dark skies at Chippewa Run, Lighthouse West or Houdek Dunes  Natural Areas to look for the predictable Perseid Meteor Shower in early August.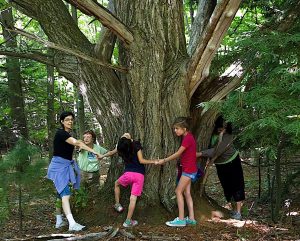 12. Hug an old growth tree – try the ancient chestnut tree that survived the blight at the Teichner Preserve (go on a docent-led hike to find this special tree). Grab your friends and family and encircle the giant chestnut tree.
13. Paddle by moonlight – try paddling your kayak or canoe at the Cedar River Preserve.
14. Build an igloo – try a community location by building an igloo at the Leland Village Green for all to enjoy.
15. Learn about threatened/endangered species that live in Leelanau – take an Inland Seas cruise to learn about the Caspian tern that lives on Gull Island.
16. View the Conservancy's protected lands on Lake Leelanau from the water – try starting at Perrin's Landing at the south end of Lake Leelanau by the Cedar River Preserve and head north. Look for the stretches of natural shoreline at the Greeno Preserve, slow down at the Narrows to enjoy the Narrows Natural Area, then continue north to the shoreline of Clay Cliffs.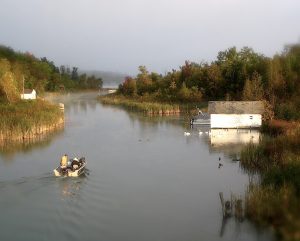 17. Experience a shower of tamarack needles – try an autumnal hike to Houdek Dunes Natural Area or Teichner Preserve when the tamarack trees lose their yellow needles. Magical.
18. Go wild fruit foraging – try berry picking with your kids at Krumwiede Forest Reserve, Chippewa Run or Lighthouse West Natural Areas for raspberries or blackberries in August.
19. Eat Leelanau produce through the seasons – visit your local farm market. Start with asparagus and rhubarb in the spring and eat your way to apples and root vegetables later in the season. Don't forget about cherries produced on over 5,000 acres of protected farmland!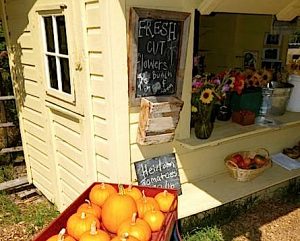 20. See the sand hill cranes – there's nothing quite like these creatures that inhabit the Cedar River Preserve.
21. Crosscountry ski or snowshoe Kehl Lake Natural Area in winter – the snowy hemlocks here make for a magical trail.
22. Hear trees talk – try a silent snowshoe beneath the towering old growth white pines at Kehl Lake Natural Area. If you go, you'll know what we mean.
23. Discover a carnivorous plant – try a paddle to the Cedar River Preserve to see the sundew and pitchers plants along the Cedar River.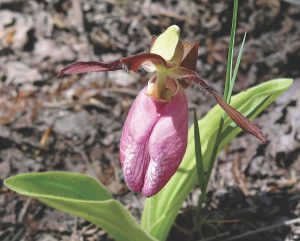 24. See the pink lady slippers – try hiking along the Houdek loop and forest trail at Houdek Dunes Natural Area.
25. Try ice fishing – shallow Kehl Lake freezes early and is full of pan fish like large mouth bass, northern pike and bluegill.
26. Track large animals – find tracks and scat of Leelanau's bears and other large wildlife at places like Kehl Lake, Houdek Dunes, and Cedar River Preserve.
27. Experience the kettles of migrating birds – head up to the Tip of the Peninsula, where we have protected 625 acres and over a mile of shoreline for migrating birds. Public areas include the Leelanau State Park as well as Lighthouse West and Kehl Lake Natural Area.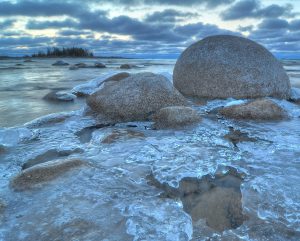 28. Find a glacial erratic – those great big boulders left behind by the glaciers can be spotted at Lighthouse West Natural Area and the Krumwiede Forest Reserve.
29. Shine for gars and walleye – both of these fish frequent the Lake Leelanau Narrows at night. Bring a flashlight to the public dock and patiently wait.
30. See the otters in the Leland River – trek from Van's Beach across Hall Beach towards the harbor to see the otters playing in the river all summer long. See them during their peak when the salmon run in the fall.
31. Take a selfie at one of our natural areas – and send us a copy too! Tag us on Facebook and/or Instagram and help to raise awareness about the Conservancy's mission.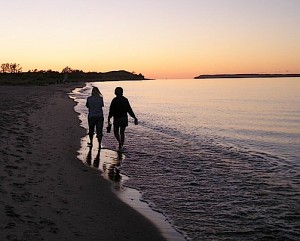 32. Beach walk from the tail to tip of Leelanau – try this multi-day walk along beautiful Lake Michigan shoreline starting at our Chippewa Run Natural Area and walk all they way to Lighthouse West Natural Area.
33. Visit Chippewa Run at twilight to hear the spring peepers – bring along Aldo Leopold's A Sand County Almanac and read a chapter.
34. Picnic on the Village Green in Leland – enjoy the Leelanau Preserver tiles, a mosaic of names and Leelanau images and reflect on the places and people that make up your own Leelanau experience.
35. Ski the groomed trails at Palmer Woods Forest Reserve or hike the natural area from end to end– a four-mile round trip!
Again, we'd love to add to this list. Send us your Leelanau Bucket List item – and also a photo and a paragraph if it's a memory you've already experienced.