For five years, Samantha put her heart into a piece of land, establishing and growing an orchard using the innovative methods of permaculture.  When life circumstances required her to leave the land, she was devastated to watch all her hard work plowed back into the earth. 
Then last spring, Samantha and her husband Christopher Graves read about the Conservancy's call for farming proposals for the DeYoung Farm, a 145-acre Natural Area and historical farm along Cherry Bend road owned by the Conservancy.  The couple had been searching for the right place to begin a lasting orchard project, and the DeYoung property seemed like a perfect fit.  Christopher, a graduate of The Conway School for Sustainable Landscape Design, and Samantha, a permaculture farmer and educator, shared their vision for the land with Conservancy board members and staff, and we are now pleased to welcome the Graves as our newest farmers at the DeYoung Natural Area.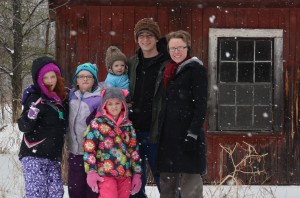 Samantha and Christopher have plans to establish a permaculture demonstration orchard, market garden, and rotational pasture for small livestock (chickens and sheep) on twelve acres of the DeYoung Farm over the coming years.  Samantha says, "The DeYoung property is an excellent fit for what we want to do.  Because this land is owned by the Conservancy, we know that it will be preserved for generations: this is an ideal place for permaculture.  Also, we want people to feel welcome here.  By farming in a publicly accessible location, we hope to encourage people to walk through our orchard and gardens—to visit, ask questions, and learn with us." 
At the heart of the farm will be the Graves' permaculture orchard, including apple, mulberry, and nut trees.  A permaculture orchard includes a diverse planting of edible crops that naturally deter pests and disease, while creating and extending wildlife habitat.  The Graves will plant fruit-tree centered "guilds," or groupings of plants such as perennial fruits, herbs, vegetables, and root crops designed to grow well together.  These companion plants do not complete at root level with the fruit trees but actually benefit them by suppressing grasses and deterring deer and rodents (as daffodils do, for example) or holding nutrients at leaf-level (bee balm, chicory, and dandelion).  Plants in a guild serve multiple functions: many of the species that the Graves intend to plant in and around their orchard and garden will be edible (chives, strawberry), medicinal (comfrey), and/or used for natural fiber dyes (yarrow, wild blue indigo).  Each plant selected for a guild must provide at least one benefit to the ecosystem and the fruit tree it supports.
Thriving guilds take years to establish and much of the Graves' work in the initial years on the DeYoung property will entail soil building though mulching, composting, and planting appropriate nitrogen-fixing and nutrient-accumulating perennials.  Some apple trees will be planted the first year, Samantha explains, but the orchard will grow gradually over four years as the Graves get to know the site and enrich the soil.  As well as growing produce to sell and raising chickens for egg production, the Graves plan to host workshops and tours at the site.  They are already offering a series of ongoing permaculture design workshops, details on which can be found on their website: Healing Tree Farm.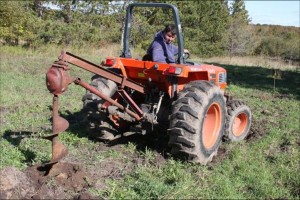 Cherry Bend Farmers Meeghan Siera and Andy Hutchinson, our DeYoung neighbors, will also continue to grow vegetables on a portion of the DeYoung property.  The family has been farming along Cherry Bend Road since the mid-1960s; they know the land well and have been stewards of this beautiful property adjacent to their own for decades—well before the DeYoung Farm became a Natural Area in 2006.  Meeghan and her son Andy are farming partners.  Andy runs the farm, growing fresh market vegetables and corn, and Meeghan manages the Cherry Bend Market and Bakery.  Andy is active with the New FARM Group for young farmers organized by our partners at the MSU Agricultural Extension.  This spring, he will plant corn on three acres of the DeYoung property.  Andy and Meeghan are looking forward to continuing their relationship with the Conservancy.  Andy says, "I love what I do.  I'm going to be farming for as long as I can manage." 
This is a truly unique combination of farming on a beautiful piece of land.  Jenee Rowe, Director of Conservancy Owned Lands, says, "We are grateful we can do our small part to continue the tradition of farming.  Both of our farming families, like Louis DeYoung in his day, embody the ingenuity, resourcefulness, and resilience demonstrated by Leelanau County farmers, by balancing natural resources with human needs.  We look forward to involving the community at the farm portion of DeYoung Natural Area over the coming years."