This award is named for longtime, exemplary volunteer Walt Nielsen, who spent many years helping to establish our water monitoring program. (See 2002 for photo).Fri
2020: Mark Smith, Volunteer Photographer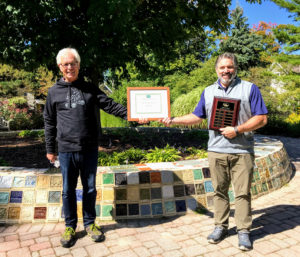 For the last few years, Mark Smith's beautiful photos have graced the covers of the Leelanau Conservancy's newsletters and have appeared on our website and social media. More recently this retired educator has functioned as quasi-staff, volunteering to go out and shoot photos of all of the major land protection stories.
 "Mark's beautiful photos, from the wetlands at the Lime Lake Preserve to the stunning views from the Boskydel Vineyards, have helped in immeasurable ways to convey the visual story of our work," says Tom Nelson, Executive Director for the Leelanau Conservancy.  "Mark spends hours out in the field, from early dawn to sunset, capturing the essence of Leelanau. " Thank you, Mark, for not missing a beat during the pandemic, and for your beautiful work, more needed than ever during these uncertain times."
2019: Friends of Sleeping Bear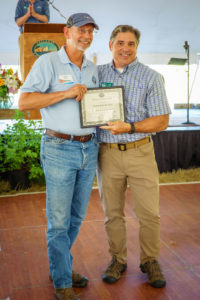 Kerry Kelly, President of Friends of Sleeping Bear (FOSB), accepted the Volunteer of the Year Award on the group's behalf. For the last three years, FOSB has groomed the cross-country ski trails at Palmer Woods, sharing their time, equipment and trained volunteers. They are great at communicating with us when the trails have been groomed and help promote our trails through their emails. We are grateful to all of them, and to all of our volunteers and businesses who help to further our mission.
2018: Dr. Bill Scharf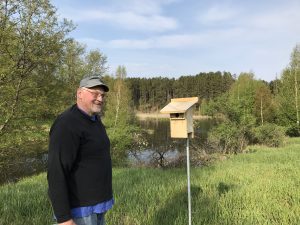 Dr. Scharf has 50 years of academic and research experience as an avian parasitologist- a scientist who studies bird parasites. Since 1968 he has studied Herring Gull nests on Gull Island (also known as Bellow Island). He was involved in creating the management plan back when we purchased the island in 1995 and conducts yearly monitoring visits to the island. The research has been shared with many partners, universities and students to understand the unique ecosystem of Gull Island's inhabitants.
For eight years and 14 seasons, Dr. Scharf and researcher Alice Van Zoeren have collected data during the spring and fall bird migration at Chippewa Run Natural Area. This research documents changes in the diversity, longevity, and migration patterns of birds. Over these 14 seasons, Dr. Scharf's team has collected data on 91 species of birds and identified a new tick species in our area.
Together, Dr. Scharf's team has dedicated nearly 7,000 hours of time to the migration study at Chippewa Run. His dedication to his craft and commitment to sharing knowledge with the community is inspiring.
2017: Chuck and Janet Dickerson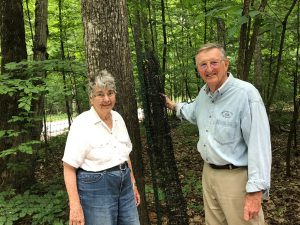 The Dickersons are passionate about native wildflowers and have been champions of the showy lady slipper orchid. In 2009 they collaborated with a plant biologist in Wisconsin to cross pollinate two plants from Leelanau. "The outcome was 700 seedlings—but growing wild orchids in non-wild conditions is really, really hard to do," explains Nelson. Eight years later, only 70 plants survived, despite having been lovingly cared for year-round by the couple.
"This spring, Chuck brought the first blooming plant to our office–an amazing sight," says Nelson. Chuck and Conservancy stewardship staff and volunteers have since transplanted the 70 seedlings at the Conservancy's Soper Preserve near Northport. The orchids are protected with an eight-foot tall deer fence, which Chuck helped to install and the Dickersons generously funded. "You could say our showy lady slippers are simply gems—and so are Chuck and Janet," adds Nelson. Read more about the lady slipper project here.
2016: Ann Nichols
Ann Nichols, (pictured with Executive Director Tom Nelson) has been volunteering since the Leelanau Conservancy's early beginnings. She has dug wildflowers, worked in our information booth and served on our Auction Committee. Ann and her late husband, Herb, wore costumes at our Picnic and drove around the county to put up signs when we had a farmland tour. "Over the years, pretty much everything we asked of Ann she was happy to do," says Nelson. "We are so fortunate to have her help over so many years." Photo by Eric Munson.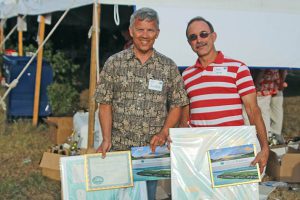 2015: Al Swiderski and Dave Coyne
We're grateful to stewardship volunteers Al Swiderski and Dave Coyne for leading the deck-building projects at the new Clay Cliffs Natural Area.
In addition to their work at Clay Cliffs, Al and Dave also built the boardwalk at Swanson Preserve. "Every time we have a construction need like this, we call these two skilled carpenters and they are always willing to help," said Executive Director Tom Nelson. "They have also dug fence posts, put up signs, built benches—if it involves wood these two are nearly always involved." As of 2015, volunteers have logged over 100,000 hours, worth over $1 million, Nelson added. In 2014, over 350 volunteered for the Conservancy. Photo by Leelanau Enterprise.
2014: Kent Holton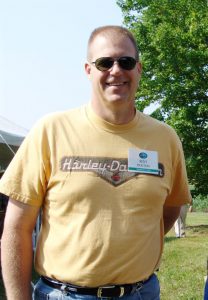 Kent Holton is a licensed electrician with a passion for great sound. For many years, Kent has donated his equipment and services to the Annual Picnic, Blues at the Bluebird, Sustainer gatherings and more. He also ran cable and hung TVs at the 2013 and 2014 picnics so that our videos could be viewed by all. Kent and his wife Becky are long-time Sustainers and have supported the Conservancy in so many ways.
2013: Recognizing all Volunteers
At the 2013, in honor of our 25th Anniversary, we recognized all our volunteers and their years of service to the Leelanau Conservancy!
2012: Leif Sporck
Our words at the 2012 picnic: "Leif is a standout volunteer for the Leelanau Conservancy. For years he has served on our auction committee—he and Larry are usually the only two men there—and he's very quiet at these meetings. But he'll do anything you ask him to do. Yesterday he spent the day hauling stuff. He's been here all day setting up and will be one of the last to leave tonight. Tomorrow morning, he'll show up at our office to unload and put everything away.
In addition to all his physical help—for many year's Leif has also been active with our wildflower rescuers—Leif has also teamed up with Epicure Catering to offer auction items which over the years raised thousands of dollars.
Finally, Leif has given us a deep discount on his beautiful tiles that cover the wall at the Leland Village Green. These Leelanau Preserver tiles represent gifts made to the Conservancy and uniquely express, through Leif's artistic interpretation, all of the things that we love about Leelanau County.
Leif came to us as a volunteer as a very young man and this, in addition to how tall he is, has always made him stand out in our minds. But the real reason he stands out is because of his deep dedication to our cause and his constant willingness to do whatever we ask of him." Learn more about Sporck Tile Art here.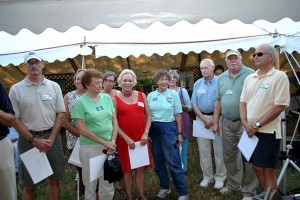 2011: Conservancy Docents
Our words at the 2011 picnic: "As a group, the docents collectively have given thousands of hours to the Conservancy. They commit to 40 hours of training and yearly classes in order to know our natural areas inside out and to understand who we are and what we do so that they can be the incredibly great ambassadors that they are to the general public. And ambassadors they are; for many who come on hikes, our docents are their first or only exposure to the Leelanau Conservancy. They bring new members to us and bring old members closer to our mission through the hikes they lead. Learn more about our Docents here.
2010: Dan and Anka Harkness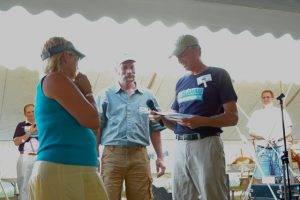 Our words at the 2010 picnic: "Dan and Anka have been volunteering for us since our earliest days. You'll always see them working this event, whether it's parking cars, pouring beer or working the registration desk. They have also been long time Blues at the Bluebird workers. Dan is a carpenter who has built many of the benches you see at our natural areas and on the Village Green. Like so many Conservancy volunteers, Dan and Anka are the kind of people who always seem to be willing to help whenever we call. Those of you who personally know Dan and Anka know how generous they are to any number of good causes in our community."
2009: Mary Lyons
Our words at the 2009 picnic: "Mary has the same love of Leelanau County that is shared by many others – but few are as effective in quietly watching over our peninsula, and taking care to leave it a better place for future generations. Mary served as a Board Member for nine years and was a longtime docent and was a founding member and chair of our Stewardship Committee. She served on our Outreach Committee and urged us to come up with a better gift giving program, which led to the creation of our Leelanau Preservers program. Mary was also an organizer of the effort to preserve farmland along Jelinek Road and a passionate advocate for farmland preservation in this county. She was a key player in getting Gills Pier area residents behind our project. She hosted gatherings at her house and served on a fundraising committee as well."
2008: Patty Shea
Our words at the 2008 picnic: "Patty Shea works tirelessly as co-chair of Wildflower Rescue Committee and has for nearly 2 decades. The Wildflower Rescue Committee is an arm of the Leelanau Conservancy. The Group was started in the fall of 1999 with the purpose of saving native plants from destruction. Patty has worked not only to save the plants as part of the Wildflower Rescue Committee, but to educate the public about the value of the plants to the forest and as part of ecosystems.
2007: Chuck Whetsel
Our words at the 2007 picnic: "Chuck has been invaluable to our stewardship staff, and has put in hundreds of hours helping us out. He's been giving his time for years, and in particular has been a huge help on the computer doing mapping work. He also helps to monitor our conservation easements, and has been an used his woodworking skills building the bridge at Kehl Lake Natural Area, the benches at Chippewa Run, kiosks and signs and more. He's lent his tools, trailer, and equipment, and if that wasn't enough, he also donated a beautiful wood-turned vase for our 2007 auction."
2006: Dick and Lou Ristine
Our words at the 2006 picnic: "Dick—dogged fundraiser, uses all his connections but in a sincere, passionate way. Both he and Lou have been real believers in our cause and their passion has inspired others to get involved or to donate. Dick served on our board for 9 years, and later as honorary chairman." Before Dick passed away, he also served on our fund development committee and was a major force behind saving Leelanau farmland and encouraging others to include the Conservancy in their estate plans.
Lou sat in our booth, served on our auction committee, worked in the office, hosted gatherings and, like Dick, engaged others to join us. The Ristines embodied the term: "community servants." We have been exceedingly lucky to have them so involved and are grateful for all they gave to us over the years." Editor's note–we miss Dick Ristine, who passed away in 2009 and Lou, who passed away in 2017.
2005: Bill and Shirley Orcutt
Our words at the 2005 picnic: "Bill and Shirley have been with us at the Conservancy practically since its inception. They wandered into our offices right after they retired and bought a home on South Lake Leelanau. They said they wanted to get involved and since then, they have been incredibly reliable and helpful to our organization. When they are in town, they never miss helping out with a mailing or taking a shift in our booth. We're very grateful to Bill and Shirley Orcutt for all their help over the years."
2004: Tim Keilty
Our words at the 2004 picnic: "Tim, a limnologist by training, has been with us practically since our inception and has been critical to our water-monitoring program on seven county lakes. We're very lucky to have Tim's expertise and guidance in establishing this state-of-the-art program. The hundreds of hours he has put into this program and its scientific integrity is a real mark of his dedication to our organization."
2003: Joanie Woods
Our words at the 2003 picnic: "Staffer Gayle Egeler covertly campaigned to make sure Joanie Woods and loads of her family members attended our Rally so that we could present Joanie with our 2003 Volunteer of the Year Award. Bobbie Collins talked about Joanie's tireless and often-backbreaking work on behalf of the Conservancy. Among her contributions: co-founder of the Wildflower Rescue Committee; former nine-year board member and ongoing recruiter of new members; spearheaded working with MDOT, the road commission and local citizens on the Duck Lake Corner Beautification Project at M-22 and M-204 near Leland; key leader of establishment of the M-22 Heritage Route and served as its chairwoman since its inception."
2002: Jim Vachow
From our 2002 Picnic; Jim Vachow has been a super volunteer of ours for years. In fact, when we created our Volunteer of the Year award, Jim was the very first recipient to be recognized for the hundreds of hours he spent clearing trails and building kiosks. He became so integral to our work that we actually ended up making him a part-time member of our Stewardship staff. For many years, Jim was our primary staffer who monitored conservation easements, in addition to many other tasks. In 2009, Jim decided to retire to make time for travel and other pursuits but is still really involved with our volunteer network. Jim, at right, is pictured with Walt Neilson (left) longtime volunteer for whom the award is named. Center, retired founding director Brian Price.