Story by Carolyn Faught, Senior Writer for the Conservancy.
(Feature photo by Mark Smith.) Before moving to Leelanau full time in 1987, my husband and I owned a tiny cottage on South Lake Leelanau. We were in our late 20s, and working in Cincinnati. Friends often tagged along to the cottage for the weekend and one Saturday, we discovered Boskydel Vineyard, just up the road from our spot.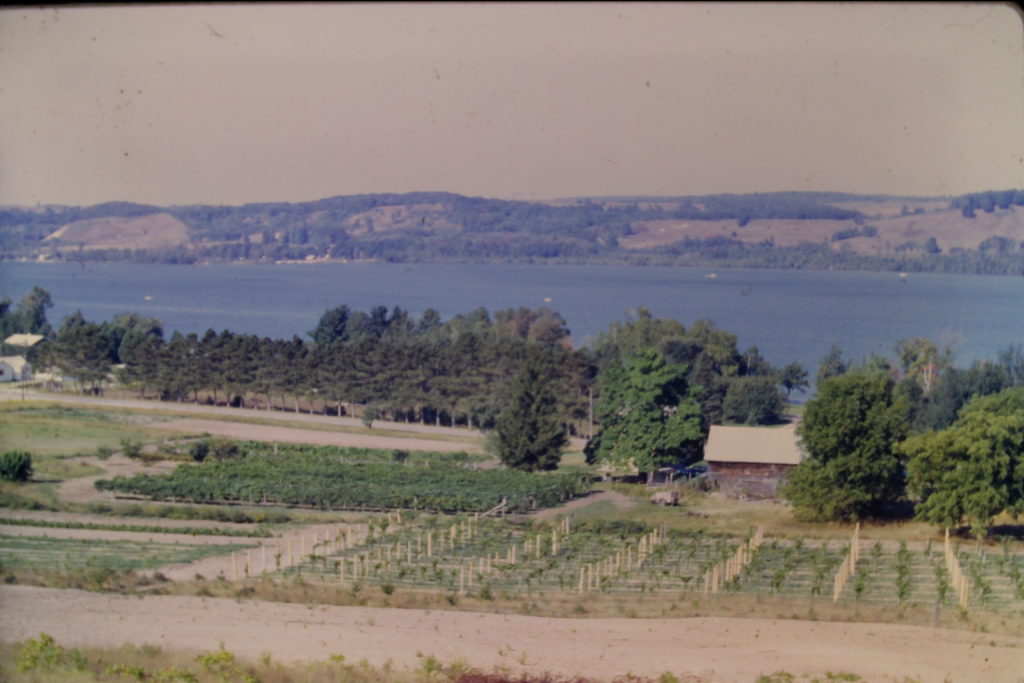 Now in my 60s, my memory is not so great. But I'll never forget meeting Bernie Rink, standing behind a long counter in his tasting room, with his brush cut and suspenders. He was cranky. He was gruff. He was unsmiling. "You kids want to taste some of the best goddam rosé in the country?" he asked. It was more of a demand than a question.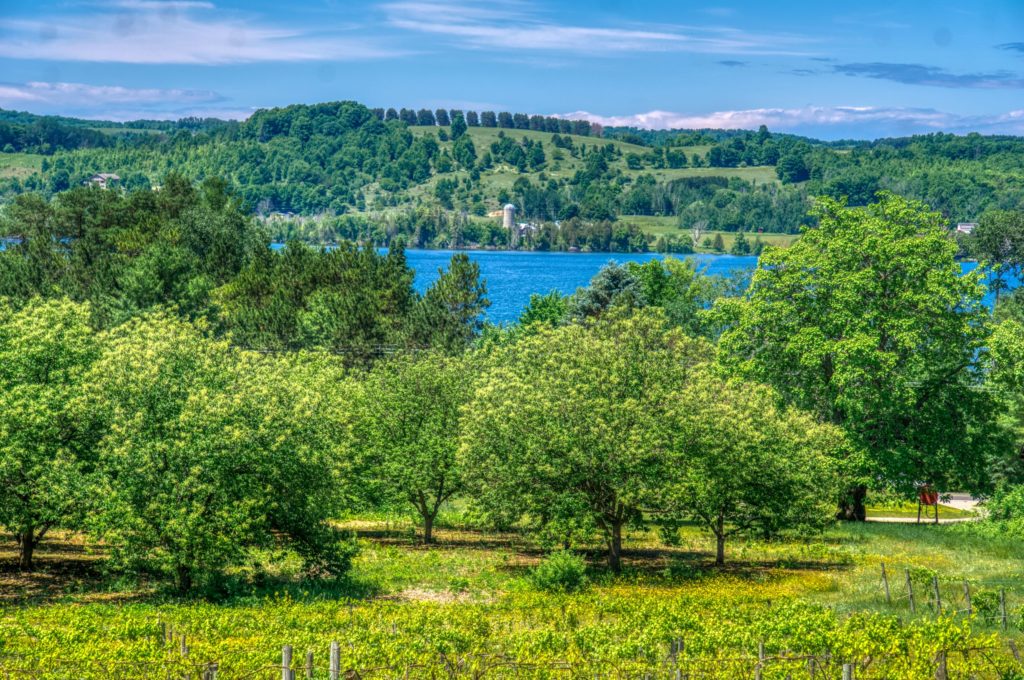 We tasted. And shyly asked questions and marveled at the stunning views. And like so many who have come and gone from his tasting room, we were charmed by Mr. Rink and his curmudgeonly persona. We bought a few bottles and headed on our way. For years to come, we all recalled that encounter. Bernie Rink was a man who made an impression.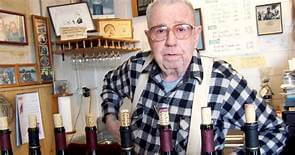 Much has already been written about this iconic Leelanau vintner; one needs only to google his name to come up with a long list of tribute articles, and stories like mine abound. A quote from an Hour Detroit magazine article: "We were there once when a couple came in, and he said to them, 'What kind of wine do you like?' The girl answered, 'Sweet.' Bernie promptly responded, 'We don't have sweet!' and continued with us in our tasting."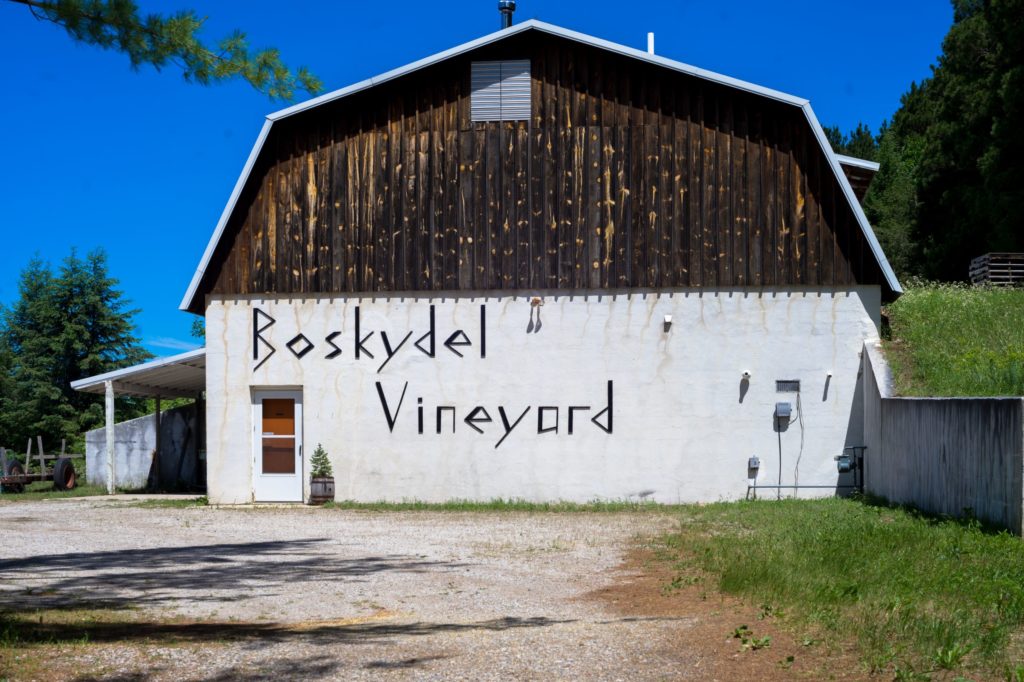 The tasting room closed in 2017 when Bernie was 91. He and his five sons, who range in age from 51 to 63, made the difficult decision to transition the vineyard to a new owner, but first wanted to protect the land before it was sold. "It was heart wrenching," says Andy, the youngest. They began working with the Leelanau Conservancy to forever preserve 55 acres at the corner of Otto and Lake Leelanau Roads with a conservation easement* when Bernie was still alive.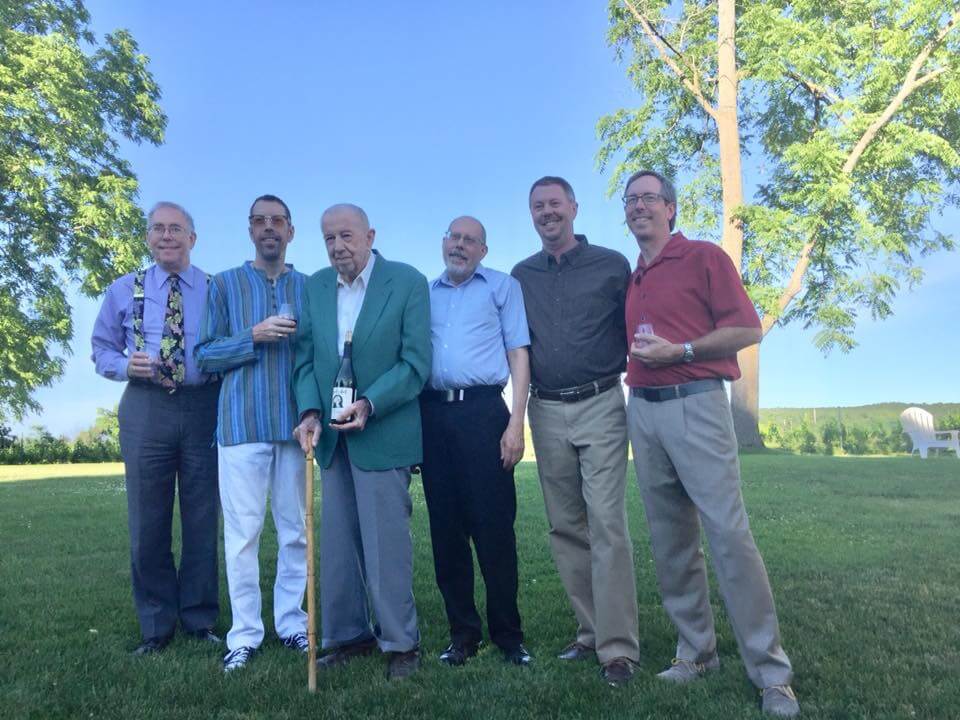 "It was Dad's idea to protect the land," says Jim, his oldest son. "Growing up, he had a saying that he repeated many times over the course of our lives. The gist of it was that you should always try to leave the world a better place than you found it. Which of course, is what working with the Leelanau Conservancy is all about." The papers were fittingly signed during Earth Week, electronically, in the midst of Covid-19.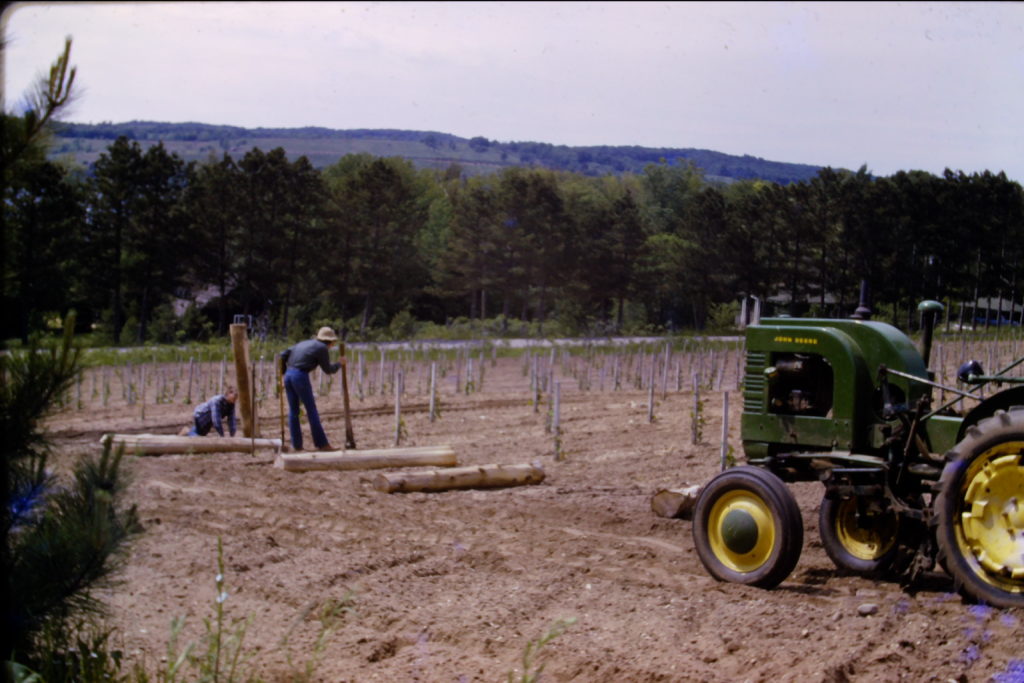 Bernie worked in the winery well into his 80s, and died in 2018 at age 92. Being a winemaker was his second job; he also served as the Library Director at Northwestern Michigan College until 1986. There, among other things, he is remembered for having established the college's Inuit Art collection, and growing the collection through an annual sale.
He met his wife, Suzanne, at a library conference. She had attended the University of Michigan, and had taken a job as the first children's librarian at the Traverse City Library. They were married and at first lived in town on Rose Street. "But he was like a coon in a cage," says Andy. Bernie longed to be out in the country and bought 16 acres and a farmhouse along Lake Leelanau Drive from Joe and Vivian Bunek, who eventually sold him an additional 49 acres.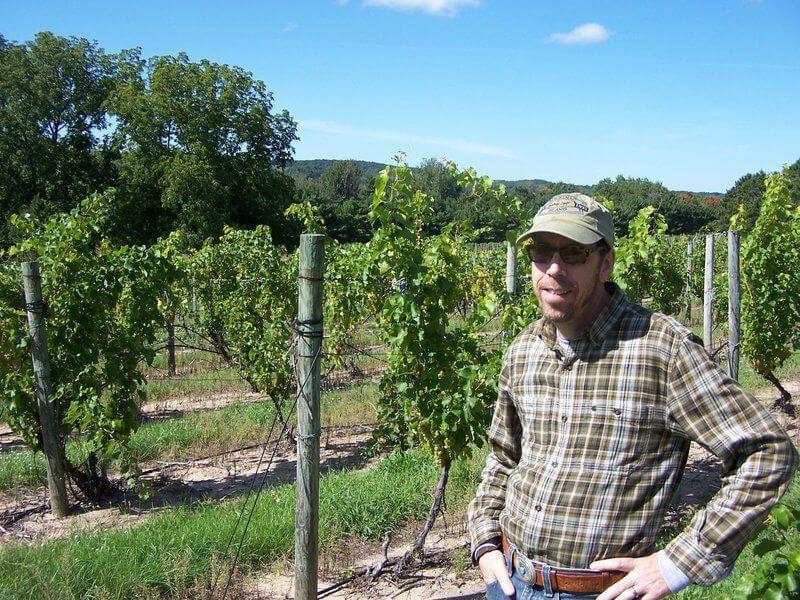 Bernie was raised on an Ohio farm during the Depression. His father was a truck farmer, and sold everything at a Cleveland market from beef to pork to vegetables. Bernie's father also made wine in his basement during Prohibition. Bernie, says son Jim, "wanted to give his sons the same work ethic he had grown up with. He led by example and expected us to work hard. And we did." Among their tasks: pruning vines, hoeing weeds, digging post holes, pressing grapes and bottling wine.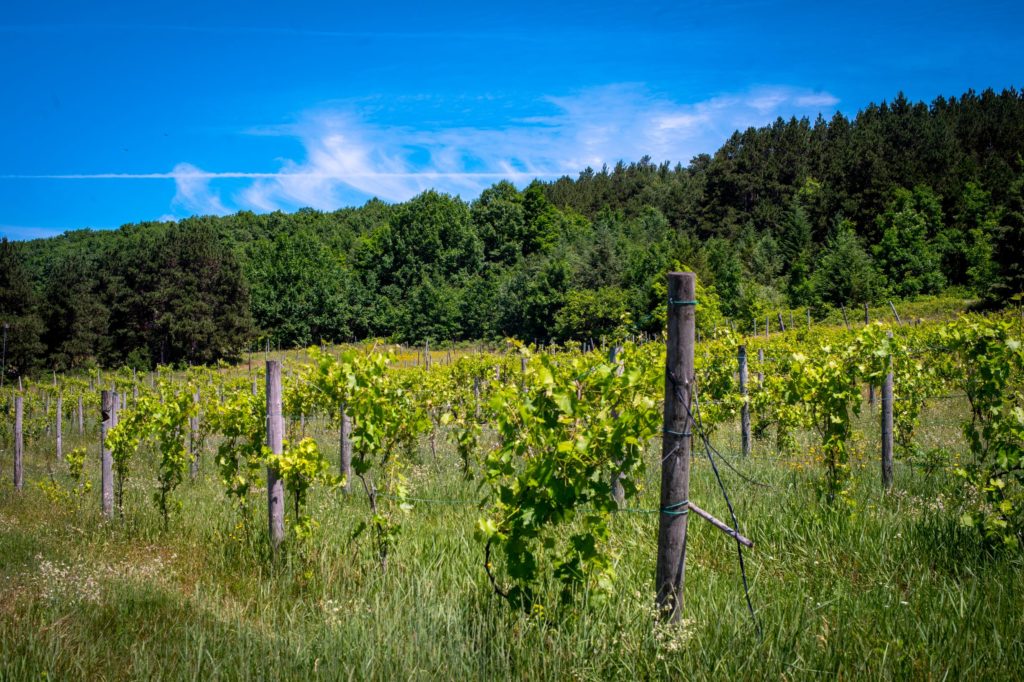 "He told millions of people that he wanted to turn his sons into assets instead of liabilities, and he wanted us to go to bed tired at night," adds Andy.
Suzanne became a full-time mom as one son after another was born. "Mom was as much of a steward of the land as Dad was," says Andy. "She was underrated and always in the background as Dad had that large and magnetic personality. But she was really the root of it all, and loved us boys and Dad enough to enable it all to happen."
Bernie was the first to grow grapes commercially in Leelanau, planting a one-acre test plot in 1965. "I really doubt that the wine industry would have happened in the region if not for Bernie," says fellow vintner and long-time Leelanau Conservancy Board Member, Larry Mawby. Larry met Bernie when he was just out of college and was "a wannabe writer" who gradually turned to winemaking. At that time, Bernie was still making wine in his basement.
"He generously shared all of his knowledge with us aspiring vintners," says Larry. He describes the Rink farm as "a good vineyard site, with light sandy soils and low fertility which grapes thrive in." The slopes overlook South Lake Leelanau, facing west and south– "really good for grapes," adds Larry. "A mix of trees helps to stabilize a fragile hillside. The land has a lot of potential."
Farmland Protection Director Kim Hayes worked with the family to close the conservation easement deal. "I feel honored to have helped the Rink family achieve their goal of protecting their farmland into perpetuity, says Kim. "Having started the process with Bernie was special for me. His role pioneering grapes in the County has forever made a mark in our Leelanau agricultural history."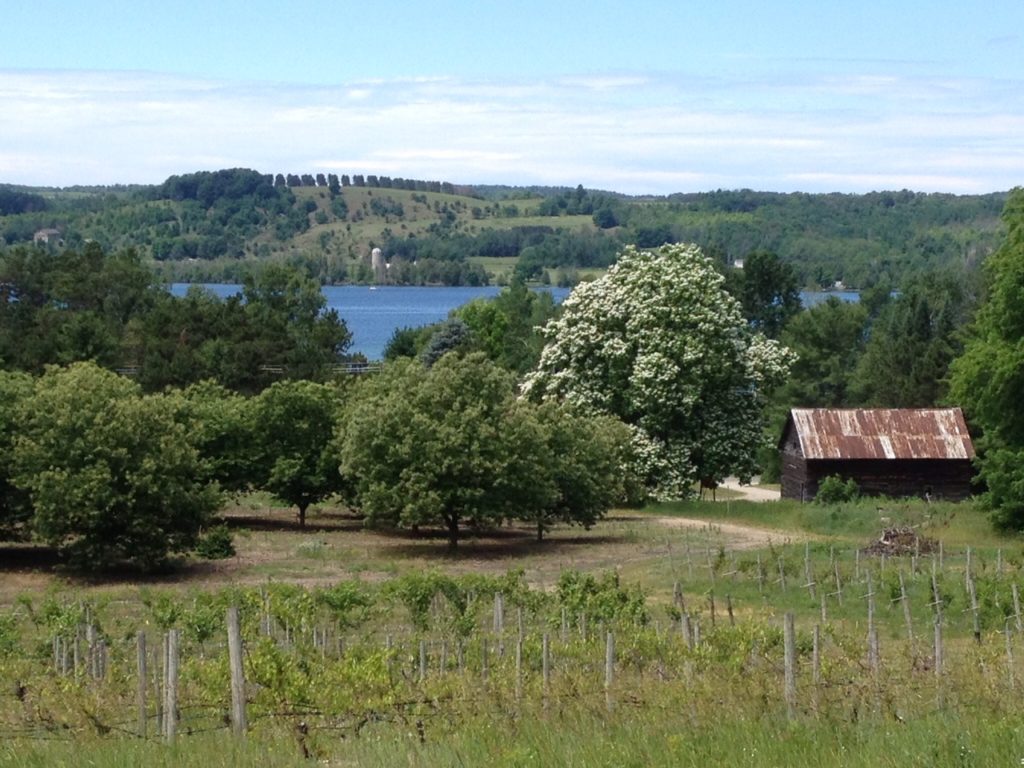 While uncertainty in the midst of the pandemic abounds as to who will take over the property and what they might grow there, one thing is for certain, says Andy. "I'm very glad that as a family we decided to keep it from being developed—that would have broken all of our hearts. At the end of the day it was the right decision and one I will never regret."
As for Bernie, he continued to make an impression until the day he died. Behind his gruff exterior was an intellectual who had held court for years with local writers and NMC faculty. He read voraciously and was fond of literary quotes which he posted on cardboard around the tasting room. When he was in hospice, Bernie flawlessly recited a long sad poem to everyone who visited. Titled "Around the Corner" by Charles Hanson Towne the poem is about seeking out an old friend only to learn that he had died. (Read poem at the end of this post.)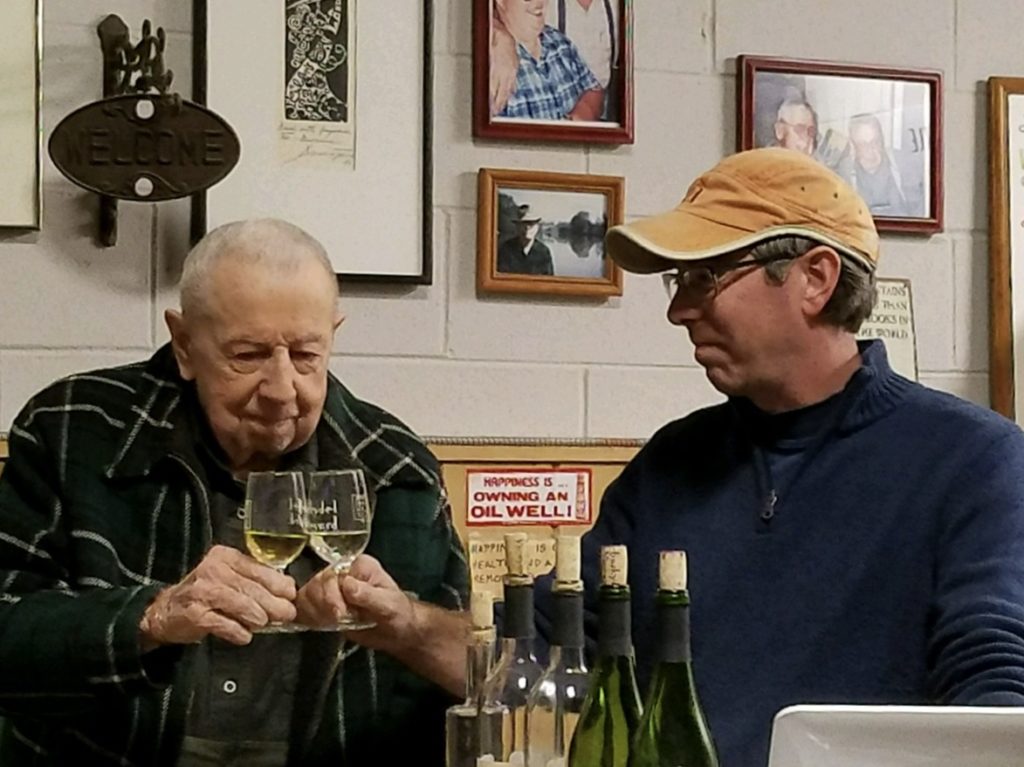 Andy volunteers to read the poem to me over the phone. "I probably can't get through it without sobbing," he warns. He was right. By the end, I was teary too.
What is a Conservation Easement?
The Conservancy works with private landowners to permanently protect, for future generations, natural features and working landscapes on their property by creating individualized legal agreements that place certain permanent development restrictions on the property. The Rink easement was purchased by the Leelanau Conservancy with the help of our donors as well as funds from the federal government. Learn more about conservation easements here. https://leelanauconservancy.org/land-protection-toolkit/
Around the Corner by Charles Hanson Towne
Around the corner I have a friend,
In this great city that has no end,
Yet the days go by and weeks rush on,
And before I know it, a year is gone.
And I never see my old friend's face,
For life is a swift and terrible race,
He knows I like him just as well,
As in the days when I rang his bell.
And he rang mine but we were younger then,
And now we are busy, tired men.
Tired of playing a foolish game,
Tired of trying to make a name.
"Tomorrow" I say! "I will call on Jim
Just to show that I'm thinking of him",
But tomorrow comes and tomorrow goes,
And distance between us grows and grows.
Around the corner, yet miles away,
"Here's a telegram sir," "Jim died today."
And that's what we get and deserve in the end.
Around the corner, a vanished friend.
Charles Hanson Towne (1877-1949) was an author, editor, professor, and poet. This poem is in the public domain.