Gull Island, sitting just off the coast in Northport Bay, is preserved as a sanctuary for thousands of herring gulls, whose populations have declined in the last 25 years. Don't confuse these birds with ubiquitous "seagulls" which herring gulls help to keep in check. The birds, which mate for life, will abandon their nests at the slightest disturbance. In a long-term study here, banded birds have returned for as many as 24 years. A crumbling stone cottage on the island was once inhabited and is a unique part of Northport's history.
Gull Island has also been an important educational and scientific resource. Scientists have conducted groundbreaking studies in population ecology, toxicology, and animal behavior here.
No Access
No mammals are allowed on Gull Island, including humans. Herring gulls mate for life and are very sensitive to disturbance, especially during nesting season. Birds may abandon their nests at the slightest provocation. Boat noise – especially the whine of personal watercraft – is fatally disruptive to nesting gulls.
The island holds its own dangers for people. Cottage ruins seen from the lake pose dangers of rusty nails and the like. Falling feces or, more seriously, the beak of a diving gull, are a given with so many birds on site. There is also a risk of inhaling the fungal spore Histoplasmosis, which causes a potentially fatal lung disease. Gull Island has been preserved as a sanctuary for the Herring Gull colony. Nesting places such as Gull Island, free from predators and human interference, are rare.
History
Bird colonies have nested here in Northport Bay for at least 4,000 years. Gull Island has also long been a navigational aid. Over the last century, the land has passed through several families who tried to live among the gulls—and failed. When the Conservancy acquired the island in 1995, birds had taken over the dilapidated Ustick cottage.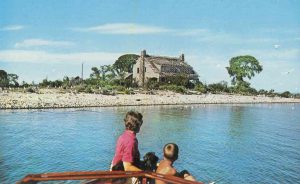 Experiencing Gull Island
You can volunteer for cleanup and monitoring sessions, which occur outside the nesting season of March-July. 231-256-9665.
Watch a video of gulls on the island in early spring
Gull Island Memories: Read an account by Dorothy May Ives, who spent a summer on Gull Island in 1937. Posted Oct. 2013
Q & A with Dr. Bill Scharf about nesting herring gulls on the island, June 2011
Read more on the history of Gull Island from Gary L. Miller
Channeling Hitchcock's the Birds on a Lake Michigan Island article