Welcome to the second Fall for Leelanau!
There's no place like Leelanau. That's true in every season, but our county feels especially radiant with the vibrant colors of autumn erupting around us. That's why we've provided you with a cornucopia of opportunities to celebrate this special corner of the planet during the harvest season.
So come on and Fall for Leelanau with us!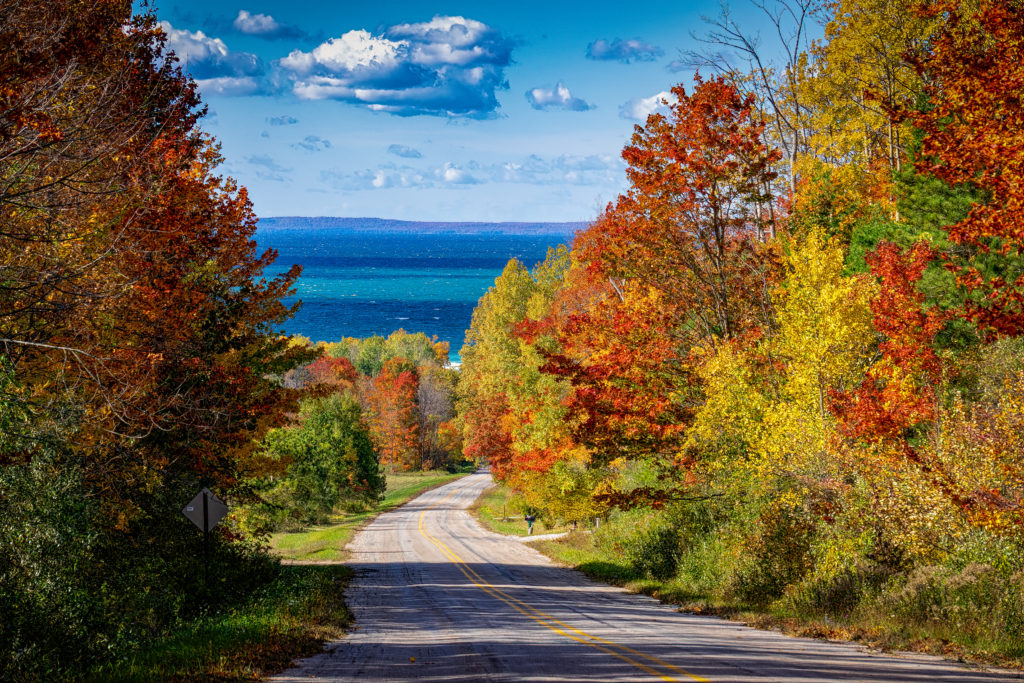 Schedule
Monday, October 18th
Chippewa Run Natural Area Clean-up Workbee: Join Conservancy staff and volunteers at 10am to pick up any trash or other debris from the newly acquired Salisbury parcel. The meeting place for the clean-up will be at the Sleeping Bear Dunes Visitor Center parking lot in Empire, MI. Garbage bags, gloves, and grabbers will be provided. More details and link to sign up here.
Tuesday, October 19th
Directors Hike at Chippewa Run Natura Area: Join Executive Director Tom Nelson at 10am at this diverse area located close to Empire. Sign up here.
Instagram Takeover: Tag along for a takeover of our Instagram @leelanauconservancy with AmeriCorps members Grace Nagle and Veronica Bauer. 
Wednesday, October 20th
Autumn Olive Removal Workbee at DeYoung Natural Area 
Join us for one or two shifts to help remove the invasive Autumn Olive. Choose from 10am-noon and or 4pm-6pm. Removal of the Autumn Olive from the DeYoung Natural Area to allow native plants to grow in its place. The parking and meeting place for the removal will be in the open field (in front of a large barn) adjacent to the DeYoung Farmhouse. Sign up here.
Thursday, October 21st
Tree Talk Video: Take a virtual walk in the woods with Docent Shelley Yeager to learn about the intimate relationship between fungi and the trees in this short video filmed at Krumweide Forest Reserve. 
Friday, October 22nd
Trails Day at Palmer Woods Forest Preserve: Join volunteer Docents for hikes, meet LC staff and witness Trail Crew and Trail Stewards in action to learn more about how we care for the special places in Leelanau during this "open house" style gathering at Palmer Woods Forest Reserve from 2-5pm with refreshments. Signup here.
2:30pm: Fern Garden Hike
3pm: Bike Ursa Major trail with LC Staff (Provide your own bike and helmet)
4:30pm: Hike the Bike Trail
Sunday, October 24th
Fall for Leelanau Concert with Andrew Lutes and Chris Smith at Tandem Ciders: Singer/songwriters Andrew Lutes & Chris Smith will perform for us all at Tandem Ciders from 3pm-5pm. Raise a glass of Tandem Cider, toast to Leelanau Conservancy and autumn!
Click here to view the full details of the three driving tours.
Did you know that many of the beautiful fall views you see while driving around Leelanau are other corridors of natural and agricultural land in our County that have been protected through private conservation easements with the Leelanau Conservancy?
Private conservation easements are a way for landowners to ensure that their land, which remains in private ownership, will never become developed.  While land with a private conservation easement is not open to the public, there are many beautiful corridors that you can view on a drive through the County. This permanent land protection is possible thanks to the generous support of community members like you.
This fall, get off the beaten path with one of these three suggested routes that will take you on a scenic journey, with views of protected land that will remain unchanged for generations to come. Spend an hour, an afternoon or a weekend immersed in the colors of Leelanau!
Share your Fall for Leelanau adventure with us on social media with the hashtag #fallforleelanau!
To learn more about Conservation Easements with the Leelanau Conservancy, please visit: https://leelanauconservancy.org/our-work/land-protection-and-stewardship/protect-your-land/