There's no place like Leelanau. That's true in every season, but our county feels especially radiant with the vibrant colors of autumn erupting around us. That's why we've provided you with a week of opportunities to celebrate our special corner of the planet during the harvest season. Whether you attend an event, share your Leelanau adventure on social media, or donate to protect what you love, join us! Become a part of protecting Leelanau's special places forever.
So come on and Fall for Leelanau with us!
Your donation can make an immediate impact on preserving Leelanau for today and future generations.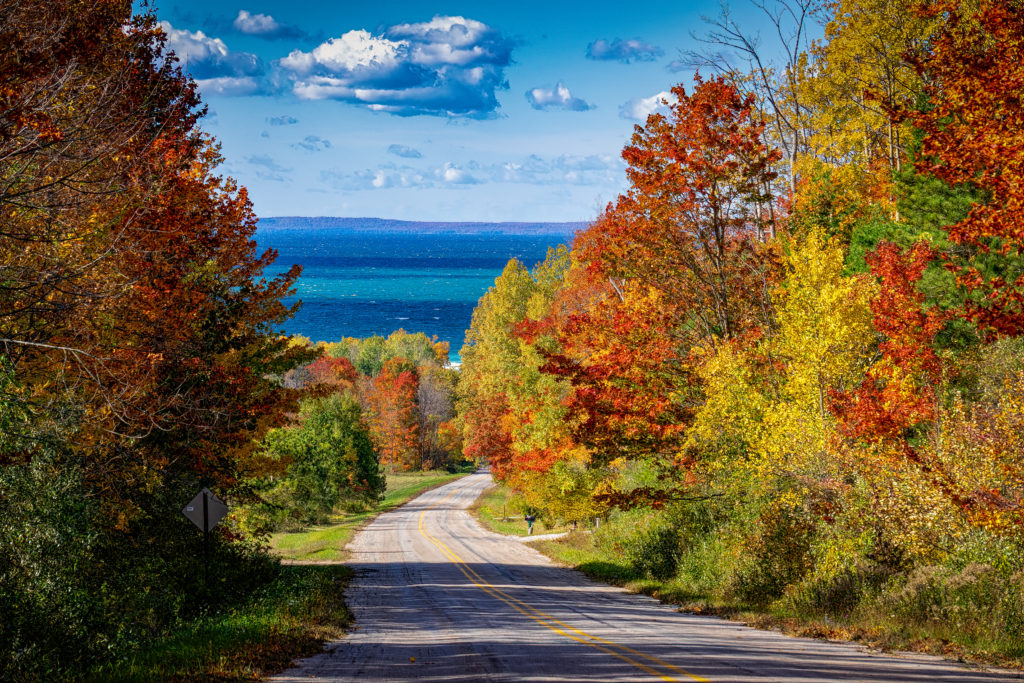 How to Fall for Leelanau
–Make a gift in honor of our beautiful peninsula! Whether you are in Leelanau or watching the leaves turn from afar, your donation can make an immediate impact on preserving Leelanau for today and future generations.
-Follow the Leelanau Conservancy on social media and share how you Fall for Leelanau- whether you do our driving tour or go on a solo hike, bike, or paddle, make sure to tag @leelanauconservancy and #fallforleelanau so we can reshare your adventures.
-Attend one of our many events going on during the week- learn more and sign up below!
Monday, October 10th 
Indigenous Peoples Day – We give thanks to the generous care with which the Anishinaabeg, and those of the Grand Traverse Band of Ottawa and Chippewa Indians, have given and continue to give to this land and our Leelanau community. Read our Land Acknowledgement.
Tuesday, October 11th
Palmer Woods Trail Crew 5-7pm – Join this weekly work bee crew to help keep the mountain bike trails in tip top shape for safe riding. Please register in advance here for meetup location.
Wednesday, October 12th
Instagram Takeover – Tag along with our friends Cherry Republic for a takeover of our Instagram @leelanauconservancy 
Thursday, October  13th  4pm-7pm
Meet Up Ride with NMMBA & Norte at Palmer Woods — Join LC Staffers, Northern Michigan Mountain Bike Board members and Norte representatives to cruise the trails at Palmer Woods and learn about the current projects for more hiking and biking trails at our largest Natural Area.  
Ride safely and wear a helmet, and please RSVP here.
Saturday, October  15th 
Docent Guided Hike at Clay Cliffs, 10am — Clay Cliffs Guided Hike – The Leelanau Conservancy  Join docents Ann McInnis and Bert Thomas to explore the myriad of ways Nature is now planning for the cool temperatures ahead. Please register in advance, space may be limited.  
Sunday, October  16th 
Forest Bathing Hike at Whaleback, 11am — Join this Docent guided hike to enjoy "forest bathing" among autumn color. Please register in advance, space may be limited.  
Fall for Leelanau Concert: Eric O'Daly and Max Lockwood with Brandon Smith at Tandem Ciders, 2-4pm — Raise a glass of Tandem Cider, toast to Leelanau Conservancy and autumn! Please RSVP here.
---
Fall for Leelanau Driving Tour
Click here to view the full details of the three driving tours.
Did you know that many of the beautiful fall views you see while driving around Leelanau are other corridors of natural and agricultural land in our County that have been protected through private conservation easements with the Leelanau Conservancy?
Private conservation easements are a way for landowners to ensure that their land, which remains in private ownership, will never become developed.  While land with a private conservation easement is not open to the public, there are many beautiful corridors that you can view on a drive through the County. This permanent land protection is possible thanks to the generous support of community members like you.
This fall, get off the beaten path with one of these three suggested routes that will take you on a scenic journey, with views of protected land that will remain unchanged for generations to come. Spend an hour, an afternoon or a weekend immersed in the colors of Leelanau!
Share your Fall for Leelanau adventure with us on social media with the hashtag #fallforleelanau!
To learn more about Conservation Easements with the Leelanau Conservancy, please visit: https://leelanauconservancy.org/our-work/land-protection-and-stewardship/protect-your-land/