Is there a bigger star of Autumn than the trees? With their vibrant seasonal color change, the trees of Leelanau put on a crimson, orange, and gold show that is undeniably beautiful. Folks come from near and far to delight in the colors and enjoy the start of a slower season.
We've protected thousands of acres of forestland and numerous farms laced with forestland. As leaf colors change and fall, we're reminded that forests are always in a state of transition. We have a lovely variety of trees throughout our natural areas. As time passes, some species have grown, and others have dwindled.
In conservation work, the words 'in perpetuity' and 'forever' are used often. In a world that is everchanging, what does forever look like? Under the watchful care of our stewardship staff, the future looks bright.
"We've got a little bit of everything," Land Steward Caleb Garone said. Standing at the trailhead in Palmer Woods, he motioned upwards. "Hemlocks, oak, cherry, basswood, maple, sugar and red." Dr. Palmer visited the woods on the first day of fall, joining the land stewards in coring a tree. He donated a tool called an increment borer to the staff a few days prior. The tool extracts a small cylinder of wood from the trunk so rings can be counted, and age determined. Dr. Palmer instinctively knew that the sampled Hemlock would be around 70 years old, "I know a little something about these woods," he winked.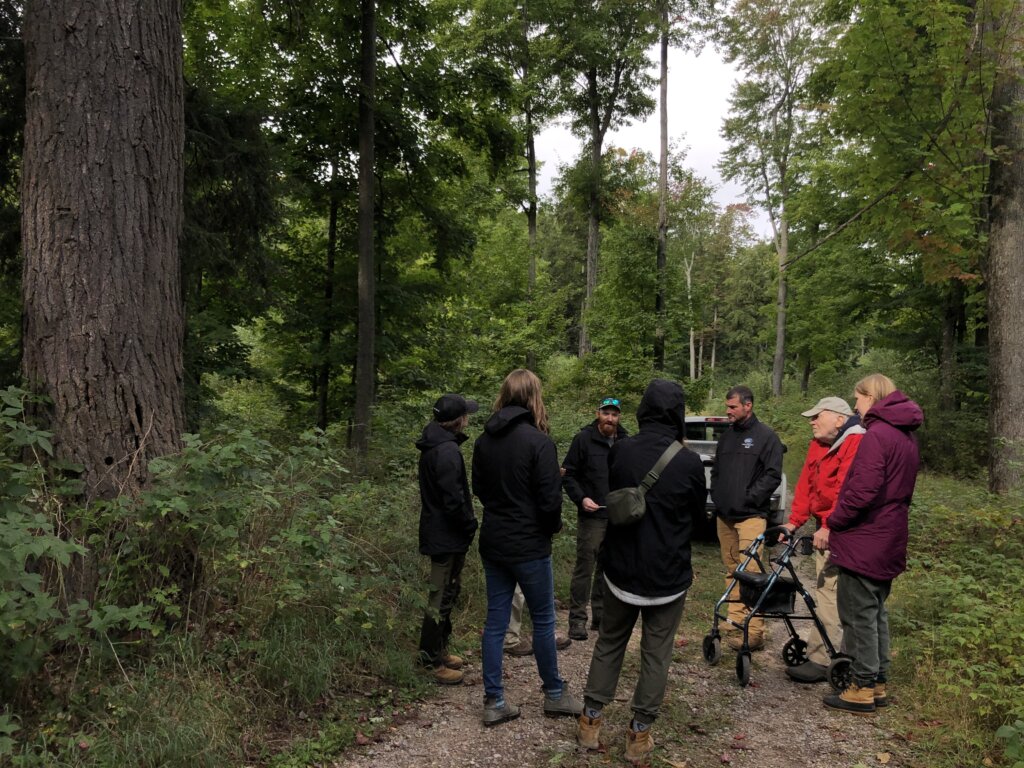 While still under his ownership, Dr. Palmer managed the woods well. Piecing together 21 parcels, he oversaw a working tree farm using sustainable forestry practices. "He'd leave the best cherrys, the best oaks so that those genetics would re-seed into the forest," Caleb explained. Dr. Palmer was thinking about longevity long before the forest became a Conservancy property in 2016.
Since the '50s we've lost many of three foundational Michigan forest species; elm, ash and are now amid a mass die-off of beech. Emerald ash borer is an invasive beetle that has almost entirely wiped-out ash trees, and beech is succumbing to Beech Bark Disease, which results from an invasive insect and a native fungus intermingling. Our stewardship staff are currently focused on conducting surveys for Hemlock Wolly Adelgid and Oak Wilt, with the hope of early detection and rapid response to help mitigate the impact if either of these forest health issues is found on Conservancy land.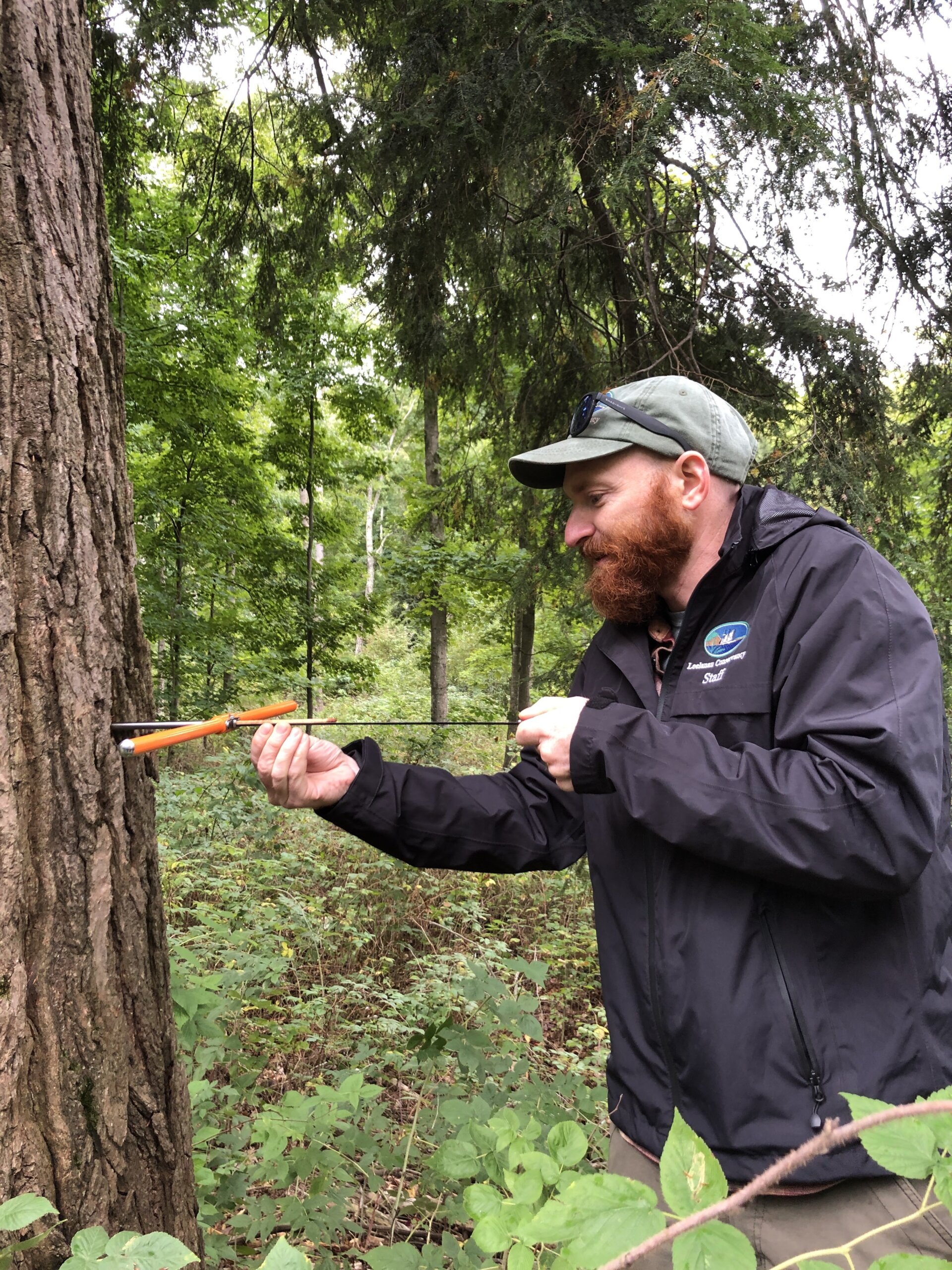 Many will remember the windstorm in 2015. The storm accelerated ash and beech loss at Palmer Woods. The Palmers harvested the salvage, and later in 2017, when the property was under the Conservancy's ownership, we did a timber harvest that removed dead and dying beech trees. While needed, the harvests left the forest with some bald patches. Time and again, scientists predict that the climate will get drier and warmer as years pass. Always thinking about what's to come, the Conservancy acted in accordance.
The U.S. Forest Service founded the Northern Institute of Applied Climate Science (NIACS) in 2009. NIACS collaborates with the Forest Service, conservation organizations, universities, landowners, and the forest industry to develop strategies to help forests adapt to change. One of those strategies is assisted range migration, which introduces trees that only grow part way up lower Michigan. The thought behind bringing the state's southern species in is that they'll thrive in years to come as temperatures get warmer.
Palmer Woods isn't the only property where we're building resiliency. "Earlier this year, we planted seven species of trees at Whaleback; two of those are climate migration species, white oak, and shagbark hickory," said Caleb. "By adding species diversity, we are working to make our forests more resilient. Though, any time we add species to an ecosystem, we want to tread lightly, blending them with species that are already present within the forest. We want to have a light touch and let nature do the work." He and the rest of the stewardship team are also getting ready to plant over 200 trees at Clay Cliffs this fall. "It's ash and beech heavy, so we're going to lose a lot of trees there. We're working to fill in some of those gaps, improving species diversity, and helping to keep a closed forest canopy that will continue to support springtime ephemerals at Clay Cliffs; an extraordinary place in the spring."
While the world constantly changes, our commitment to Leelanau remains the same. As always, we're working with nature to ensure our protected lands remain wild, whimsical, and resilient – forever.