The Manitou Islands gaze at Leelanau like a pair of green eyes. Depending on where you are in the county, it's possible to stare back at them. High up in a cottage south of Leland, Glenn Currin can greet them whenever he wants. We're pleased to say this land will forever have that view untouched. The Currins and the Leelanau Conservancy recently protected 34 acres of wooded, ridgeline beauty with a private conservation easement.
For Glenn, this view is extra special. "My father was very interested in passive solar energy," he said. "For a time, he worked with the National Park Service and replaced old water drinking pumps with solar-powered electric pumps. He put solar panels on North Manitou Island to supplement and possibly get rid of diesel generators. That was back in the '80s. I don't know what they're doing now, but that was something my dad was pretty proud of."
A honeymoon trip spent camping around Lake Superior drew Glenn's parents, Cedric and Betty Currin, to Leelanau. The newlyweds were enchanted by the woodlands, lake views, and outdoor lifestyle that the county offered. It was also not far from their home in Midland. Cedric would bring Glenn and his siblings Bruce, Eric, and Kathleen up to camp in the summertime. "Saturday morning at 8 o'clock, we'd head north. We would stop at Sleeping Bear Dunes first and get all tired out. Then in the afternoon, after a picnic lunch, we would go anywhere. When we camped, we'd stay on Good Harbor Beach at the end of 669." The kids would accompany their dad on visits to listed properties during their stays. He wanted ridgeline property that would overlook Lake Michigan and the Manitou Islands, which proved challenging to find even then. The Sleeping Bear Dunes National Lakeshore had not yet been established. Just before it was, by good fortune, Cedric and Betty bought a wooded, ridgeline property from family friends Dudley and Elise Campbell.
Cedric built the family cottage in 1975. Glenn married his wife Gail the same year. Cedric had just spent several years working in Wales for Dow-Corning and was ready to spend more time in Leelanau. The cottage became a place of joy for all of the Currins. "We grew up here, and then when my daughter was born, we were here every summer for her first ten or so years," Glenn said. "I worked for a bank and had to take two weeks off in a row, and it was always spent here. If it rained, we would go bowling or watch a movie in Traverse City, but most days we spent at the beach or walking through the woods."
Glenn and Gail have two children of their own who have memories and a special connection to Leelanau because of this property. They also have a granddaughter who's been delighted by the woods and beach that captivated her great grandparents. She and all the rest of Betty and Cedric's descendants will be able to use the property until its use runs out to them. What is there now can be maintained but not changed.
Betty passed in 2016 at the age of 84. During her time spent in Leelanau, she was a member and volunteer for the Leland Township Library and the Leelanau County Historical Society. Three years later, Cedric passed. His kids knew that his wishes included protecting the property, and Glenn picked up where his dad left off in chats with Director of Natural Land Protection Matt Heiman. Last December the paperwork was finalized.
"Helping Glenn and his family permanently protect this amazing, forested property so they can continue to enjoy these natural wonders for generations is one of the things I enjoy most about working in land protection. Establishing their parents' legacy and passing that onto their children as a place to connect with each other and discover the woods," Matt said.
The woodlands ascend towards the sky and offer peeks of Lake Michigan through the trees. In the springtime, trillium and mushrooms grow in abundance. The land is located just a few miles from the National Lakeshore and two other Conservation Easements within the Conservancy.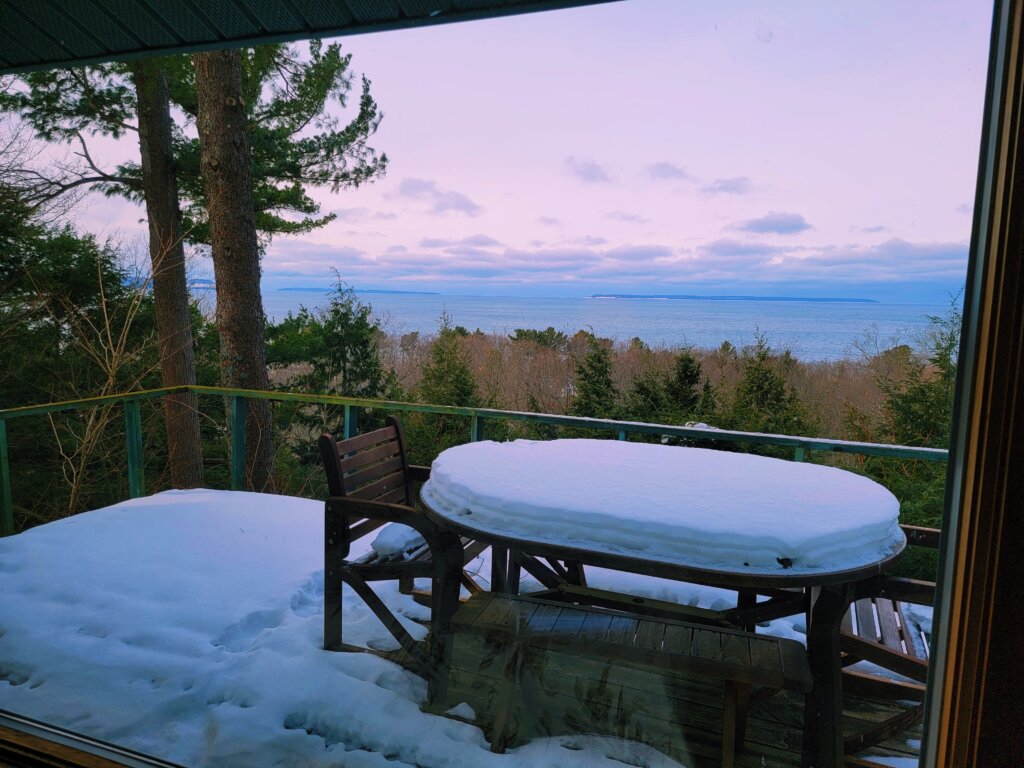 Glenn, now retired, and his wife would like to move to Leelanau permanently. They're looking for a place of their own in Leelanau or Traverse City and look forward to weekend visits to the cottage. When he returned from his work assignment in Wales, Cedric bought a sailboat, and Glenn can't wait to get back out on the water with it.
The cottage and surrounding land hold many memories for the Currin family. Like the land, the cottage is seemingly untouched by time. Blue-green shag carpet pads the living room floor, and a house phone nearly 50 years old still rings. A small kitchen table sits in front of a window overlooking the Manitou Islands. The view hasn't changed. Glenn and his siblings take comfort in knowing that it never will. Glenn spots a pair of eagles among the trees gazing out at the Manitou Islands together. "My parents traveled the world over, but they always came back to northern Michigan. They raised us as environmentalists and conservationists, and taking care of this property was important to them. It's something they wanted to pass on and preserve, and that's our belief too. This place is a gift, and in our short time here, we wanted to leave it protected and unspoiled."