AmeriCorps members Veronica Bauer and Grace Nagle were hoping to spend their service term at the Leelanau Conservancy.

"Huron Pines has several host sites where we applied," Grace said. "Then we did interviews at those host sites. After the interviews, we picked our top three, the host sites picked their top three, and here we are."

AmeriCorps is a national service program that places volunteers for a 10-month service term. Volunteers get a living stipend and spend their days working on community betterment. Service terms all look different and have included constructing homes, serving at nonprofits, as tutors and mentors in education, and of course, in environmental care. The Huron Pines AmeriCorps program has been placing volunteers with the Leelanau Conservancy since 2017.

Grace and Veronica hadn't spent time in Leelanau before their service term with the Conservancy. Grace grew up in metro Detroit and Veronica in Wisconsin. Their first time meeting in person was the day they moved into a Lake Leelanau apartment this past February, almost strangers.

"We decided we would live together over email," Grace laughed.

"The first time we met was through Zoom to figure out living arrangement stuff," said Veronica. "We moved here at the end of January."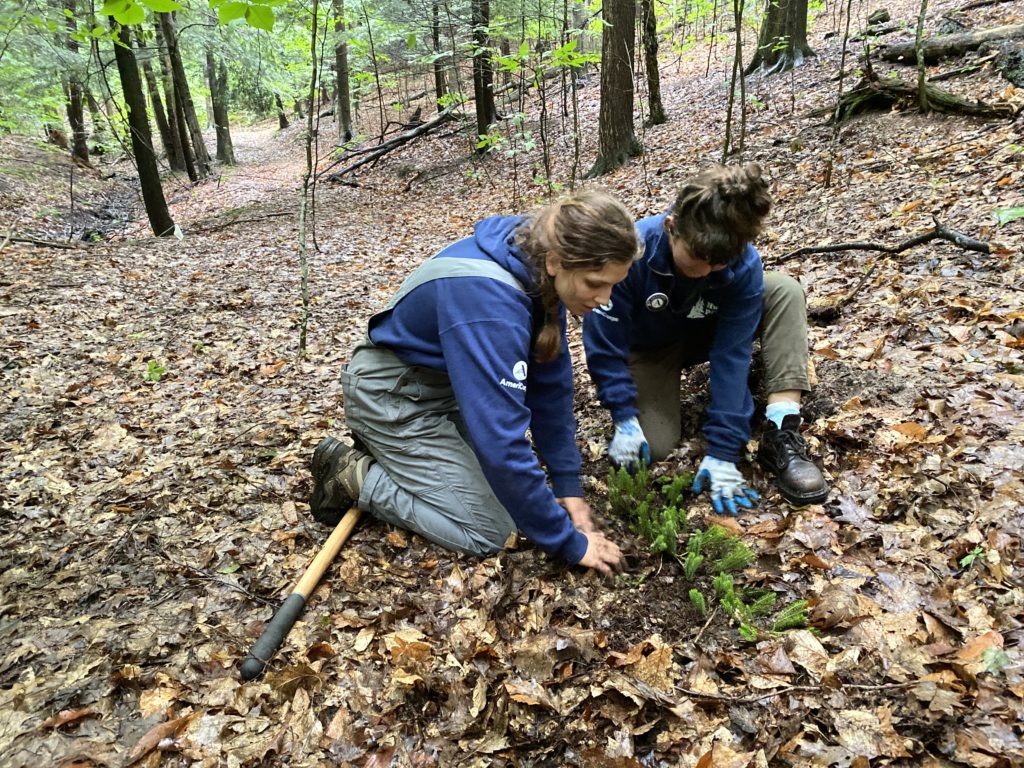 A mid-pandemic service term beginning in a Northern Michigan winter makes for plenty of time spent inside with wildlife books, natural life field guides, and virtually getting acquainted with the board and staff. On their first excursion out, Grace and Veronica went to take inventory of each bench throughout the natural areas.

"Our first outdoor project was for bench infrastructure checks. We were tromping through the snow, and Veronica has poor circulation in her feet, so she has these giant men's boots on," Grace laughed. "It was funny, and we got to get acquainted with a lot of the natural areas."
A big reason the Conservancy was in their top choices was for the opportunity we would provide for education and hands-on experience. Veronica graduated from the University of Wisconsin-La Crosse with a bachelor of science, majoring in biology and minoring in environmental studies. Grace graduated from Michigan State University with a degree in environmental biology and minor in entomology. She's currently finishing up a masters on forestry. During their interview, they both expressed interest in working on different environmental projects. Grace was interested in delving into oak wilt – a fungal disease that kills oak trees.

"I had never experienced monitoring for oak wilt before. It's a fascinating health issue that I wanted to dive into. I've been able to do a lot of reading on it and surveying for it, which has been nice."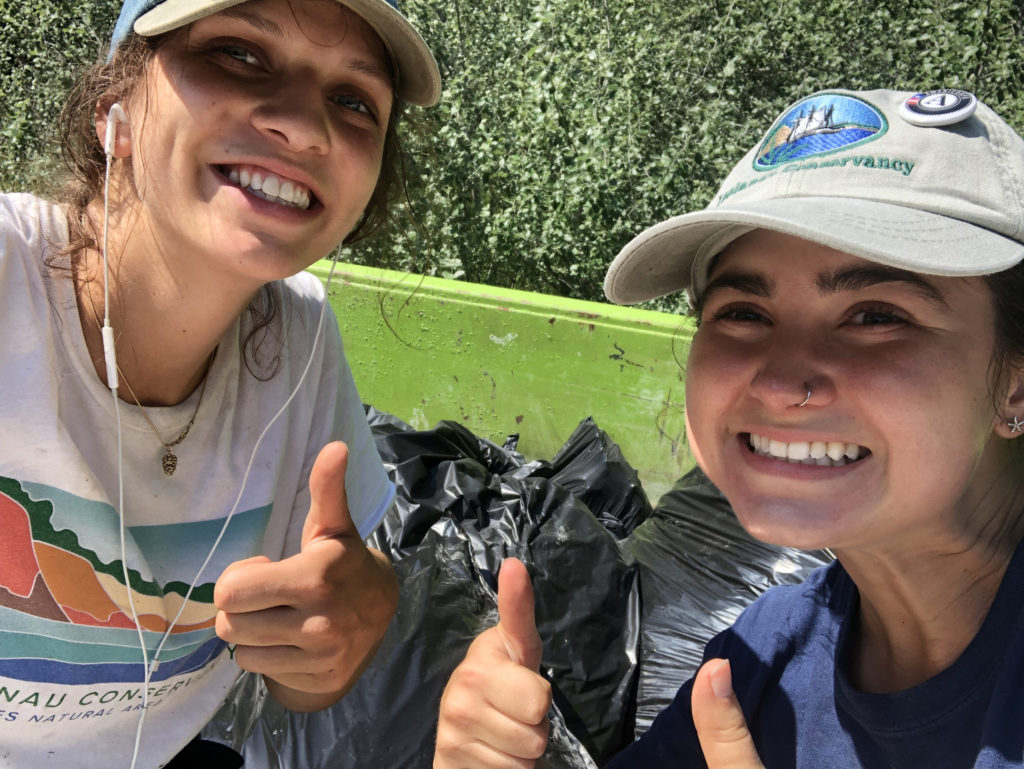 Veronica was interested in water quality programs. After the snow melted and the icy waters defrosted, she and Grace took to the streams to learn how to do samplings.

"We've been able to do stream samplings since May. Some of the water was 40 and 50 degrees, so you definitely don't want to fall when you get in. We've recently offloaded all of the data from the data loggers that we've collected from Leelanau streams."

"Data loggers track stream temperature," Grace explained. "So over time, we can graph out stream temperatures over months or years and compare the warming and cooling periodsof each of them."

They've also gotten some experience with event planning. Throughout their service term, Grace and Veronica have attended lots of workbees, many of them focused on invasive species removal. These workbees are powered by volunteers. Thoughtful planning and communication are necessary for making them happen smoothly. Recently, Veronica and Grace coordinated a purple loosestrife removal workbee. They've also planned an autumn olive workbee, and a Chippewa Run trash clean-up.

"Planning and coordinating was something I hadn't had an opportunity to do yet. I wanted to get experience leading something for personal growth," Veronica said.
Though their time with us is coming to a close, we are so grateful to have had their service, dedication, and sunny dispositions along with us for the past year. They started their term not knowing much about Leelanau. They're ending their term with new knowledge, friends, a reverence for this special place, and maybe a few secret swim spot locations.

"You don't always get to live somewhere where people are truly passionate about where they live, but the people who live in Leelanau really love it. It's been an honor to help care for a place that people care so much about," Veronica said.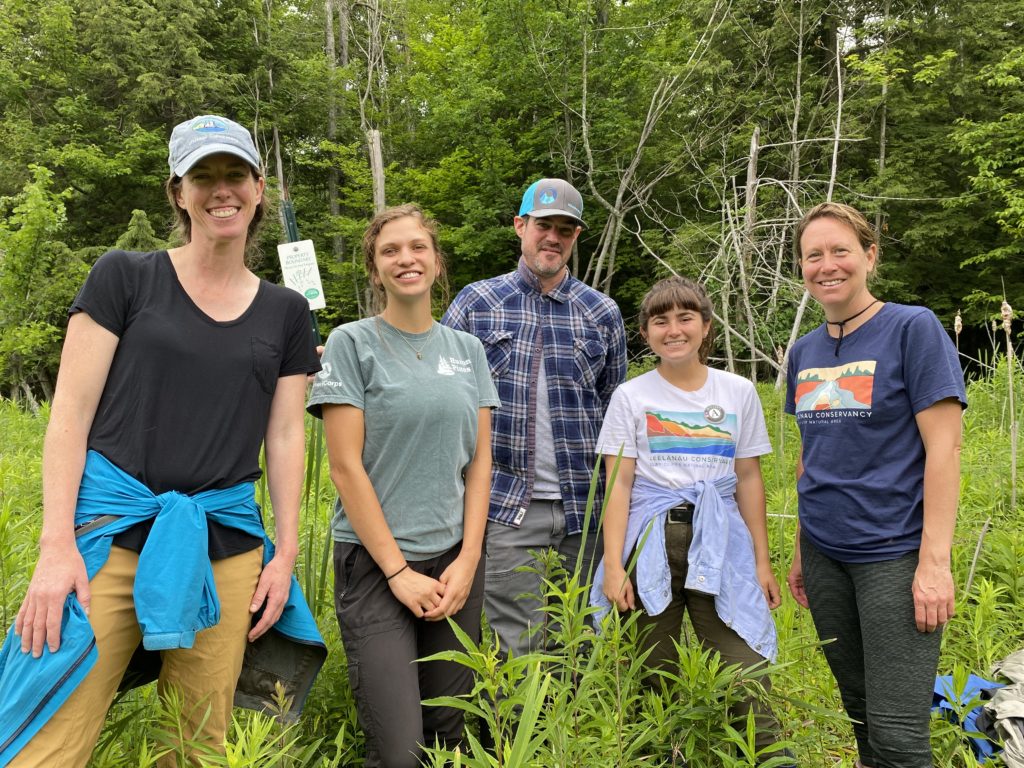 Grace, Veronica, and the Stewardship staff constructed a new boardwalk in the Fern Garden at Palmer Woods. Their care and hard work will go a long way in transporting folks into the wondrous world of ferns. It's also just one of many reasons they'll both return to visit.

"I can't wait to come back in five years and see all of the ferns that have grown," said Grace. "I'm really looking forward to that."