Four miles of new mountain bike trails are now officially open to the public at Palmer Woods Forest Reserve.
Palmer Woods is the Leelanau Conservancy's largest property, weighing in at 1,075 acres, and the Conservancy's only property that allows mountain biking. The Conservancy acquired the 721-acre working forest, which had been harvested for timber, in 2016 and purchased a 350-acre addition in 2020. Just under 6 miles of intermediate-level Phase 1 mountain bike trails were built in 2018-19.
The focus of the Phase 2 trails at Palmer Woods is to expand the options for mountain bikers of all ability levels. There are two new loops: Ursa Minor, a 1-mile coaching or warm-up loop; and Ursa Major, a 3-mile cross-country loop. Both are rated beginner level by International Mountain Bike Association standards. A 4-mile intermediate-level loop is also currently under construction and will open this fall. Upon completion, the new Phase 2 trails will more than double the length of the current trail system- offering 14 miles of mountain bike trails in total.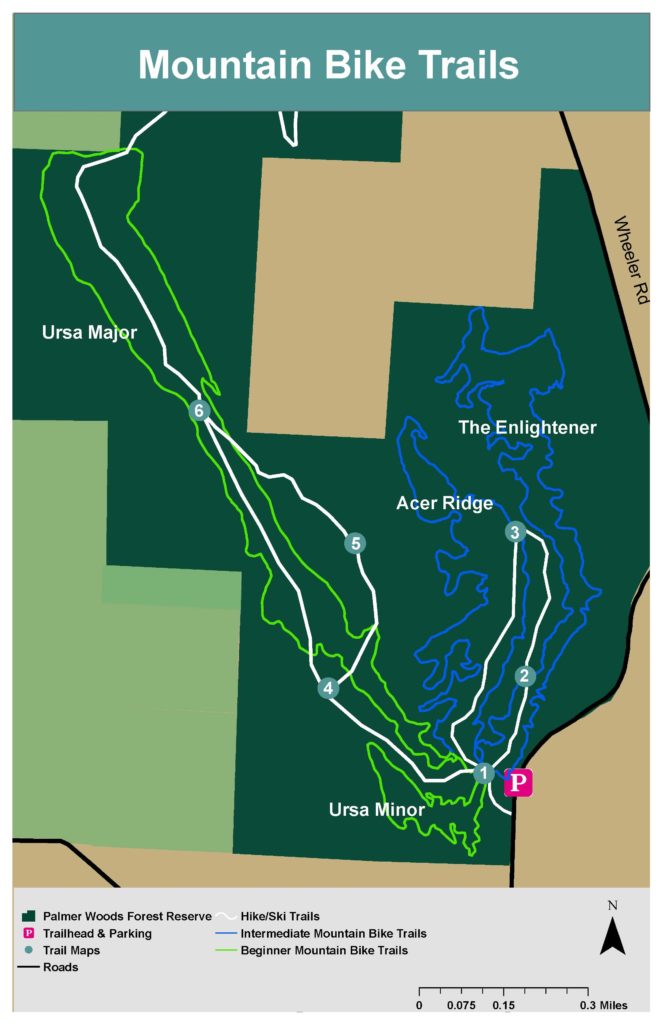 Ursa Minor is perfect for brand-new riders and adults just getting into riding natural surface trails. It's also "a great loop for anyone to warm up and test out your tire pressure," says Chad Jordan, Property Maintenance Specialist. The trail includes "skill stations"– mini-loops that allow the rider to practice fundamental trail riding skills inspired by the coaches at Norte, who offer the Youth Mountain Bike Team and hosted 18 elementary kids in the fall and spring.
Ursa Major is a true beginner loop. Three miles in total, it has a subtle grade and will provide a good cardiovascular workout. There are some small technical features, which are all rollable, or riders can go around them. "This loop adds progression from the coaching loop, which means it allows a rider to practice on smaller features to eventually build up to the same, larger features on the Intermediate loops," says Chad. The trail will also be ridden in alternate directions on different days of the week, which creates two unique experiences of the same trail, while also having the benefit of a one-way trail.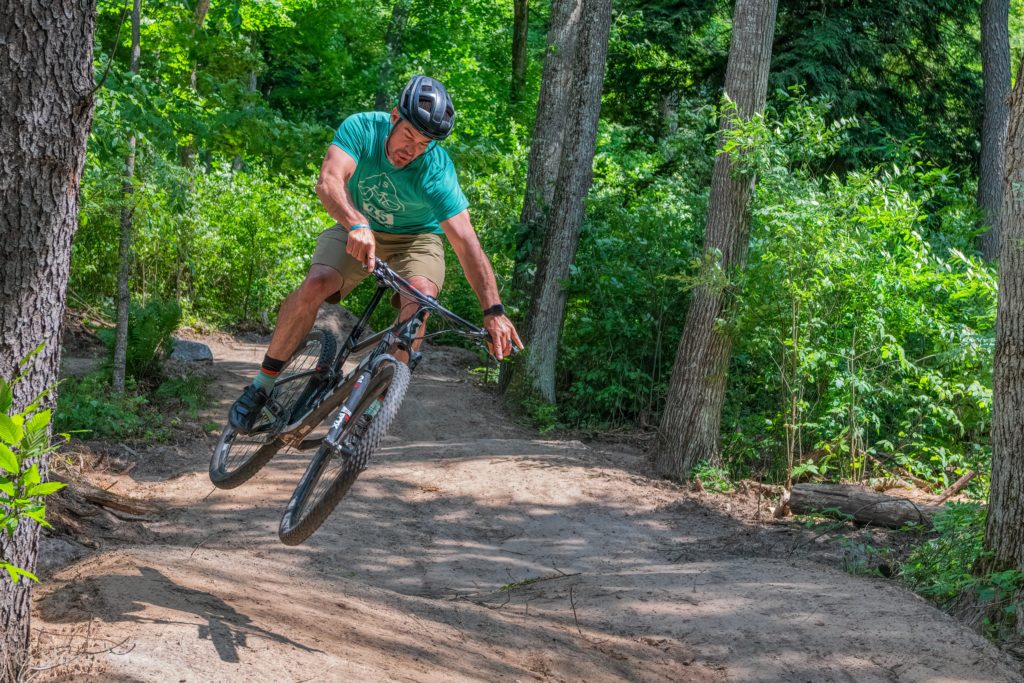 With the new beginner trails, Palmer Woods is becoming a true recreation destination for people young and old, skilled and novice. "I'm excited to bring in more beginners and people of all ages. Seeing a child gliding along the Ursa Minor Trail and yipping with glee is such a heartwarming thing. At the same time, we have some folks in their 70s who ride the trails several times a week and can't get enough of it," says Becky Hill, Director of Natural Areas and Preserves.
Chad adds, "people will be able to ride 14 miles, over an hour's worth of riding without doubling up on anything. Palmer is big enough that you can get that Deep Woods feel, like you're in the heart of the forest, and the best part is now there's something for everyone."
"One of the best things about the bike trails at Palmer Woods," says Tom Nelson, the Conservancy's Executive Director, "is the awe and wonder this new audience is experiencing in our majestic forest. We're fostering future generations of champions for conservation, and it's truly fabulous."