The summer of the trail
Welcome to the summer of the trail. Eight miles of new mountain bike trails are slated to be built at Palmer Woods Forest Reserve this year, more than doubling the length of the current trail system. The focus of the Phase 2 trails at the Conservancy's largest property is to expand the options for riders of all ability levels. Two beginner-level trails and one intermediate-level loop will be added to the existing 5.5 miles of intermediate trails. With the successful acquisition of 350 acres added to Palmer Woods in 2020, the 1070-acre forest reserve is full of backwoods beauty and will soon have plenty of options to explore by bike, ski or foot.
Spectrum Trail Design, a contractor who is known for building some of the region's top mountain bike trails, has been hired as the trailbuilder. The crew hails from Indianapolis and is responsible for popular trails like the DTE Trail (formerly Waterloo), the first 10 miles of the Dragon Trail in Newaygo, the Merrell Trail in Rockford and the International Mountain Bike Association (IMBA) Epic Trail in Brown County, Indiana. "They took a lot of time on the front end hiking up and down the moraines to really get a feel for the landscape. They're super invested," says the Conservancy's newly hired Property Maintenance Specialist and Northern Michigan Mountain Bike Association (NMMBA) President Chad Jordan. "The crew rides every night after building during the day to make sure all the rhythms are right." The builders also pay particular attention to sustainability–the grade and slope of the trail and how it reacts to water. "The goal is to make the trail seem like it's an extension of the terrain," Chad explains.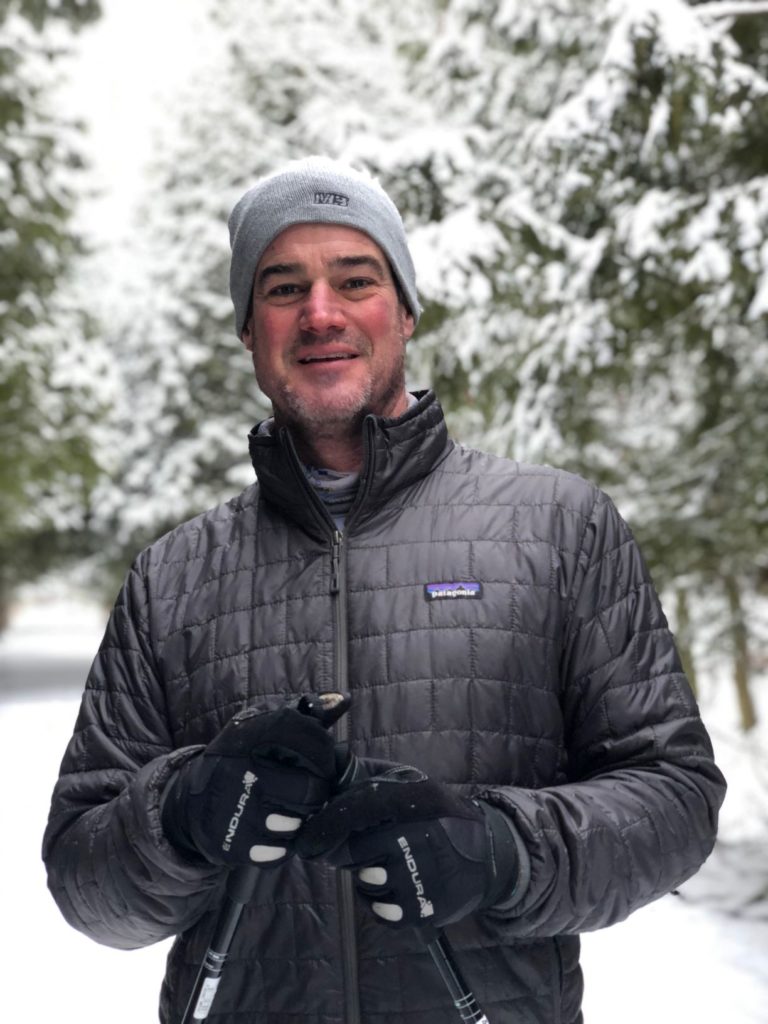 While single-use mountain bike trails are the focus for Phase 2, more hiking and ski trails will be coming in 2022-23. "The Conservancy is committed to providing the best experience for all users whether hiking, biking, or skiing, to maintain the majestic deep woods feel of Palmer Woods," says Tom Nelson, the Conservancy's executive director. he explains, "our vision is to protect the Glen Lake/Crystal River and Good Harbor Bay Watersheds and the biodiversity on all 1070 acres of Palmer Woods, while sharing these special woodlands with outdoor adventurers of all ages and abilities and in all seasons. Whether you're a hiker, a birder, a biker, a naturalist, a runner or a cross-country skier, we want you to have experiences that enable you to see, hear, touch and feel a reverence for this majestic forest."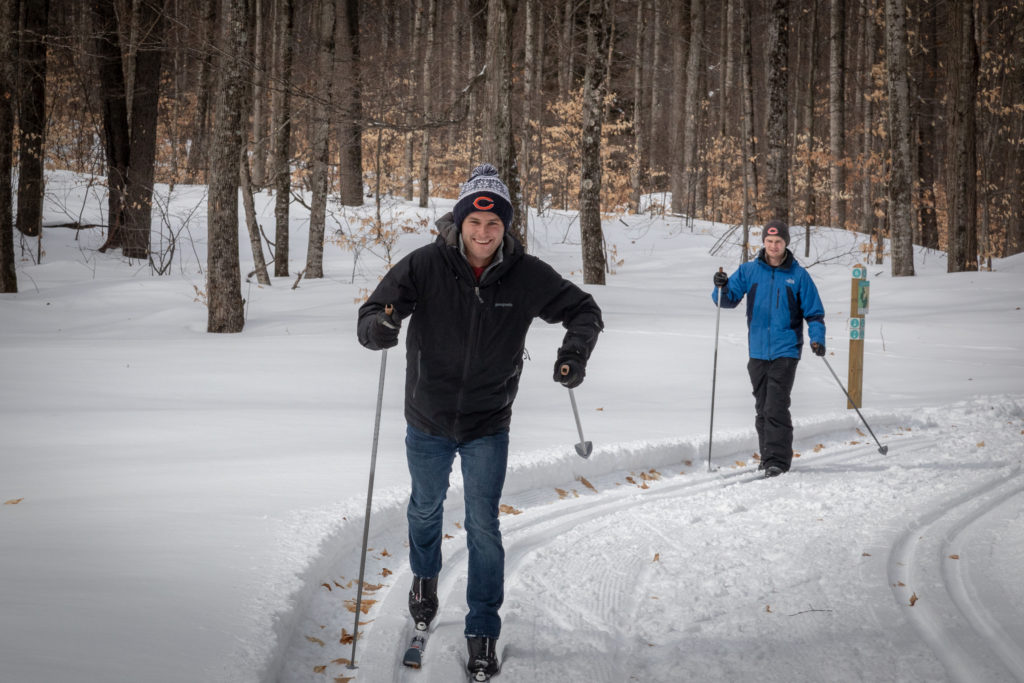 First up is the one mile-long "Coaching Loop"– a beginner loop perfect for brand new riders, kids on balance bikes, and adults just getting into riding natural surface trails. The coaching loop includes six "skill stations"– mini-loops that allow the rider to practice fundamental trail riding skills. Here, parents can feel safe letting their kids explore. "It is a closed loop, everything goes back to the parking lot, so kids can't get lost," says Chad.
For the Conservancy, Palmer Woods' community aspect is significant. Chad interviewed six Norte coaches to help inform which skills stations to build. "I asked, if you could have anything in a coaching loop what would it be?" Norte, a youth cycling organization based out of Traverse City, has a team of 18 kids who ride at Palmer Woods each Tuesday & Thursday evenings. The team has a waiting list. Several Bike Leelanau coaching clinics are also on tap this summer. "Most people learn to ride a bike by trial and error, but if you are taught fundamental skills- you progress more quickly. Having a certified coach or instructor really helps," Chad says.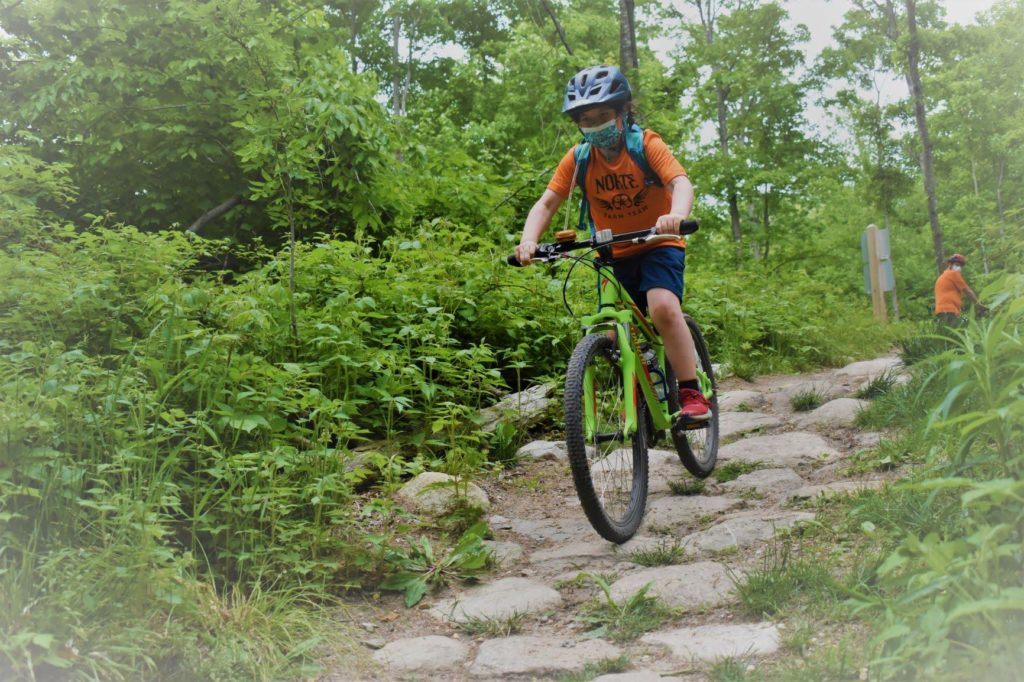 On top of the coaching loop, there will be the three-mile loop ascending and descending the Price Valley (not to be confused with the Price Valley hiking/skiing trail, which is separate). This true beginner loop is 1 ½ mile out, 1 ½ mile back. It has a subtle grade, and will provide a beginner cardiovascular workout- no major climbing here like on the existing East and Central Ridge intermediate trails. There are some small features, which are all rollable, or riders can go around them. "This loop adds progression from the coaching loop, which means it allows a rider to practice on smaller features to eventually build up to the same, larger features on the Intermediate loops," says Chad.
Last is the intermediate Loop. "This loop plays right into the existing Central & East Ridge flow trail loops in terms of features and cardiovascular fitness," says Chad. "It's on par with those true intermediate IMBA specs for trail width and feature height." The 3-mile loop has a one mile connector to the beginner loop around the Price Valley with plans to connect to the Central and East Ridge Loops next year.
In addition to the new trails, new parking area modification hubs will be added. These are shared two way pathways with a 10 foot, roundabout-like circle. From the hub, a rider can connect to any of the departures. "There will now be two options from the parking lot instead of all of the options currently there, which can be confusing," adds Chad. "We're trying to make it all more user-friendly and intuitive. We will also be modifying the parking area to better use the space and add a one way clockwise entrance and exit."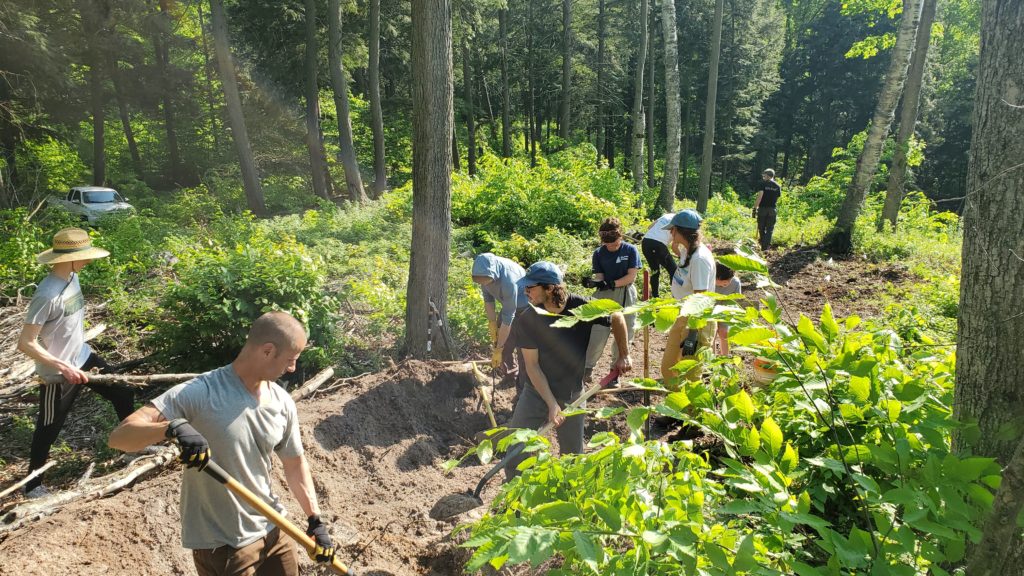 Want to get involved? There are plenty of opportunities to join in. People who fell in love with riding at Palmer Woods formed the Palmer Trail Crew 6 organically in 2019. It started with "if you need something done call me up" and evolved into meeting up every Tuesday night. This year, it has evolved one more level and there are now four different trail crews. Trail Scouts, who go out and ride at least once a week and report anything that needs fixing. Then there's the brushing crew, who take care of vegetation that creeps with weed whips and loppers. And then the tread crew; once a scout finds maintenance items, this crew fixes it. Finally, the Bermmeister crew. These folks have a lot more technical experience to fix features. "Anyone can join the first three crews, and we're always looking for new trail scouts to act as ambassadors in the parking area," Chad says. "Folks usually start as a trail scout and then work their way up to other categories."
When asked what he is most excited about for the trails, Chad can't decide. First he says "all of it". But, after a short pause, he elaborates, "the fact that it will be a recreation destination. Any time of year you will be able to get out and enjoy nature. There's something for everyone." As for the bike trails specifically, he's excited to bring in beginners and offer more to the more experienced user group. "People will be able to ride 14 miles, over an hour worth of riding without doubling up on anything. Palmer Is big enough that you can get that Deep Woods feel, like you're in the heart of the forest, and the best part is there's something for everyone."