One group that was able to eventually meet up and work in a socially distant fashion was the "Palmer Woods Mountain Bike Trail Crew." Every Tuesday evening from late August through October, up to 10 people showed up to keep the trails safe and clear. "It was a diverse collection of people, from hard-core mountain bikers to people whose kids or grandkids are trail riders, friends at Bike Leelanau, (an area organization whose mission revolves around biking), and some without a bike connection that simply wanted to be outside and help," says Lindy.  Tasks included cutting back brambles that quickly grow along the trail as well as back-breaking work of shoring up the trails with a clay/topsoil mix in places where Palmer Woods' sandy soils had eroded.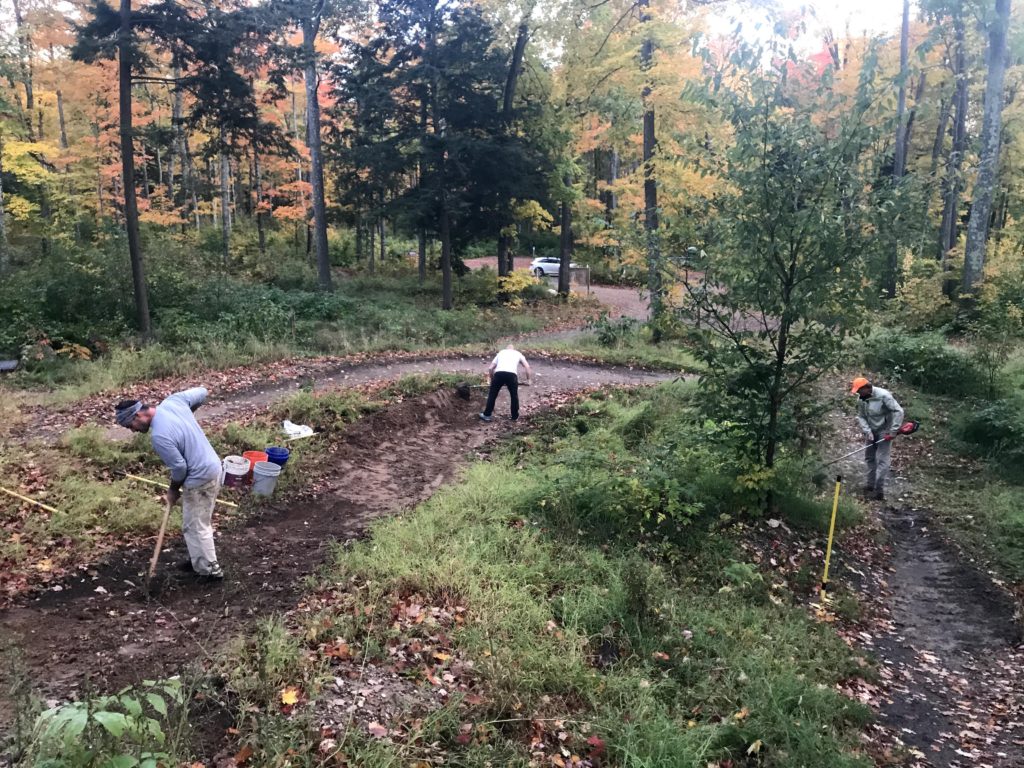 That job entailed taking a pick axe to a pile of clay to break it up, and filling buckets with a clay/topsoil mixture that "looked like crumbled Oreo cookies," says Lindy. Then, driving the buckets as close as they could to where they were needed. Volunteers then hauled heavy buckets to places along the trail where sand had "puddled up," creating obstacles for riders. After dumping their loads, they packed the soil in with special tools to prevent future erosion and minimize accidents.
"This is a big job all done with hand tools and it's an ongoing task," says Lindy. "Our small crew got so much work done but we are going to need so many more people given our plans to expand the mountain biking trail system in the future with the new 350-acre addition."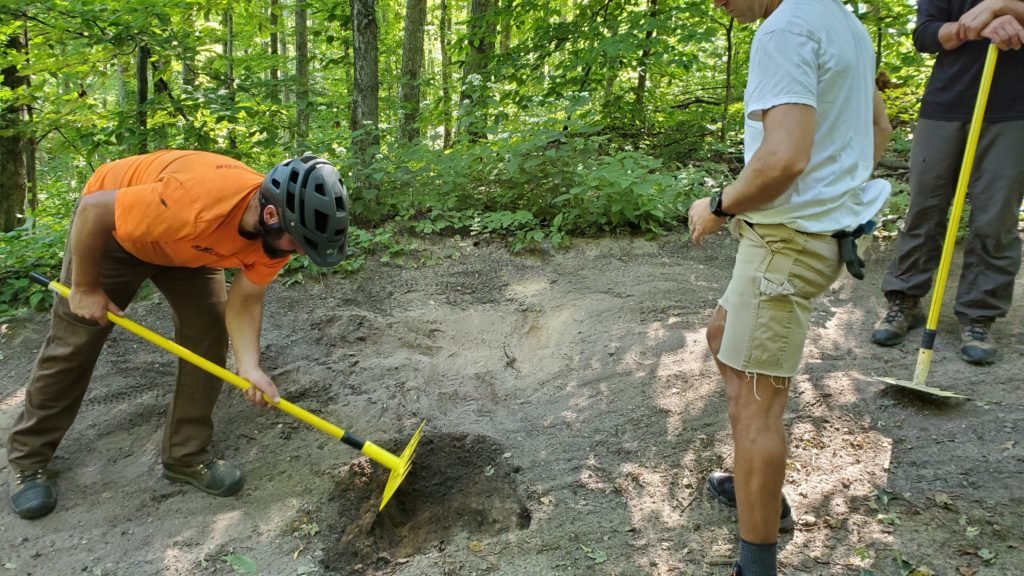 Lindy will continue to have help from the group's chief organizer and recruiter, Chad Jordan. Chad was recently hired as our new Property Maintenance Specialist. In addition to trail running and surfing, mountain biking is one of Chad's passions too. Last fall, says Lindy, Chad told her that he had come to look forward to the trail work and maintenance as much as riding.
At the end of the season on a beautiful evening, volunteers gathered for a socially distanced celebration. Ryan Wainwright, a weekly regular, made the medallions pictured and handed them out to his fellow volunteers.
"It was a really special evening," says Lindy. "Part of our responsibility is upkeep and maintenance. We're hoping that we will be able to ramp up our volunteer ranks with the help of Bike Leelanau and Norte. Being part of this crew and at Palmer Woods weekly was fantastic – their energy is contagious. There's a job for everyone. Anyone can participate whether you are in Leelanau just for a week or here year round. You don't have to be a mountain biker; just someone who enjoys nature and wants to help."
All photos by staff. This article appeared in our 2020 Annual Report.
We're gearing up for our 2021 mountain bike volunteer crew. We'd love to have your help!
Fill out a volunteer form here, and join our email list to stay updated on all things Leelanau Conservancy here. For more information, contact Event and Volunteer Manager Lindy Kellogg at [email protected].