By Ross Satterwhite (photo by Mark Smith)
I'm often amazed by things living here in Leelanau County.
My neighbor saw a bobcat not so long ago at one of the Conservancy's preserves while walking early with his dog. That's pretty cool. The early morning is a great time to see something inspiring on the trail.
The other day I was reminded of the ferocity of the wind that can bear from the northwest. One day, a pleasant 75 degrees and gentle breeze. The next, a gale blowing with freighters taking shelter off of Suttons Bay. You know those days. Part of the magic of living in this county.
In the year of Covid, I've been amazed by the resilience and dedication of the Conservancy's staff and board, and at what they have accomplished during these challenging times. Since mid-March when we shut the office to work remotely, the team has closed on five farm conservation projects (totaling 498 protected acres), and five more farm projects are under contract that will protect over 500 acres. Thank you so much to our farm families who partner with us in these efforts.
We also established "Pat's Preserve at Lime Lake" (our 28th natural area) and closed on three other land parcels that will protect sensitive wetland, water quality and important habitat. Incredibly, the team also completed its fundraising goals to permit the addition of 350 acres to the Conservancy's Palmer Woods Forest Reserve. This will take the Reserve to over 1,000 acres and eventually expand the hiking, biking and cross-country trail system to 40 miles. Covid or not, the Conservancy's work continues, as does the extraordinary resourcefulness and commitment of our team.
Clearly the Conservancy's Natural Areas, Preserves, Forest Reserves and protected farmland have been important to the well-being of all of us this year. Particularly when so much of the normal richness of our lives has been curtailed. The hike at Kehl Lake. The float down the Crystal River. The bike ride through Palmer Woods. Sitting on that bench in the meadow at Clay Cliffs that looks east over Lake Leelanau to the mid-peninsula orchards. Places restorative to our souls in a disruptive world. We are heartened by how many of you take advantage of those resources.
In a year with so much economic hardship and uncertainty, we are also amazed at how generous the Conservancy's supporters continue to be. The stewardship of our protected areas and the continuing effort to protect more land and water takes considerable resources. We are immensely grateful to those of you willing to support the Conservancy financially and/or with your time. No matter what the gift, you are with us, helping, and we are so grateful. There's so much work left to do and it all starts with our members, donors, volunteers and land partners.
On a personal note, I'm surprised at how quickly my 10 years of serving on the LC board has passed. It will end this October, as it will for a few other fellow long-time board members. Thank you Emil Brolick, Bob Gilbert, Ed Ketterer and Warren Watkins for all your contributions. Those four are super smart and dedicated board members with a collective 35+ years of service to the Conservancy. That's remarkable.
I think all of them would agree that stepping away from the Conservancy leaves a melancholy feeling. There are so many tremendous people on the board and staff. That has been true since Bobbie and Ed Collins started this important adventure 33 years ago. I have not worked with another team of such talented and genuinely nice, good-hearted people. They care deeply about our natural environment. About the plants and animals and our unique ecosystems. About the water quality and prime soils. About the natural and scenic beauty of the county. And about the health and well-being of those who live or visit here. Our board service may end in a Zoom meeting, without hugs or handshakes. But we'll certainly feel the Conservancy is in strong hands going forward, with a great team and extraordinary supporters.
And one last thing to end on. What's most amazing about the Leelanau Peninsula is the people who live here. Their character. Their willingness to help. Their friendliness and authenticity. Their appreciation of our natural environment. And their recognition of how critical it is to preserve and protect it.
Thank you all for caring so much about the soul of this place.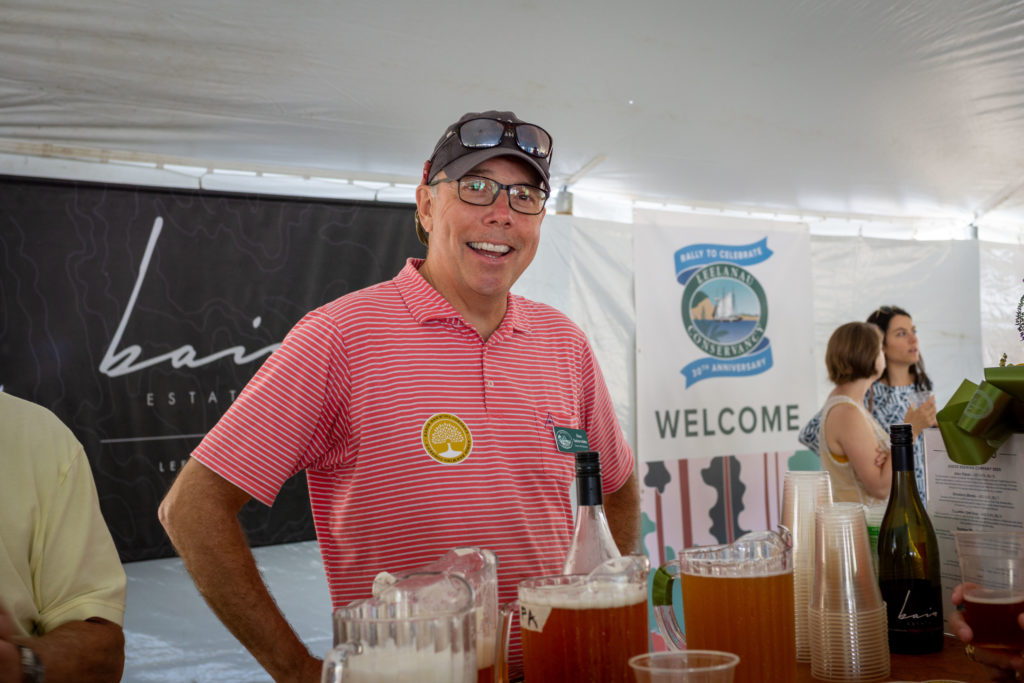 Ross Satterwhite served as Chairman of the Leelanau Conservancy from October 2019 to October 2020