Miriam-Webster's Definition of Stewardship: "The conducting, supervising, or managing of something; especially : the careful and responsible management of something entrusted to one's care."
From our Fall 2018 Newsletter–This spring, Natural Areas and Preserves Manager Becky Hill pondered how best to replace a boardwalk and wildlife viewing platform at Kehl Lake Natural Area. Fluctuating water levels have taken a toll on the old structure, designed and built by staff and a special group of volunteers in 1999. Back then, Northern Building Supply donated the lumber, which Brian Price, our founding Executive Director, ferried across the lake in an aluminum fishing boat.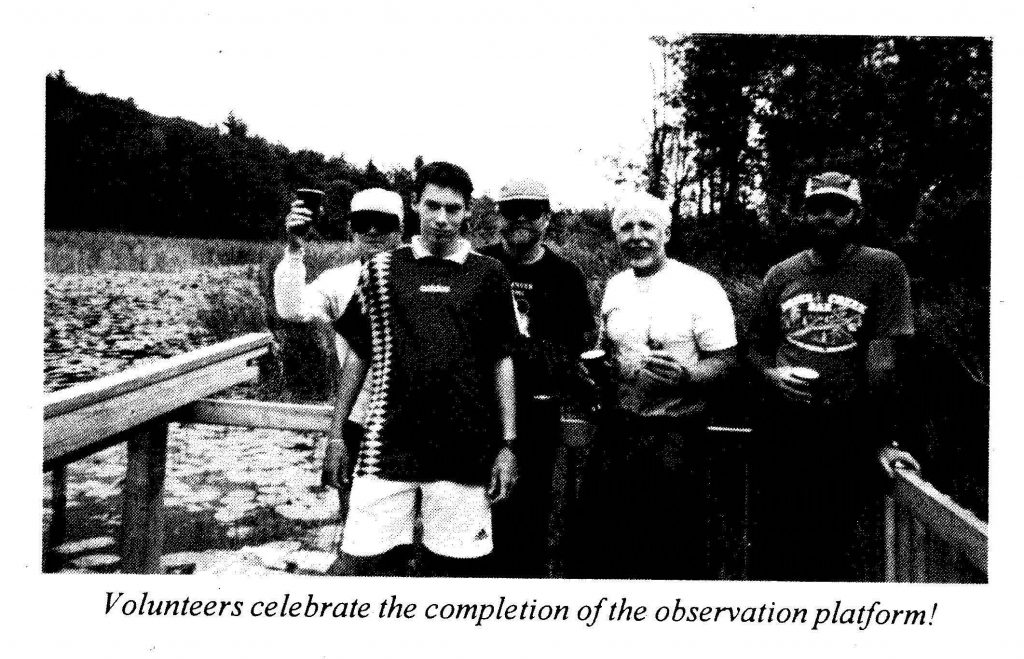 At first Becky looked at some quick fixes—replacing a section of boardwalk that had been submerged for the last three springs. "But we figured that this problem wasn't going away," says Becky. "And we want the structure to last for the next 30-plus years." Now plans call for installing a floating platform like the one at DeYoung Natural Area along Cedar Lake. "That structure is weathering the test of time very well," adds Becky.
The care and maintenance of 26 natural areas 30 years after our founding is just one aspect of this duty and labor of love that we call "Stewardship." In addition to building and maintaining signs and kiosks, trails and boardwalks, overlooks and stairways, it is also removing downed trees after a big storm. It is the annual battle of keeping invasive plant species under control.
And it is harnessing the wonderful energy of dozens of hard-working volunteers who spend hundreds of hours lightening our load, doing everything from spreading mulch to building boardwalks to planting native wildflowers.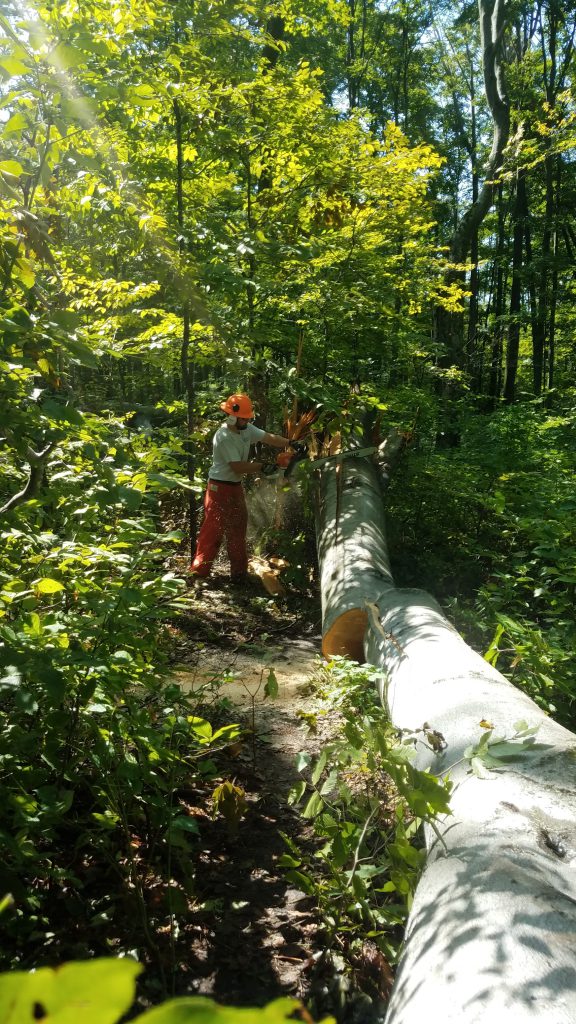 Property Maintenance Specialist Chase Heise clears the Clay Cliffs trail after a big storm—keeping our natural areas safe and accessible[/caption]
In addition, this department of the Conservancy is also responsible for annually monitoring all the lands—our own as well as over 200 private properties—that have been permanently preserved with donated or purchased conservation easements. Of the 13,500 acres we have protected, about 11,000 acres are privately owned. Monitoring involves maintaining strong working relationships with landowners and walking all of these properties every year. This practice ensures that the natural features of these lands are intact and that the terms of these permanent conservation agreements are upheld, even when the land transfers to a new owner.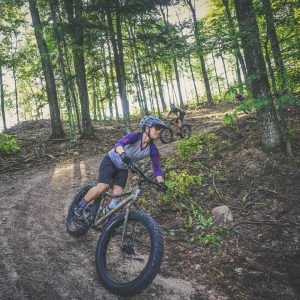 Most recently, Stewardship has also branched out into providing unique recreational opportunities to engage the next generation of Conservancy supporters who want to interact with nature in a more physically active way. This includes grooming cross-country ski trails at the 721-acre Palmer Woods Forest Reserve, and just this fall, constructing (and maintaining) a mountain biking trail, too. The new mountain biking trail took two years of planning and called for the hiring of experts to design and construct it.
"Building an ecologically sustainable trail system in keeping with our goals for Palmer Woods has been our highest priority from Day One," says Executive Director Tom Nelson. "At the same time, there is a growing mountain of evidence that future champions of conservation are coming out of the ever-expanding audience of outdoor recreation enthusiasts. As an organization, we felt that the size and scale of Palmer Woods offered the perfect opportunity to connect these advocates with this place we love."
How did we get here over the last 30 years? "In the beginning everything was a race against time, a race against development," says Brian Price. "We were working hard at acquiring land, and raising the funds to do that. With a small staff, we were limited in what we could take on and figured that trails could wait if we could just get the land protected. That was our primary mission."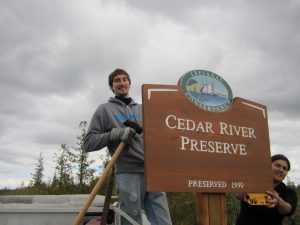 "We also created a lot of preserves that we didn't intend to put trails on," he adds. "They were biological reserves, like Belanger Creek and the Cedar River Preserve, that were important to protect simply for their ecological value and were best left alone other than putting up a sign."
But as more properties were acquired for natural areas, or conserved with conservation easements, "Stewardship moved to the front burner," says Bobbie Collins, who founded the organization with her husband, Ed. "After a board retreat in the late 1990s we began to talk about how we were going to manage all the lands we had protected."
And yet, it was a struggle to balance it all with limited resources. Every dollar we raised went into the ground so to speak. We didn't hire our first Stewardship Director until 2001. "We relied a lot on volunteers," says Bobbie.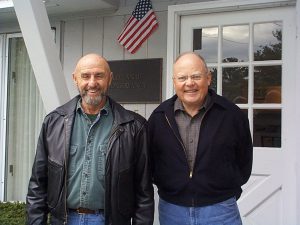 One of them was Tom Dunfee, a retired physician who with his wife, Gretchen, had moved permanently from Indiana to Little Traverse Lake. Tom, along with other dedicated volunteers like John Bull, Jim Vachow and Chuck Whetsel formed the nucleus of a group called the "Volunteer Stewardship Network," organized in 2001 by our first Stewardship Director, Pete Nichols.
The group was instrumental in creating the trail at Houdek Dunes—digging dozens of postholes, trimming branches, painting markings on the trees to guide hikers. "We had a grand time," recalls Tom. They would often meet for breakfast and get their marching orders from Brian and Pete. "There was good old-fashioned camaraderie and we worked in all seasons, half days, full days," says Tom. The Network grew as they recruited and supervised other volunteers who helped to blaze trails at Teichner Preserve, Lighthouse West and Chippewa Run.
Tom eventually became a docent, leading hundreds of people on the trails he had helped to create. He joined the Stewardship Committee and later became a board member and Chairman, also playing a key role in raising funds to purchase the Swanson farm and Preserve. "I've loved being involved," he says, "from being out in nature to serving as an ambassador to doing the hard work of building trails. It has given great meaning to my retirement."
"Our stewardship work today stands on the shoulders of volunteers like Tom and so many others," says current Executive Director Tom Nelson. "We never could have accomplished all that we have without the dedication of our volunteers, and we need them now more than ever."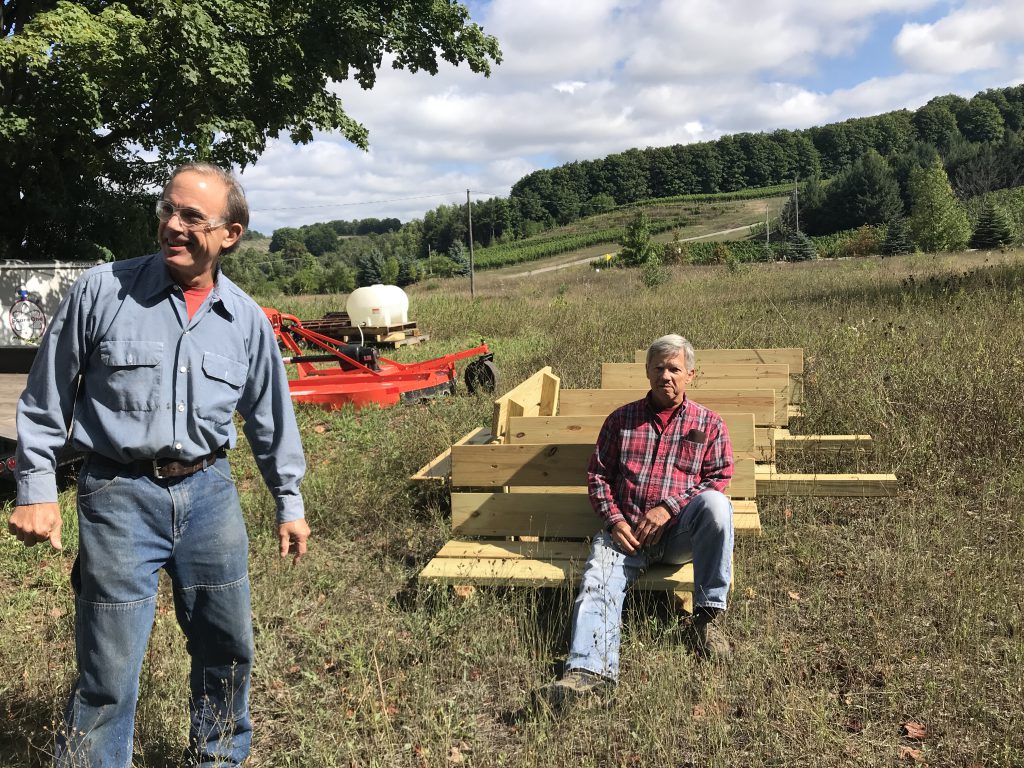 Luckily, a special group of more than 20 volunteers called trail stewards help care for our many natural areas. They walk the trails at their designated natural area at least 6 times a year, and many every week, to check for downed trees blocking trails, pick up trash, clear back encroaching brush and watch for any other safety or environmental concerns.
The growing responsibilities of caring for protected lands has also required expanding our staff from one to four full-time positions over the last two decades, and this year we were also fortunate to have three AmeriCorps staff members join our ranks for 6-9 months of great stewardship opportunities.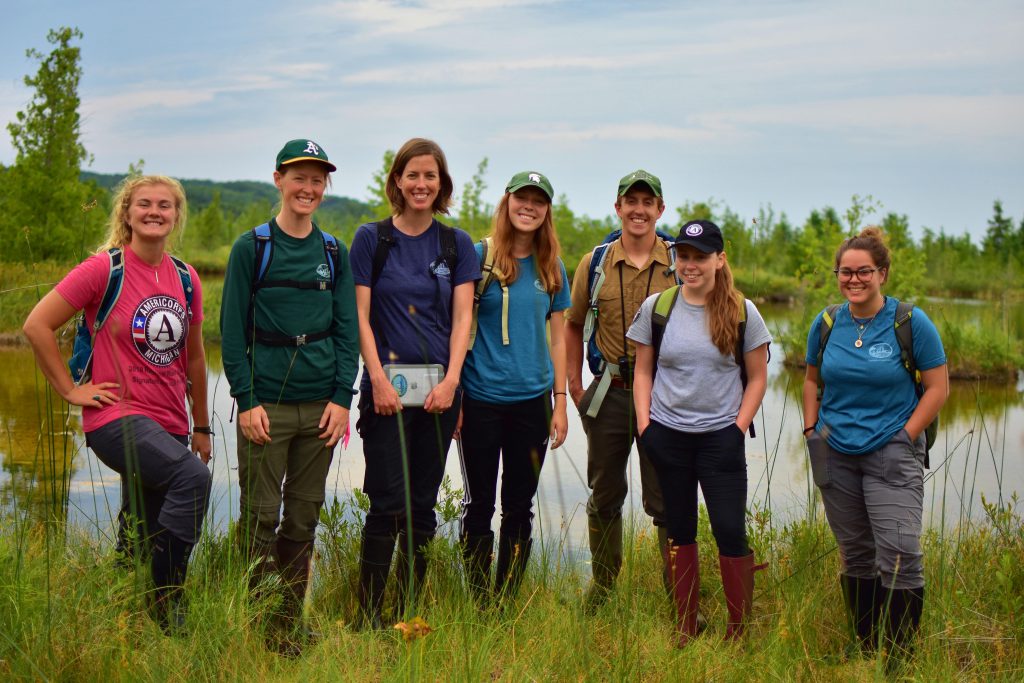 The challenges going forward are immense, adds Nelson. "We need to ensure that we can uphold our promise to care for these places forever," he says. "And that will take resources. One of our challenges is the perception that the work of stewardship may not seem as exciting as buying a piece of property, like Palmer Woods for example. But like raising a child, it actually is some of the best work we could ever do, and so, really, it is every bit as important. The support of our members is critical to ensuring that our natural areas are safe, accessible, and worthy of falling in love with for all the generations to come."