It was a cold grey day but that couldn't dampen the enthusiasm of 120 middle-schoolers from Traverse City's Greenspire School who arrived at our DeYoung Natural Area, ready to work
Their mission? To plant 500 trees provided by the Grand Traverse Band of Ottawa and Chippewa Indians' Natural Resources Department as part of a region-wide initiative. "Our goal is to plant native-to-Michigan nuts and fruits species to create landscapes that provide the opportunities for tribal citizens and the wider community to gather healthy foods, to benefit wildlife, to improve water quality, and to adapt to climate change," says Jonathan Aylward, water quality specialist for the tribe.
The day began with a "smudge" performed by tribal elder Hank Bailey. Sacred plants such as tobacco or sage are burned, creating a smoke thought to cleanse and heal and provide centering for participants. Bailey is a retired GTB conservation officer but tries to attend as many youth-oriented events, such as tree planting, as much as he can. During the smudge, Hank asked the students to open their minds to what was possible in terms of healing the Earth and creating a sense of community among its people. "I also asked them to think about how our community also takes in the trees, the water and all the plants and animals too."
The Tribe is creating these edible forests all over the region. Over 10,000 trees have been planted at places like DeYoung, along the Boardman River as well as Belanger Creek's tribal lands. The project is funded by the Laura Jane Musser Fund's Environmental Initiative . "Native vegetation enhances water quality," says Aylward. "Trees like juneberries, highbush cranberry and native plum are also the favorite stuff of wildlife."
Aylward thought that the task would take two days, but students and volunteers knocked it out in just one. Each tree was marked with a stake and mulched.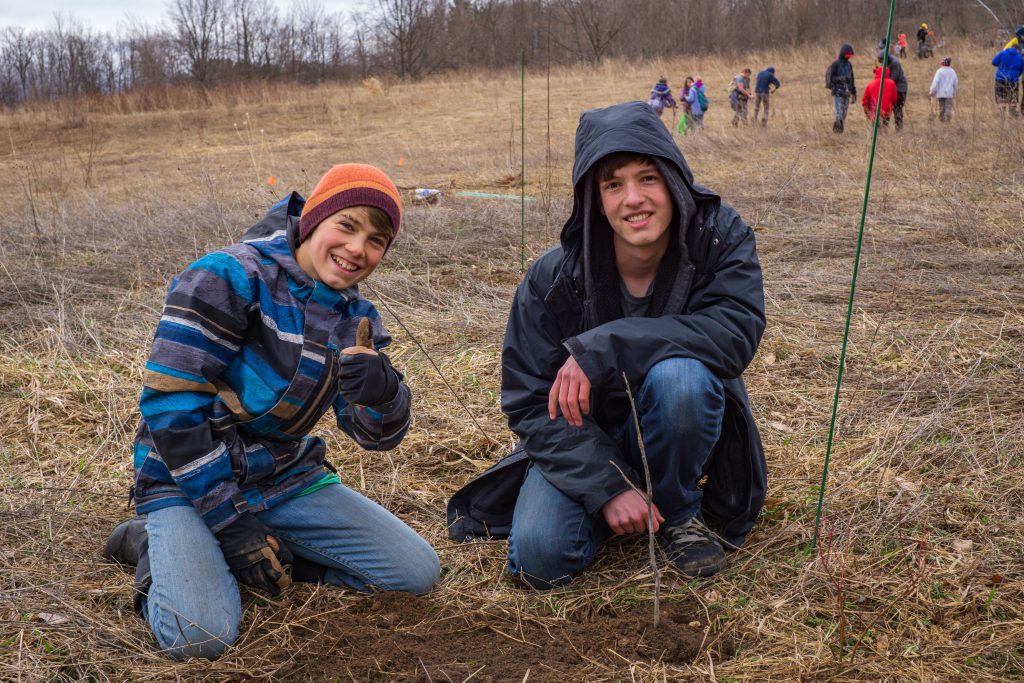 I'm exceptionally proud of the work our little naturalists did," says Kevin Kelly, Greenspire Superintendent. "They planted in not-so-great weather but they did so with positivity, cooperative spirit and a sense of purpose." He added that all the kids were filled with a sense of pride and accomplishment.
The day ended with Bailey blowing a whistle made from an eagle bone. "It was a calling to all of our ancestors from north, south, east and west to come and see what we were doing that day, to have them with us and to bless our work," says Bailey.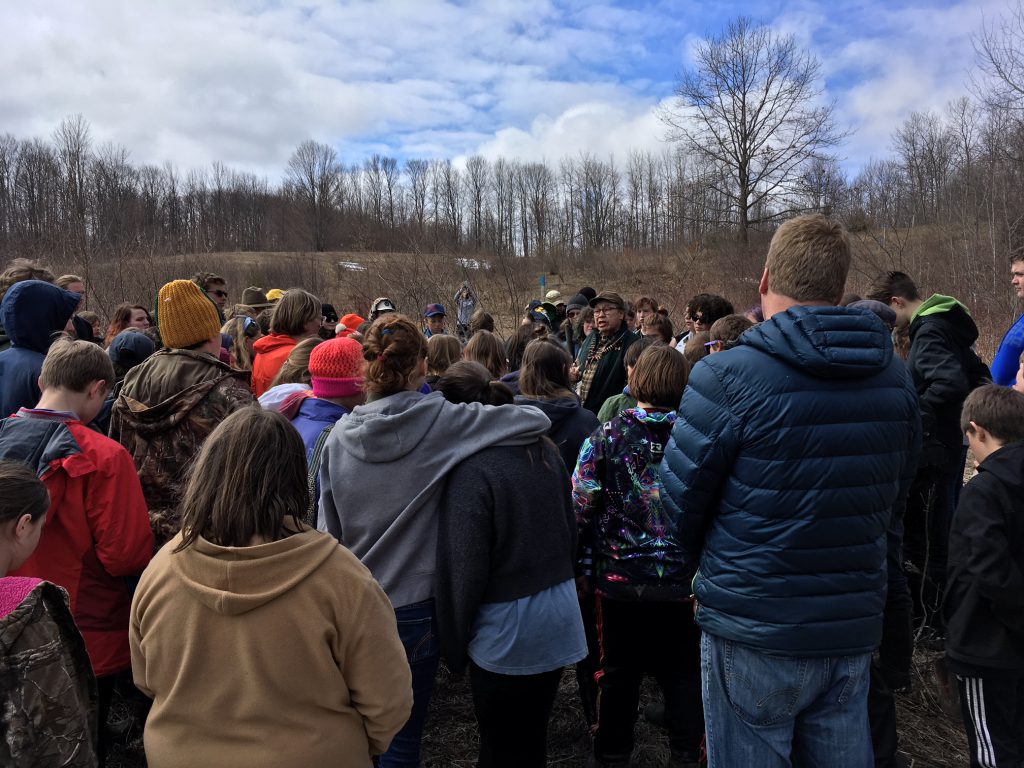 "That was very moving," says Aylward. "Hank also talked to the kids about how they could be transformative and bring things back into balance in our environment. I looked around and a lot of the kids were getting teary-eyed. That day was a highlight of my year so far."
Days later, trees and shrubs were also planted at Chippewa Run Natural Area by Conservancy staff and volunteers. A grant from the Invasive Species Network allowed us to purchase plants geared to improving bird habitat, because birds are so abundant there. The saplings were planted in an area that had been cleared of invasive autumn olive and in the old pine plantation area by the beaver pond.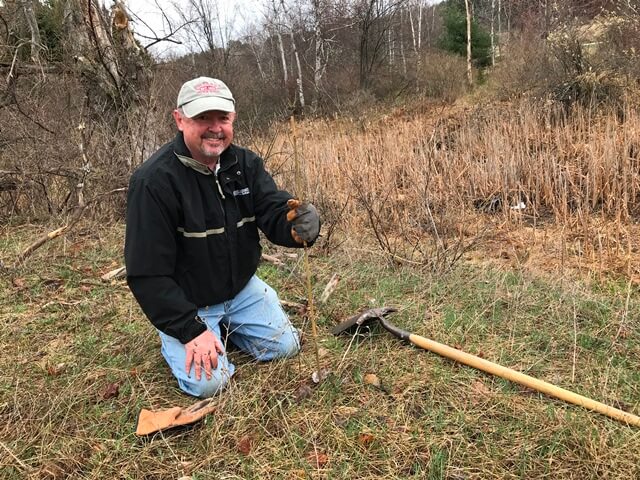 Finally, At Palmer Woods, with the help of volunteers and AmeriCorps members from around the region, we planted 700 trees where hundreds of dead and dying beech and ash trees were taken down last fall. "Species such as burr oak, shag bark hickory and tulip poplar are trees that are native to Southern Michigan, so we chose those with climate change in mind," says Becky Hill, Natural Areas Manager. "They will help to diversify this working forest and are well-suited to its habitat." It will take years—that is the nature of trees, but someday this scarred area will be lush and green once again.
Stay tuned for a more in-depth story to come about the threats to our forests and what we are doing to ensure their long-term health. See more photos of the Greenspire workbee in our DeYoung Tree Planting Facebook album.