Eitzen Family Preserves Land and Legacy of Farming
When it comes to the history of Leelanau County, one family's story—that of the Eitzens—is about as intertwined as it gets. The first Eitzen, Johann, arrived in the county in 1885. He homesteaded 160 acres along Townline Road, and after he died, his children carried on. They tended a dairy herd and chickens and grew row crops as well as some of the first cherry trees in the county.
The land that Johann homesteaded eventually became part of Sleeping Bear Dunes National Lakeshore. But an adjacent 190 acres—owned then by Lyle Eitzen, was situated just outside the park's boundaries in Centerville Township.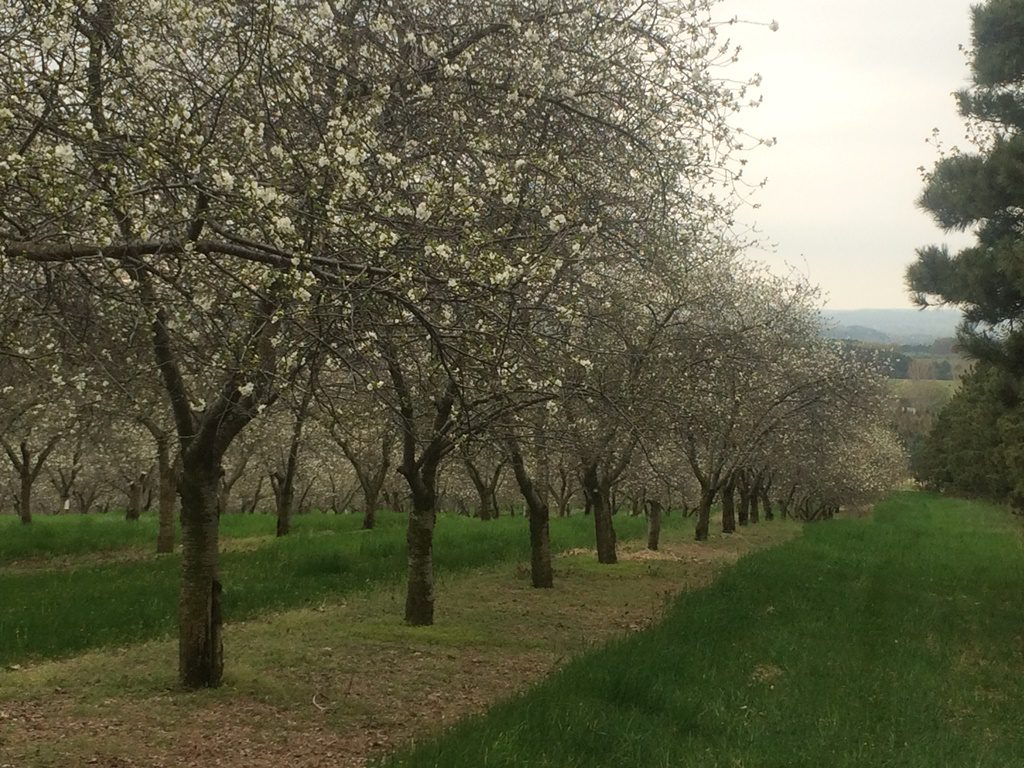 Today, because of the generosity of the Eitzens who inherited Lyle's land, that 190 acres of prime fruit growing land has been preserved with a conservation easement. The land will remain in agriculture forever—something that was very important to the Eitzen family. "We wanted to make sure that it could always be farmed," says Virginia (Ginny) Eitzen."
"Their commitment to conserving the farm is evident from the donation of 25% of the land's development value," says Sam Plotkin, Farm Programs Manager. "We're grateful to the Eitzens for preserving this globally rare farmland acreage and a magnificent view of the Manitou Passage."
The land is private and not open to the public. But views of this pastoral property visible from Good Harbor Trail will be enjoyed for generations to come—especially at blossom time. The Eitzen's land is adjacent to other protected farms, including the Ben Hohnke and Kelenske family farms, creating a block of conserved lands. Finally, because the farm backs up to the old Sugarloaf Resort and features fabulous views of Good Harbor Bay, it was at prime risk for development.
"There are not very many communities in the nation that care as deeply about their farming heritage as much as Leelanau does," says Tom Nelson, Executive Director. "Ginny and her family's commitment to create an enduring legacy for farming today and for tomorrow makes them nothing short of heroes in our book. We are so thankful for our partnership with the Eitzens."
Published in Summer, 2017 Newsletter