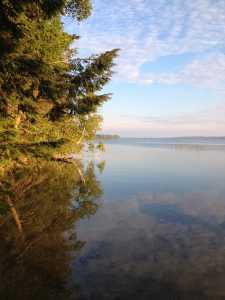 Cherished Family Memories on Lake Leelanau
The Crane sisters' childhood memories of summers spent on Lake Leelanau are as crystal clear as the lake itself. The minute school let out, the exodus from the suburbs of Washington DC to Northern Michigan began. Their father, who worked for the postal service, loaded their station wagon and the large family piled in.
The marathon drive north during the 1960s is embedded in the sisters' memories. Their mother, Kathleen Baxter Crane, was a dietician, but broke the rules for the long trip. "There was a lot of candy," says Ellen Crane, who also recalls "no seat belts, everyone carving out their space, and that great feeling that came over all of us when we crossed the bridge at the Narrows."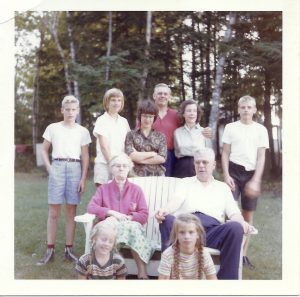 "It was like a cartoon when we arrived—the doors flew open and bodies fell out," she adds. They all ran to the lake to check out the sand bars. "For me, the word Michigan conjures up staying up late, northern lights, rowing to the Narrows and seeing enormous catfish and huge schools of yellow perch."
The Original Cottage Arrived in Parts By Train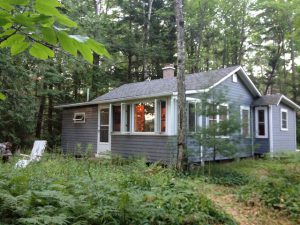 Her grandparents, Edward and Gertrude Baxter, had purchased this seven-acre slice of heaven in the early 1920s. They ordered a cottage to be delivered in all its parts by train to Lake Leelanau. Mr. Baxter and his brother-in-law assembled the cottage piece by piece, which still stands—on a rise back from the shoreline.
For Kathleen and her children, a couple of weeks up north eventually stretched to entire summers, while her husband, Donn, returned to work after a vacation. Ann Crane recalls playing in the water for hours, and the love for the land that grew deeper with each summer. Her grandfather was an early riser, and a fisherman. By 6:30 a.m. he was already back from the lake with a string of perch, banging on their door, announcing that pancakes and bacon were ready.
Lake Leelanau's Shoreline Changes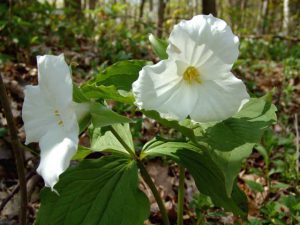 Kathleen inherited the land after her father died and continued to steward it, removing invasive species, planting wildflowers, and creating bridges from downed logs. Ellen recalls how disturbed her mom was to see wetlands being filled in with dump trucks full of dirt when that was still legal. Houses went up across the lake, she adds, "destroying habitat once filled with swamp roses, cardinal flower and nurseries for painted turtles."
Realtors wandered down their lane every now and then. Ellen recalls how one complimented Kathleen on her "nice investment." Her mother stiffened and replied, 'Sir, this is not an investment, it is my land and my home,'" then walked away, recalls Ellen.
Making a Plan to Protect the Land
Their father died in 2006 and their mother began to develop dementia. The Crane sisters—Ellen, Ann, Kathy and Lynne—pondered their options. The non-homestead taxes were nearly $27,000 a year—a real burden on the family. They knew that their mother would never want to see the land developed, and so Ellen and her sister, Kathy Crane, began to talk with the Leelanau Conservancy over a decade ago. "I really wanted to conserve it all along," says Ellen. "I loved that place so intensely." But her mother was wary. Kathleen fretted that she might need to sell the land to pay for nursing care.
When Kathleen died in 2014, the four Crane sisters circled back to the Leelanau Conservancy. Matt Heiman, Director of Land Programs, visited the property to explore their options and was wowed. They saw turtles and green heron near shore, mink swimming and otters sliding on their backs into the lake. It is a stretch of shoreline so rich in habitat for waterfowl, fish and other animals that it's common, says Ellen, to see kayakers pause to watch the nature show.
Ultimately, three acres and 715 feet of shoreline—one of our largest lake frontage projects ever—were preserved with a conservation easement purchased by the Leelanau Conservancy***. The Cranes' land is private, and they continue to own, visit and enjoy this place they love. But it will never be developed beyond their current family cottages because the Cranes have sold their development rights to the Leelanau Conservancy. "The land was imminently developable into several house sites but thankfully, that was not in the Crane family's wishes," says Matt Heiman.
"How Can You Sell What You Love?"
"Had we divvied it up, we could have gotten a lot of money for it," says Ellen. "But, it would have been like turning your back on a family member. How can you sell what you love?
The family contributed more than 25% to the cost of the project, funded in large part by Michigan's Clean Michigan Initiative and private donations. "Matt has been wonderfully helpful and reassuring every step of the way," says Ann. "I look at North Lake Leelanau and see land protected as a magnificent thing. The right thing. I feel like we're doing something good for Leelanau." Posted July 2017
All photos except Trillium courtesy of Ann Crane.
What is a Conservation Easement?
Is a Legal Agreement: Protecting the natural qualities of your land by restricting development.
Is Flexible: You negotiate the terms of your Conservation Easement with the Conservancy's Land Protection Specialist.
Keeps Land in private ownership: Many people mistakenly think that when they place a conservation easement on their property, it becomes open to the public. Not true! Conservation easement landowners retain the right to keep their land private.
Can result in an income tax deduction and reduced property and estate taxes.