Female bobcats won't share their territory, and each one requires about five square miles to thrive. So when Mike and Teri Steichen glimpsed a bobcat skirting past their house north of Leland, they were thrilled. It's one more thing they love about their wooded, hilly property—13 acres that they have preserved forever with a donated conservation easement. The couple also owns 14 acres just north that was already protected with a conservation easement by its former owner, Nancy Slawson.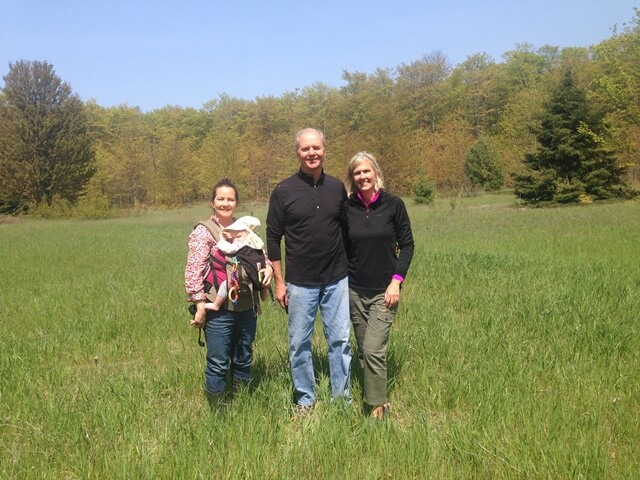 The Steichens have been coming to Leelanau since their college days, when friends introduced them to the peninsula. They love to cross-country ski, boat and to run with their dogs. The Steichen's four children, now grown and scattered across the country, were raised here on cherished summer vacations and long weekends. "This is really home," says Teri. "We love it that the legal name the Conservancy has given our property is 'The Steichen Family Easement' because it truly is our family place."
The couple purchased the land in 2007 after having owned another 21-acre parcel nearby. Coincidentally, it had also been protected with a conservation easement by its former owner. There, the Steichens had constructed a boat storage building with an apartment above. As years passed, they desired a house on the water but that parcel couldn't accommodate their plans. "It was a fantastic place, with five separate ecosystems we had grown to love," says Mike. They began looking around.
"We had often walked the beach past this house and knew it well," he says. When they heard it was for sale, they jumped on it. In addition to the tranquil, hilly woodland, they say they also enjoy "the nice neighborhood feel" that exists along their road.
Mike, an oral surgeon who practices near Chicago, is getting close to retirement. When that happens, the couple will spend more time in Leelanau. Mike's father was a hobby beekeeper and he says that once life slows down he would love to raise bees too. Their conservation easement permits agricultural activity on a portion of the property.
The Steichens have been members of the Leelanau Conservancy since its earliest days. "We've always admired the organization," says Mike "and we're glad that the Conservancy will continue to protect the land after we're gone."
Published June 30, 2016