Beauty from the Beast that was the August 2nd, 2015 Storm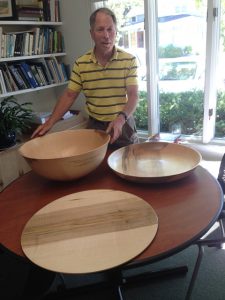 Artist David Watt of Glen Arbor has crafted three stunning wooden pieces for the Conservancy Auction. They were created from a massive maple tree felled by the big storm at the Palmer Woods Forest Reserve.
The Conservancy is the second organization to benefit from Watt's painstaking woodworking craft. David and members of the Northwestern Woodturners Club in Traverse City have turned dozens of bowls from downed trees to raise funds for the "Re-Arbor Glen Arbor" fund that is contributing to the planting of new trees. He has also contributed to Neighbors Helping Neighbors, volunteers who helped with the cleanup after the storm.
Finding Gratitude Amidst the Chaos
Many who lost beloved trees in the August 2, 2015 storm have come to David to have him literally turn downed trees into bowls. "To me, all of the bowls are extremely meaningful," says David. "The people who buy them all seem to express a kind of gratitude—for these trees and the years they enjoyed them and now gratitude for a memento that helps the tree to somehow have no endpoint."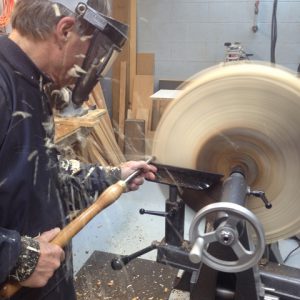 These beautiful wood bowls and tray were turned on a lathe from "green" wood that dried after each bowl was turned. Conservancy staffer Nathan Burns helped to locate and cut the original log; he also helped to lift and position the log onto the lathe. It took David a total of about two weeks to turn and finish the largest bowl. As "green" turned bowls dry, they warp because the diameter of the tree shrinks much more than the vertical dimension. The large bowl was allowed to dry for a month before turning the foot (base).  David lets the natural warping reveal curves as the tree's own artistic statement.
How to  Bid on the Bowls
The bowls will only be available at the Picnic (Thursday, August 4th) for bidding. If you can't attend the Picnic but would like to bid, proxy bids will be accepted until Tuesday, August 2nd at 5 pm. Email [email protected] to place a proxy bid
Bidding starts at $800 for the large deep bowl; $700 for the shallow bowl and $200 for the tray.
Each of the wooden items comes with an artist's statement booklet and thoughts from bowl recipients. Below is an excerpt from the booklet:
The Big Storm Remembered
"When I first heard about the bowl project…it sounded like a wonderful and creative way to bless the members of our community. My road and home were hit hard by the storm. I lost over 40 trees, and had structural damage to the house. During the first few days it was difficult to fully comprehend the scope of what had happened, not just to me, but to all of us. Yet immediately help began appearing, in all kinds of ways, some of it from people I didn't even know. And step by step the right ideas, people and equipment came to help me personally, and the rest of the area as well. The love, unselfishness, and goodness expressed to and through our community will long be remembered by all of us involved. So when I look at my beautiful bowl sitting gracefully on my table, it serves as a reminder of all the good that came out of this experience, and the blessings that resulted."
Janice McCurties