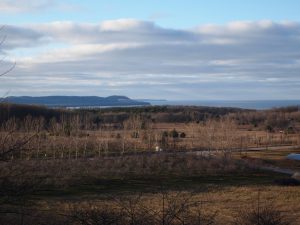 The kitchen table at Ben Hohnke's farmhouse is round and covered with a vinyl cloth. Sunlight streams in from two corner windows. It is a good vantage point to learn about this 90-year-old, blue-eyed wonder of a man.
As we talk, an occasional car passes by out on Hohnke Road. Ben's sons come and go from the office just off the kitchen. This is a house that Ben's parents lived in and that he remodeled after their passing. It is also where his beloved wife of 62 years, Margaret, died after a seven-year stint with dementia. He points with pride to the beautiful ash kitchen cabinets he built. He cut the ash trees down himself, milled the wood, and let it dry for seven years. He did it all, in part, "to teach my sons that wood doesn't have to come from a lumberyard."
Hohnke roots run deep in Leelanau. Ben's grandfather stowed away at age 14 on a Norwegian freighter and ended up on Manitou Island, where he worked at the life-saving station. He and his bride eventually moved to the mainland. The 40 acres in Centerville Township that they homesteaded is part of Ben's 216-acre holdings—all of which has been forever preserved with a conservation easement.
Ben's father purchased a second 40 acre parcel, where Ben lives now. His father earned his living as a carpenter, farming on the side to keep the pantry full and the family fed. "Mother canned 400 quarts of vegetables and fruit every year," says Ben. He recalls his childhood days of working in the huge garden along side his family as "some of the best times in my life. I always knew in the back of my mind that I wanted to farm."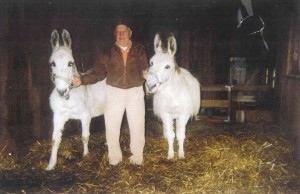 It would be many years before he would tend his own land full time, however. Out of high school, he spent four years in the Navy unloading supplies off merchant marine ships in the South Pacific. Like his childhood, he also labels the Navy as "some of the best times of my life. There were just so many great guys."
It wasn't long after he returned home and had started his own construction business that he met Margaret. She was babysitting for a summer family from Cincinnati. They met at the Leland School playground where he was remodeling the gymnasium. By fall, they were married and moved into a house on Juniper Trail in Leland. Five boys would soon come along and Ben's business would grow to 45 employees. "We built the Falling Waters and did the first Leland Lodge remodel, and the Country Club too," he says. Many of the homes in and around Leland were also built by Ben.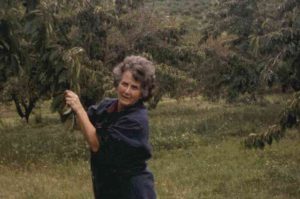 His most important employee, however, was his wife. "Margaret was excellent with money," he says. "She was the best hired help you could imagine—if ever there was a person who should have been paid $50 an hour, it was her. She raised our five boys, did all the cooking, housework, and kept my books."
Ben also managed to serve for six years as Leland Township Supervisor and plant fruit trees on land that they gradually began acquiring. It was Margaret who decided when they could afford the next piece of farmland that came available. "We never went into debt," says Ben. "We saved up." Owning a farm complimented the construction business. "You couldn't store a load of bricks or semi truck full of insulation on Juniper Trail," says Ben.
At age 62, Ben grew weary of management and sold the construction business to Marty Easling. But he wasn't about to retire. "A guy's gotta do something," he says. "But construction will kill you. Farming is a like a walk in the park in comparison. Everything you do, you're riding, sitting down. And you're your own boss."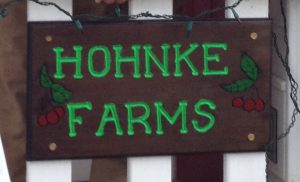 Today, Hohnke and Sons grow cherries and apples. Ben had thought about permanently protecting his land for the last decade. "I didn't want to be bothered about it until I was ready. Now seemed like the right time—100 years is a hard one to reach," he grins.
The views from his orchard of Pyramid Point are spectacular. "There was always someone coming to me saying 'Sell me a lot, I can see the lake from here.' But I knew as soon as I did, the operation would be compromised" he explains.
"Selling your building rights is a big deal," he adds. "I read everything I could, all the articles in the Enterprise. I talked to other farmers like Jim Bardenhagen who did it. I figured that with this program the farm would stay more to my liking and that the Leelanau Conservancy would stick by their guns versus if I sold the property to John Doe. And I can't even begin to tell you how I could not have had a better guy to work with than Tom (Nelson, the Conservancy's Director of Farm Programs.)"
Ben was paid for a portion of the value of his development rights—the difference between what his land is worth as farmland vs. residential property. He donated a portion of the value that matches the Conservancy's contribution. Preserving the family farm is a very big deal for Ben, and it was a wise business decision for him too. What stands out is not only his attachment to the farm, but how much his family matters to him, especially his Margaret: "When I say my childhood or the Navy were the best times, none of that comes close to Margaret," he says.
Although she never wanted to live anywhere but Juniper Trail, he did move her out to Hohnke Road during her last year, and hired a full-time nurse. He points toward the bedroom and recalls how he could sit at the kitchen table and watch the nurse brush Margaret's hair, rub lotion on her back. "She couldn't talk, but I could see her reach out to the nurse and pat her arm," he says. "I would have sold every last acre to keep her at home."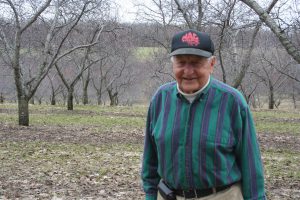 Ben hopes his sons will continue to work the land, "but that's up to them," he says. "I don't want to tie any one guy down." (His youngest son is 51.) "But I have been preaching to my boys that they should keep this farm in production. It's difficult to predict the future, but this farm has always been profitable. Some years not so much, others damn good. We gotta keep farming here."
And so, why are farmers in Leelanau and the Grand Traverse Region, unlike farmers in many other communities, so willing to permanently preserve their farms? "That's a great question," says Tom Nelson, the Conservancy's Director of Farm Programs. "If you talk to farmers like Ben Hohnke, I think you'll find that it is much, much more than a smart business move. It is a belief—a conviction really—that these productive agricultural lands should remain in farming. In real estate jargon, one might say that farming is the land's 'highest and best use.' In laymen's terms, it means Leelanau should simply continue to be what it is—an enchanting rural tapestry of lakes, villages, forests, and family farms. This already is the best thing we can be doing."