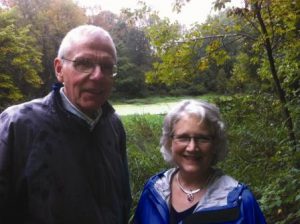 Gary Schultheiss and Barbara Richman are longtime Conservancy supporters; they first joined as members 20 years ago and in 2001, they donated a conservation easement on 40 acres of beautiful and ecologically significant land near Northport.  Most recently they became members of our
Heritage Society
.
Barbara and Gary's estate plan says that if they still own their land when they die, they wish it to go to the Leelanau Conservancy for "its own good work."  The Conservancy may keep the land or sell it, restricted with a conservation easement. The conservation easement will protect the conservation values in perpetuity no matter who owns it.
Gary grew up in Flint and traveled as a child to Frankfort with his family. His grandfather especially liked the historic Mineral Springs there. In the early 70s, Gary had an opportunity to buy land in Leelanau County.  He was pleased to find his perfect place – a quiet, wooded 40 acres to explore, nurture, and preserve.
Gary and Barbara met at a computer programming class in Washington, DC, which was conducted by the Internal Revenue Service where they both worked.  They eventually moved to Michigan, first to Mason and then to Grand Haven.  Gary worked for Quality Farm & Fleet in Muskegon while Barbara worked at Steelcase in Grand Rapids.  They made frequent visits to their woodland preserve and camped on the property for several years while learning about the springs and seeps, the trees and ferns, and the birds and amphibians that lived there.  They built a one-room cabin in the 80s, which grew into a lovely two-story cottage.
Barbara was born in Pennsylvania, but lived in many places across the country, including both coasts.  She says there's no place she'd rather be than Leelanau.  She now works as a Computer Systems Analyst for Munson Medical Center in Traverse City.  Gary is retired and spends his time taking care of their 40 acres of forest, ponds, and ephemeral pools.
When they have weekend guests, the guests participate in a Sunday morning tradition.  After breakfast Gary and Barbara invite them to hike on a Leelanau Conservancy trail.  Gary and Barbara feel lucky to live close to Houdek Dunes and Kehl Lake.  Most recently they hiked the new trails at Swanson Preserve and can't wait to go back.
Gary says their number one goal is to protect their property and the wildlife. "The flora and fauna have their own value and deserve to exist," he says. "Our legacy is in the things we're passionate about, and we're passionate about this place."
"We're just regular people," Barbara adds. "You don't have to be rich to put the Conservancy in your will."
Gary and Barbara are also members of the Sustainers Circle. And they recently gave the Conservancy a truck that our Stewardship staff was delighted to receive. Says Conservancy Director Brian Price: "We are awed by the many ways that Gary and Barbara demonstrate their commitment to conservation and to our organization."