Q:  How do you top conserving over 500 acres of prime Leelanau farmland in a single year?
A:  By securing matching funds from the USDA to conserve nearly 700 more!
As I write this, we are poised to complete our 4th farm preservation project this year: the Jerry & Anna May Kelenske Farm on beautiful French Road in Centerville Township. Already protected in 2013 are the Mike & Jeanette Egeler Farm (Leland/Suttons Bay Townships), the Larry & Jan Esch Farm (Leland Township) and the Blaise & Sarah Korson Farm (Leelanau/Leland Townships). These four family farms equal 535 gorgeous acres of productive farmland in Leelanau County. Great stuff indeed, and a sincere thank-you goes out to these fabulous farm families who have made a lasting legacy by keeping their land in agriculture.
But it gets even better! Earlier this year, we applied to the United States Dept. of Agriculture's Farm & Ranchland Protection Program to preserve four more farms totaling 688 acres—our most ambitious effort ever in a single year.  And…drum roll please!…we just received word that all four applications were successful, meaning that we have been awarded an unprecedented $1.9 million in federal dollars for farm conservation!  These families are not only committed to preserving their farms, they are also doing their part by donating a total of $1.02M in value—and we could not be more grateful to them.  Meanwhile, our task will be to raise a matching amount of $1.02M in order to complete these new projects. (For those who like math, the combination of federal dollars and farmer-donated value means we'll achieve $4 in conservation for every $1 in private funds donated!)  The four new farms slated for preservation in late 2014 are the Ben Hohnke Farm in Centerville Township, the Gene & Kathy Garthe Farm in Leelanau Township, the Mike & Janet McManus Farm in Leland Township, and the Tom & Marie Korson Farm in Suttons Bay Township.
There will be more news to come about these fantastic projects, but for now we wanted you to be among the first to hear this exciting announcement!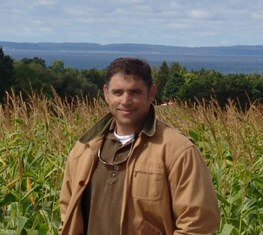 Thank you so very much for all of your ongoing support.
Tom Nelson
Director of Farm Programs