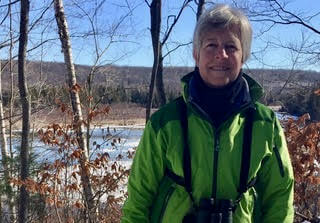 Alison Horton – Director
Alison and her wife Kathy live in the woods north of Cedar at the edge of a wetland which is part of the Victoria Creek/Cedar River watershed. Alison is a native of Southern California, growing up with nature-loving parents, and in 1990 she settled in the Great Lakes state. After much vacation time spent in Sleeping Bear Dunes and Leelanau, she and Kathy had the chance to move from Lansing in 2001 and finally found their place of refuge in Leelanau in 2004. Much of Alison's favorite time is spent exploring, birding and hiking Conservancy protected areas with Kathy and their corgi, Brody.
Alison earned a BA in environmental studies and anthropology from the University of California, Santa Cruz and an MA in environmental policy from Duke University. Except for a couple of forays into state and federal government policy development, Alison spent her career in Alaska, Washington, D.C. and Michigan working for environmental advocacy organizations including National Audubon Society and Sierra Club. She also sat on several environmental boards including Michigan Environmental Council and Trustees for Alaska. Her work has focused on issues such as air and water pollution, environmental justice and climate change. In 2016 she retired from the Sierra Club and her position as Regional Organizing Director for the Central U.S. Early in her career, Alison had the thrill of being part of the campaign to secure Congressional protection for 100 million acres of Alaska as national park, forest and refuge land. For her, it now feels like coming full circle to be a part of the Conservancy board, working to protect the landscapes, natural places, and habitats for all manner of fauna and flora that make the Leelanau Peninsula so special.