Take a Magical Walk Through A Place of Purity
Max and Mary Finton donated this parcel to the Leelanau Conservancy to ensure that its natural beauty remained preserved forever. Finton Natural Area is part of a critical wildlife corridor that spans the tip of the Leelanau Peninsula, including Conservancy Natural Areas, Leelanau State Park, and private conservation easement land. This corridor of preserved lands shelters and feeds wildlife traveling from Northport Bay to Cathead Bay. Finton's maple and beech forest forms a tight canopy, resulting in little ground cover other than spring ephemerals.
Trail System
Finton has a short 1/2 mile trail on easy terrain and the primary entrance is located on Woolsey Lake Road. This is a great walk for those with limited mobility. Look for sign and entrance along Woolsey Lake Road.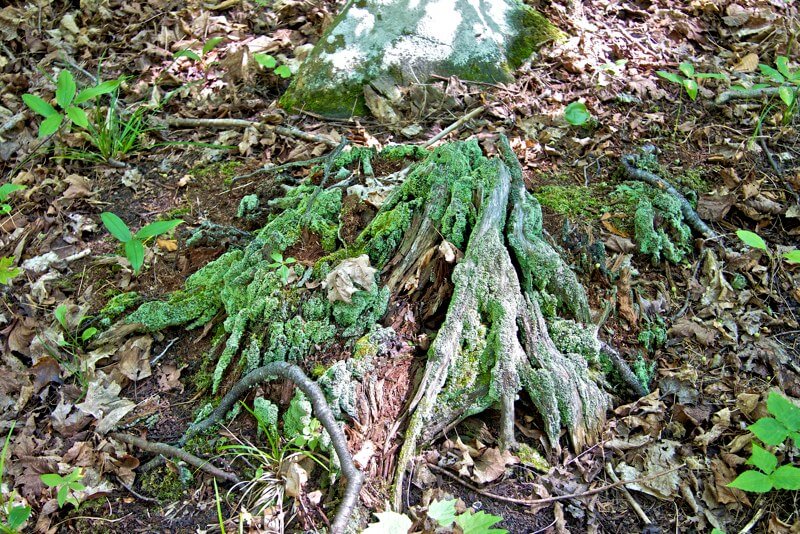 Features
Among the cedars are hemlocks whose acidic roots inhibit growth of other plants. These roots and those of other trees are relatively exposed. Historical high water levels caused the soil to bog up and slide away. You'll also notice boulders deposited by retreating glaciers and the raised ridges running along the ground that indicate past lake levels of Lake Michigan.
Look up to the tips of tall cedars and notice the many white birches. They are relatively free of cankers, those black, textured whorls that denote ill health. In fact, many of the Finton birches are covered with lichen. Lichen are sensitive to air pollution, so an abundance of lichen indicates clean air. All these elements contribute to excellent wildlife habitat.
Related stories:
September, 2019: New Bench at Finton–A Great Destination for All Ages
Plants
A Finton FQA and Summary is available here. The FQA, or Floristic Quality Assessment, tells the story of the types and quality of flora at Finton Natural Area.