Leelanau Conservancy Natural Areas: Three Great Places for Families to Explore
With summer coming in beautiful Leelanau County, families have many great options for getting outdoors. The Leelanau Conservancy welcomes visitors to its many family-friendly natural areas located all over the peninsula. For this article, Becky Hill, who manages all of the Conservancy's Natural Areas and Preserves, picks three different natural areas she says everyone will enjoy. Becky has a young family herself, but adds that her choices will please visitors of all ages.
Know before you go: The Leelanau Conservancy has an extensive website with much more information. Visit www.leelanauconservancy.org and click on the Natural Areas tab. Learn about all 26 properties, download trail maps and get directions. Also, the Conservancy published a beautiful 68-page Natural Areas Guide which is free and available at the Conservancy's office in Leland (105 N. First St.)  Dogs (on a leash) are welcome. There are no restrooms except for a porta potty off the Leelanau (TART) trail at DeYoung Natural Area. Finally, the Conservancy offers guided hikes with their friendly and knowledgeable docents; see the website for a schedule under the hikes and events tab.
Three Terrific Trails
DeYoung Natural Area on Cedar Lake, Near Traverse City—145 Acres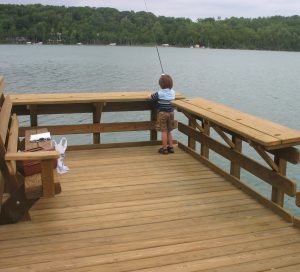 DeYoung combines an historic farmstead with a mile of shoreline on Cedar Lake and was preserved in partnership with Elmwood Township. The farmstead dates back to 1870 and serves as a gateway to the county's agricultural corridor. Recreation opportunities abound at this natural area, named for Louis DeYoung, an innovative farmer who died at 104 and dreamed of protecting his land. The Leelanau Trail, part of the TART system, bisects the property and a Universal Access trail leads to a lakeside fishing and viewing platform. (Ride bikes to DeYoung, or bring them along and bike on from there.)  Upland trails wind past heritage-variety apple trees and over a small stream, and offer sweeping views of the farm and Cedar Lake. Just minutes from Traverse City, the property features frontage on both sides of Cherry Bend Road. DeYoung provides a quiet oasis in the middle of a rapidly developing residential area. The upland trail is 1.5 miles long, and a half mile will get you to the fishing pier and back from the parking area by the big barn.
"The DeYoung fishing pier is a great place for everyone," says Becky. There are places to put fishing poles, benches and even the littlest child can look out onto beautiful Cedar Lake. This is also a great place to view birds and other wildlife." She adds that, "the closed-in feel of the cedar forest feels magical, and is a great place to play hide and seek. The cedar's huge branching trunks feels kind of like a natural playground." Oh, and don't miss the Edible Trails Garden next to the Leelanau Trail.
Teichner Preserve on Lime Lake—41 Acres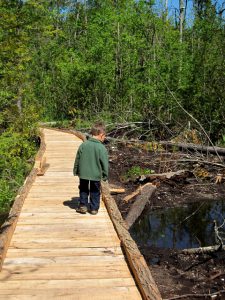 This small but ecologically powerful preserve offers a short but beautiful hike if you don't have a lot of time. A boardwalk traverses the fragile forested wetland and offers views of a vibrant and healthy ecosystem. In spring, the sounds of birds, frogs and trees creaking in the wind fill the air, while wildflowers put on a spectacular show from the boardwalk. Two tenths of a mile gets you to the lake and back. There are many beautiful hemlocks that line the trail. Fun fact: Much of the Teichner Preserve property was donated by Martha Teichner, CBS Sunday Morning news correspondent, in memory of her beloved parents.
"Teichner has long been a favorite spot for our family," says Becky. "My son, Fen, loves to pick up sticks and toss them into the wetland from the boardwalk. "We always look for frogs and tadpoles." The trail leads down to Lime Lake, where there is a bench in the shade and is a beautiful spot to have a picnic."  She says to look at the water's edge for decades old lumber in the water, a by-product of an old sawmill that operated on the lake years ago.
Clay Cliffs Natural Area Near Leland—104 Acres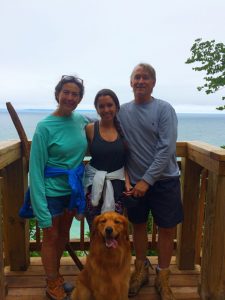 The spectacular Clay Cliffs Natural Area is one of the Conservancy's newest properties and offers stunning views of both Lake Leelanau and Lake Michigan. Created in partnership with Leland Township, Clay Cliffs provides ample recreation opportunities and takes in 1,700 feet of shoreline on both Lake Michigan and Lake Leelanau. The trail here is 1.5 miles on flat to hilly terrain.
The sheer clay bluff hosts a rare and fragile ecosystem. Eagles that nest here swoop over the lake in search of prey. The steep, forested slopes are particularly beautiful in the slanting light of dusk. The hardwood forest here shelters one of Leelanau's most prolific wildflower sites.
"An overlook at the bluff top shows off panoramic lake views while a meadow located midway along the trail features sparkling views of Lake Leelanau," says Becky. "The bench on the meadow portion of the upland overlooking Lake Leelanau is one of my favorite places ever to sit with my kids and have a snack," she says. "But we always remember to carry out whatever we bring in and hope you will too."
For more info call the Leelanau Conservancy at 231-256-9665
Published June 13, 2016