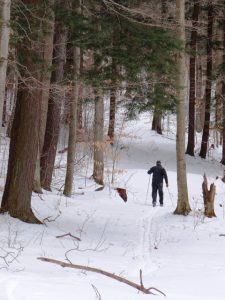 If you are a cross-country skier you are going to love the proposed new 707-acre Palmer Woods Forest Reserve near Glen Arbor. "Ideally, soon after we own the land, we would like to have a basic system of looped trails marked so that people can safely enjoy this beautiful woodland right away," says Tom Nelson, Executive Director.
First up: completing the purchase. We hope the final documents will be ready to sign by mid February—that means tying up all the loose ends on 14 separate parcels currently owned by the Palmer Family. Until then, the property is still in private hands and is not open to the public.
Last fall staff laid the ground work to open the property. Among the tasks: a floristic study and species inventory, which helps us to write a management plan. The plan acts like a kind of blueprint for decision making—everything from where to locate parking to planning trails to avoid environmental 'hot spots. It's a process we undertake for every property the Conservancy protects.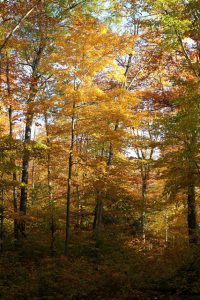 The majority of groundwater that recharges Glen Lake flows from the eastern side of the watershed, where Palmer Woods is located. Protecting this forest will help to keep the water quality of Glen Lake high.
The management plan for Palmer Woods is more complex than most because it will continue to be managed as a sustainable forest. The property will stay on the tax rolls and timber income will help defray taxes and some stewardship costs. "It will be one of the most intensely managed forest tracts in our region – not from a standpoint of being heavily harvested – but rather in efforts to diversify the forest, to encourage trees of high value both economically and to wildlife, and even to restore native understory plants. The Palmer family has begun this process, and we expect to intensify those efforts." says Palmer Woods Project Manager and former Executive Director Brian Price. "Another goal is to use Palmer Woods to demonstrate healthy forest practices. We want to document tree species and the current size of stands of trees so that we can track how well our management prescriptions are performing."
The devastating storm that hit the area on August 2nd hampered the planning process. In a few localized areas of Palmer Woods, the loss of trees was up to 90%. Salvage operations took weeks to complete.
There will be no logging this winter. Come spring, docent-led hikes will reveal Palmer Woods' hidden gems—from the long valley to the perennial spring.
.
Getting this far couldn't have happened without over 600 families who helped to buy this forest.
Down the road, the possibilities are intriguing. Could Palmer Woods become one of the outdoor trail destinations of Leelanau County? How many miles of trails could we maintain? Could we connect our trails to Sleeping Bear Dunes National Lakeshore trails? Can recreation in the forest be linked to education? The answers are, in large part, a matter of resources, says Director Tom Nelson.
"If we believe Palmer Woods can be a one-of-a-kind cross- country skiing and hiking type of experience—and it certainly has that potential—additional support and volunteer time can help make it happen. We are grateful for the overwhelming support enabling this purchase and hope to continue "dreaming big". And we look forward to discovering, along with you, all that Palmer Woods has to offer!
PLEASE NOTE: Palmer Woods remains private property and IS not open to the public until it is transferred to the Leelanau Conservancy, which is estimated to occur in mid-February.
First posted Oct. 28, 2015; updated and edited Feb. 8, 2016