Why Leelanau Blog
Michigami Freeze Dried Ice Water $5.00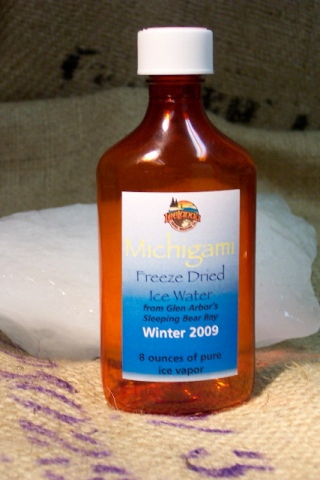 In honor of Sleeping Bear Bay freezing solid, we decided to bottle that special essence to share with you. Actually bottling the water would have required special permitting and registration with the Department of Agriculture and DEQ, and subjected us to additional regulations. Instead, we put our best engineers on the project, and devised something even better: Freeze Dried Ice Water.
Using our innovative VaporICE (TM) method, ice is harvested, melted, and the vapor permeates the special 8 ounce plastic bottle. It is then capped and frozen to complete the process.
Pour any potable water into the bottle, cap it, shake, and magically the essence of Michigami Ice Water is transferred to the water, making it the second-best elixir to drink (after coffee!). Our VaporICE (TM) process lasts forever, but does work best with water from the Lake Michigan aquifer. Water from Milwaukee, Chicago, and Manistee is highly recommended. See the video here
Submitted by: Anne Shoup, Director of Charitable Giving, Leelanau Conservancy.
(Anne's note, "A friend of mine at Leelanau Coffee posted this video on their website, in honor of the ice freezing on Sleeping Bear Bay. I think it's hilarious and that our friends on Why Leelanau would love it, too. A little humor now and then is good for us all!)