Why Leelanau Blog
East Leland sunset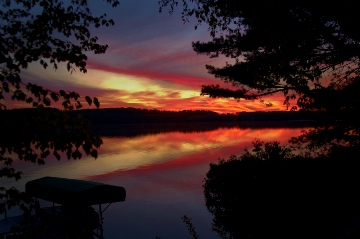 I was born in Traverse City and lived there for eight years when we moved to a small town in central Wisconsin. My heart never made the trip and remained in Michigan. Every summer thereafter, I managed to hop a freight train and make my way back to Leland to spend summers with my cousins, Skip and Chris Telgard. When I was old enough my Uncle Pete asked me to work with him in the fisheries and later at the harbor.
I have traveled almost every state west of the Mississippi and quite a few east of Big Muddy and there really is no place like Leland. I have strong ties to Leland because of my family ties to the area.
Family members settled on the islands and Grandmother and Grandfather Telgard started the Bluebird and we all know that history. When we make it back to Leland I really feel at peace with myself and Leland is the only place I feel that way.
The photo I sent in was taken from our deck in the Mythical East Leland. We are on the "rough" side of the north end of Lake Leelanau and get to see a beautiful sunset every night. We live in Minneapolis and seldom see a sunset at all because of the location of our home. That makes every sunset we see in Leland so much more special.
— Tim Fahs, Minneapolis, MN & East Leland, MI