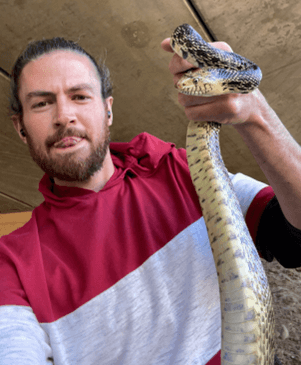 Griffin Brooks graduated from Colorado State University (CSU) in 2022 with a Bachelor of Science Degree in Restoration Ecology. He also has an Associate Degree of Science in Wildlife Technology from Front Range Community College (CO.) and Northwestern Michigan College.
Griffin grew up in Southern Indiana, Vancouver BC, and Northern Michigan (summer cottage on Long Lake), where he spent his spare time outside observing and catching frogs, turtles, and snakes. After graduating from high school (Traverse City West), he volunteered in Zimbabwe, Africa to help raise lion cubs that had been recovered and then eventually return them to the wild. Griffin also enjoyed a work / study job with the Rocky Mountain Raptor program in Colorado. From these experiences, wildlife conservation became his passion.
During his studies at CSU, his interest broadened to habitat / land conservation to go along with his wildlife conservation interest. He gained significant knowledge of land management, ecological methods, and data analysis.
Griffin is looking forward to contributing to the improvement of ecosystem health and sustainability in Northern Michigan through his Americorp / Leelanau Conservancy assignment.