Natural Areas and Preserves Map and Directions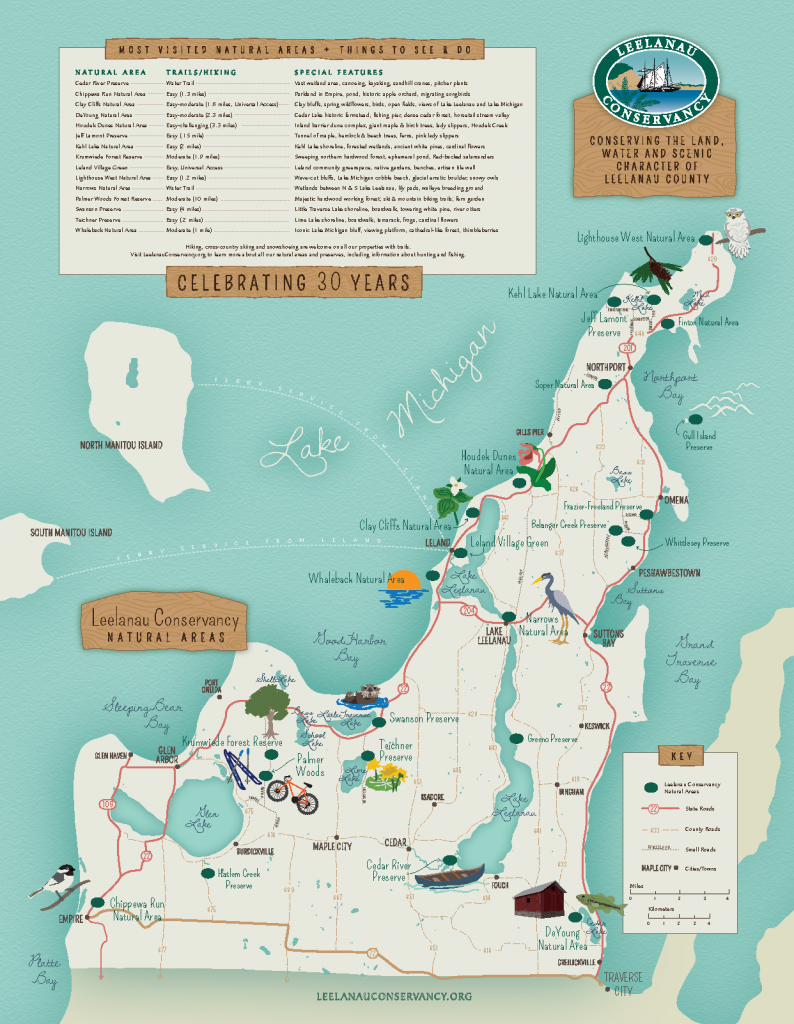 Stop into our office to pick up a copy of our updated Natural Areas Map. If you are out of the area you can order a free copy by clicking on the link below. We reprinted and updated this popular map to celebrate our 30th anniversary. On the back side are beautiful photos and descriptions of our most-visited natural areas. We hope the map will inspire you to visit these great places and support our work.
Directions
DIRECTIONS TO LEELANAU CONSERVANCY NATURAL AREAS–updated April 2016
In addition to these written directions, each Natural Area Page on our website features Google Maps to all natural areas that are open to the public. Simply go to the Natural Areas page and click on the place you want to visit. At the bottom of each page is a Google Map where you may print out directions. Below, find written directions
Belanger Creek Preserve—Near Suttons Bay
This Preserve has no trail system and is best seen on a guided hike. Take Putnam Road west from M-22 at the northern boundary of Peshawbestown. Go west for about a half mile and then turn left onto Peshawbestown Road. Go west for about another half mile and then park on the right-hand side of the road just before it crosses Belanger Creek.
Cedar River Natural Area—Access in Cedar
There is no trail system at this Natural Area. You can reach the property only via boat on the Cedar River. Start at the Cedar Village Park in Cedar (park in the ball fields nearby). The Conservancy has protected much of the land at the mouth of the river where it enters S. Lake Leelanau. You'll reach the Conservancy property after about 4 miles (1.5 hours paddling).
Chippewa Run Natural Area–Empire
From the intersection of M-72 and M-22 in Empire, head north on M-22 about 7/10 of a mile. The parking area is located on the left, or northwest side of the street just south of the creek. If the parking lot on M-22 is not plowed, turn onto LaCore street as if heading toward the Empire Museum. Then turn right on Fisher Street and follow signs to recycling bins. Park in recycling area where your docent will meet you or where you can begin your own hike.
Crystal River—Glen Arbor
Although the Conservancy helped to protect this land, the land is now part of the Sleeping Bear Dunes National Lakeshore. We occasionally lead hikes here, but the best way to see the land is by canoe or kayak. Contact the Leelanau Chamber of Commerce to learn about equipment rentals.
DeYoung Natural Area—near Traverse City
From Traverse City: From the intersection of M-72 and M-22 in Traverse City (Tom's West Bay) go north on M-22 1.2 miles, turn left onto Cherry Bend Rd. Go 2.0 miles down Cherry Bend Rd., and look for the barn on your right. Pull into the parking area by the barn.
From Leelanau County: From CR 641 and Cherry Bend Rd. intersection, go towards Traverse City on Cherry Bend Rd. about 2.1 miles, look for the barn on your left. Pull into the parking area by the barn.
Finton Natural Area–Northport
This smooth, level two-track connects Northport Rd. to Woolsey Rd. From Northport, take M-201 north (changes to CR 629). Turn right on Northport Point Rd (CR 640). Look for the sign and property across from Paradesia Rd.
Hatlem Creek Preserve Hatlem Creek is located at 10175 S. Plowman Rd., Glen Arbor. From Leland, take M-22 South to Maple City Hwy. (Co. Rd. 667). Head west on Burdickville Road (Co. Rd. 616). Turn left at MacFarlane (Co. Rd. 675) Turn left onto S. Plowman Road and park along the road.
Houdek Dunes Natural Area–Leland
Beginning in Leland, drive north along M-22 approximately 5 miles to County Road 626. Proceed another ¾ mile north along M-22. A sign on the west (left) side of the road marks the entrance to the parking area.
Jeff Lamont Preserve—Northport
Take M-201 North out of Northport. Bear RIGHT as M-201 becomes County Rd 640 and turns East. Take County Rd 640 for approx. 0.3 mi.PLEASE USE CAUTION to go LEFT onto N. Kilcherman Rd (As a landmark, there is an antique farm windmill on N. Kilcherman Rd., about 100 yards North of the intersection). Take N. Kilcherman Rd approx. 0.9 mi, then the road will bend SHARPLY to the LEFT and become Christmas Cove Rd.Take Christmas Cove Rd approx. 0.6 mi., staying straight/right as you pass Scott Rd on your left. The Jeff Lamont Preserve is approx. 0.15 mi downhill past Scott Rd on your right.
Kehl Lake Natural Area—Northport
Take M-201 1.5 miles north of Northport. After 2.5 miles, go left on Snyder Road. Snyder Road "T"s at Sugar Bush Road. Go right on Sugarbush Road. Sugar Bush Road takes a sharp left turn to the North and becomes Kehl Rd.  Stay on Kehl. .2 mi after you pass Ottis Road on your right, see the Conservancy sign for Kehl Lake Natural Area and parking area on left.
Lighthouse West Natural Area
From Northport, head north on M-201 through the Village, taking M-201/Mill Street north out of town. M-201 becomes Co. Rd. 640/Woolsey Lake Rd. Stay on Co Rd. 640/Woolsey Lake Rd.  Stay straight as Co. Rd. 640/Woolsey Lake Rd. becomes Co. Rd. 629/Woolsey Lake Rd (Co. Rd 640 splits off to the right). Continue on Co. Rd 629/Woolsey Lake Rd for approximately 3 miles when it becomes Co. Rd. 629/Lighthouse Point Rd. Continue on Co. Rd. 629/Lighthouse Point Rd for approximately 2 miles, then go left on Cathead Bay Dr.  Parking is approximately 0.1 mile on the right-hand side.
Palmer Woods Forest Reserve — Near Port Oneida
Palmer Woods is located in Cleveland Twp. off of M-22 on Wheeler Road. From M-22, turn south onto Wheeler Road (the only way you can turn), and go about 3 miles. Look for signs on your right.
Swanson Preserve—Near Sugarloaf
From Leland head south on M-22 for about 8 miles. On the right there is a gravel driveway about 300 yards south of the yellow farm stand. Park in the field to the right off the driveway.
Teichner Preserve—Lime Lake
From Leland, head south on M-22 about 8 miles and turn left on South (East) Lime Lake Rd, near the SW corner of the King's Challenge Golf Course at Sugarloaf. Once you turn off of M-22 onto Lime Lake Rd, it is just a short distance—about a mile—to the Preserve. Look for our Teichner Preserve sign. Please park north of the sign on the south side of East Lime Lake Road just west of the big curve, where the road widens to accommodate your car.
Whaleback Natural Area–Leland
Beginning from the junction of M-22 and M-204 (3 mi S. of Leland), take M-22 north approx. 1 mile. A sign on the west (left) side of M-22 marks the entrance to the parking area. Continue straight for a few hundred feet on the gravel road entrance to the parking area. Follow the marked trail through private property to the natural area. PLEASE NOTE: If you approach from the north, the sign is difficult to spot, so look carefully as you approach 3 miles south of Leland.