Winter Walk at Hatlem Creek — Saturday, January 14th 1:00 pm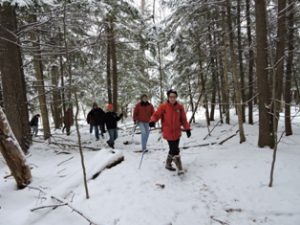 What's happening at Hatlem Creek Preserve during the winter? Join docents, Lou Ricord, JoAnne Gerben, Kathy Ricord, and Beth Chiles as they tour this beautiful preserve. Along the way we can discuss strategies that animals, trees and plants use to beat winter's bitter cold, wind and snow.
We'll be outside for about an hour or so. Dress warm and bring your snowshoes.  Park on Plowman Road since the parking lot at Hatlem Creek is not plowed during the winter. Call or email Lou Ricord ([email protected], 231-326-1122) if you have questions on the day of the hike.