Winter Survival at Chippewa Run — Saturday, January 9th at 1 pm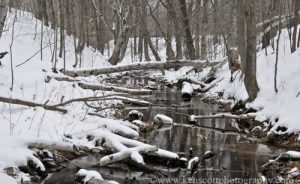 How do the plants and animals we see at Chippewa Run during the warm months survive the ravages of winter?  What strategies do trees and plants have to beat the bitter cold, wind and snow?  Where are the turtles in the Turtle Pond?  Join docents, Lou Ricord, JoAnne Gerben and Kathy Ricord as they walk about Chip Run and investigate these questions.
We'll be outside for about an hour or so.  Dress warm and bring your snowshoes.  The parking lot at Chip Run is not plowed during the winter, so park at the recycling center in Empire on Fisher St (off Lacore St in Empire) and walk across the field to the Chip Run trailhead. Call or email Lou Ricord ([email protected], 231-326-1122) if you have questions on the day of the hike.