Toddler and Family Hike with the Parenting Communities at Finton Natural Area — April 20th 10:00 am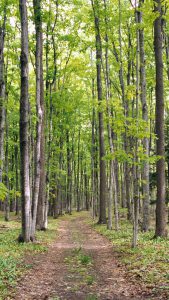 The Leelanau Conservancy and Leelanau Parenting Communities welcome young hikers and their families to join us for a fun-filled Earth Week hike, catered to young minds.
Finton Natural Area features a level, half-mile two-track trail that meanders through a dense canopy of mature beech and maple.  The forest shelters and feeds a variety of wildlife and migratory birds.  Perhaps the spring ephemeral wildflowers will be on display for young hikers and their parents who join us on April 20 for a special outdoor meeting of the Play Group.  Leelanau Conservancy docents Ann McInnis and Jane Gale and Amy Murphy from the Leelanau Parenting Community will meet hikers at 10:00 a.m. at the trail entrance along Northport Point Road, approximately three miles north of the village.